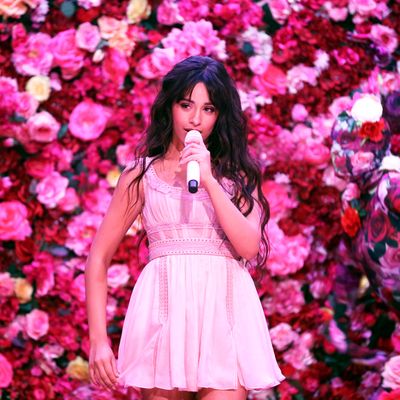 Romance
is a concept album almost too tuned into its concept.
Photo: Andrew Lipovsky/NBC/NBCU Photo Bank via Getty Images
Maybe you haven't heard, but Camila Cabello is in love. If you're on the go, you might've missed the video for Cabello and her buddy-ternt-beau Shawn Mendes's couples collaboration "Señorita," where they frolic and sort of almost kiss in a dimly lit room for three and a half minutes, or their performance of the single at MTV's VMAs this fall, where they sort of almost kiss by candlelight for three and a half minutes, or the fan footage of Mendes's tour stop in Toronto from September, where Camila surprised the crowd with another three and a half minute prelude to a kiss, or the footage of the duo performing the single at the American Music Awards last month, which ended in a climactic nuzzle so close to a kiss you could see Cabello's former tour mate Taylor Swift try to resist clutching her neighbor in the audience, Billy Porter, in anticipation of the big moment. (Faux-ment? NO-ment?)
Romance, Camila Cabello's matter-of-factly titled sophomore album, is sort of like the not-kiss in macro. In 14 songs, Romance offers a dozen musings on the journey of falling for someone, from the harmless fling stage to freaking out about sprouting feelings for a friend to wanting to be around that person even in quiet moments where they say nothing to explaining to your dad that this thing might be getting serious. The passion is there, the lived-in experience is there, and the vocals are there. But the narrowness of the concept demands a caliber of writing that intermittently exceeds the grasp of these songs. There's not a lot here that's as crushing as Camila Cabello's devastating 2018 combo of "Consequences" and "Real Friends," and the production can feel like a concerted shot at bottling and reselling the lightning that was "Havana."
Concision was the first album's secret weapon. Camila whizzed through 11 songs in just over 36 minutes. Romance lasts ten more minutes, and that turns out to be exactly enough time to fall into formulas. "Easy" and "Dream of You" are starry love ballads that speak to the experience of learning to trust a lover with your feelings, all of this after "Shameless" nails the same sensation in the chorus ("I need you more than I want to"), and "Living Proof" serves the same damsel in distress concept as "Easy," albeit more abstractly. Romance is a concept album almost too tuned into its concept; tellingly, the songs that stray from the path are the ones where things heat up. "My Oh My," a song about stepping out with a man you know is only hanging around for the physical fireworks, is a more effortless and fun crack at a steamy duet than "Señorita" by some distance, thanks to a beat from hip-hop producer Frank Dukes and a fleet verse by North Carolina rap whiz DaBaby, who serves the same purpose here that Young Thug did on "Havana," i.e. cutting Camila's wholesomeness with a bit of danger. (There's something itchy about this; it feels like concerted image control. But as long as Baby keeps upstaging people on their own albums, I'll allow it.)
The snarl in Cabello's voice in "Cry for Me," a song about shooting dagger eyes at an ex who's getting on with his life, is a mood Romance needed more of. The second verse is a headshot: "See that pretty life in pictures / See her lips erasing me / You're so good to her it's vicious / Yeah, she should be thanking me." The barely audible chuckle after the first line, and shriek before the final chorus crack the singer out of the girl group wrapping left behind from her Fifth Harmony days. Later, the unexpected "fuck" in "This Love" does the same. Album two is the one where the artist branches out from the ground covered on the first, and things get darker and weirder. Think of Britney Spears breaking out the red leather for "Oops … I Did It Again" or Justin Timberlake making distorted sex jams and two-part ballads on FutureSex/LoveSounds. Romance is a longer album than Camila but it doesn't necessarily take more chances.
Like the performances of "Señorita" we've seen all fall, Romance generates heat and not enough fire, kicks up sparks and not enough electricity. It doesn't quite match the highs of the last album, but it's also not without haymakers. Closer "First Man" is a letter to a father from a daughter heading down the aisle that's good enough to soundtrack an actual wedding dance. Like the rest of Romance, it is a snapshot of a very specific moment in the timeline of a relationship, but there's clarity and directness to the story that other songs here miss in trying to find too many different ways to express the same feelings. The same unbridled directness shows face in the messy vengefulness of "Cry for Me," the giddy carelessness of "Liar," the horny abandon of "My Oh My," and the measured apprehension of "Used to This." A few more of these would've put the album over the top. As it is now … There's bops.