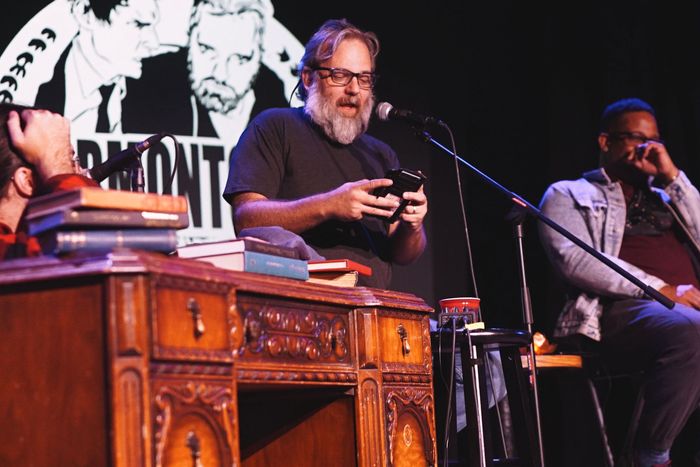 Last Monday, Harmontown fans from around the world made one more visit to L.A.'s Dynasty Typewriter theater for the sold-out, final taping of Community and Rick and Morty creator Dan Harmon's weekly live show/podcast. To accommodate an overflow audience of over 100, extra chairs were placed onstage and an ersatz screening room was set up in the adjacent Mexican restaurant. The house lights dimmed, and the series finale began with an audience sing-along of a classic Harmontown tune about not having a Pringles can for a penis.
Harmontown's format has always been a messy, tangential, improvisational affair and, true to form, its final episode had little in the way of planned material, let alone navel-gazey retrospection. Nick Rutherford wandered onstage on stilts. Harmon freestyle rapped about fucking mommas over beats provided by Open Mike Eagle. There was a solid 20-minute discussion about a cheery British nudist who sells a sort of scat-play iteration of Cameo videos. When Harmon asked the crowd if they'd rather the hosts "share some favorite memories of the show" or give "advice on whether [he] should get an 8K TV," there was a collective roar for the latter option, followed by a roundtable discussion on the human eye's threshold for detecting screen resolution differences.
The only moment that properly (but unintentionally) captured the gravity of the occasion came mid-show: A fan who'd come from Italy presented the dais with a bottle of red wine from his hometown, which was summarily un-corked and passed around the audience for all to swig. Beyond that and some long-standing ovations in the final minutes, little attention was given to the finale-sized elephant in the room. To not treat it like any other episode would have been to produce something patently not Harmontown.
Despite Harmon's frequent apologies for making "a bad show," Harmontown was fiercely beloved by its fans and left a subtle but indelible mark on pop culture for the better part of a decade. It spoke to a global audience, many of whom cite it as saving their lives. It was also the closest thing podcasting has had to a Tonight Show, albeit with inverted host analogs. Perpetually soused on Ketel One, Harmon exuded big McMahon energy while his besuited sidekick, longtime friend and Whose Line? improvisor Jeff Davis, channeled Carson's old-school charm and showmanship.
It's only fitting that Harmon's arc over the course of the podcast seemed to follow his own "story circle" narrative framework and log his personal hero's journey. Through a series of intimate and professional trials recorded for all to see and hear, Harmon redeemed himself from a reputation of notoriety, evolving from a place of disquieted comfort to his best iteration. That the show happens to be ending on episode 360 is just some serendipitous icing on the cake.
It began in the back of a comic store-cum-comedy venue mid-2012. Still tender from his ignominious Community firing and needing an outlet for both his creative genius and impotent rage, Harmon conspired with friend and The Meltdown With Jonah and Kumail producer, Emily Gordon, to give podcasting a go. Harmontown's original conceit revolved around planning a fantastical moon colony sanctuary for its world-weary hosts and live audience with "Mayor" Harmon and "Comptroller" Davis presiding over hilarious, chaotic, and oftentimes cathartic town hall-style meetings.
Old alt-comedy scene friends like Kumail Nanjiani, Rob Schrab, and Brandon Johnson became near-permanent fixtures on the stage. Eager to signal-boost, Harmon invited podcasters and authors he found interesting, often paying for their airfare to L.A. himself. And this incredibly dumb podcast with recurring bits like "MC Gun Control," a vocoded rapper who never fully reveals whether he's pro or anti the issue, somehow also got luminaries like Robin Williams, Eric Idle, and Norman Lear to visit.
From the outset, audience participation was somewhere between tolerated and encouraged, which emboldened a recurring cast of cranks and kooks to chime in. There's a moment from episode five (1:12:18) that best encapsulates Harmontown's unique relationship with its fans. Seeking a Dungeons & Dragons expert, Harmon welcomed a man named Spencer Crittenden from the audience onstage and asked if he'd come back on the following show to serve as Dungeon Master (DM) for what would become a recurring live D&D segment.
Crittenden's geek bona fides and deadpan humor ingratiated him to both audience and hosts, as he returned each week to moderate the adventures. When the show embarked on a 21-city bus tour in January 2013, Crittenden was included, his status as an integral member of the Harmontown family now unquestionable. Neil Berkley's feature-length documentary chronicling the three-week trek showed how Harmon's bond with Crittenden grew almost paternalistic. Once back in L.A., he hired Crittenden as a personal assistant and, over the years, took him further under his wing, grooming him for entertainment industry success. Today, though also still Harmon's assistant, Crittenden executive produces and stars in HarmonQuest, an animated VRV series spin-off of the podcast's original D&D segments.
Though kind to Crittenden, Berkley's documentary was less flattering to its lead. Hoping to avoid a fluffy vanity project, Harmon gave the director final cut, and peppered throughout the bus and stage shenanigans of the movie are scenes of Harmon and then-girlfriend Erin McGathy in ugly, heated arguments. It was nothing Harmon didn't reveal himself on the podcast. Over the course of Harmontown, he aired the highs and lows of his relationship with McGathy, often with her onstage. In one episode, a psychologist from the audience was brought up to assuage Harmon's therapy misgivings after McGathy suggested they attend couples counseling. Harmon eventually came around on therapy, but the relationship proved untenable. The couple wed in 2014, but the marriage lasted under a year. The ordeal taught Harmon to keep some aspects of his personal life private, and he exercised more restraint with his subsequent serious-girlfriend-turned-fiancée Cody Heller, who only made one Harmontown appearance.
For seven and a half years, Harmontown served as the perfect forum for Harmon's compulsion to find and embrace the "warts and all" truth about circumstances, characters, and himself. Only by publicly deconstructing the misdeeds that led to his Community firing was he able to mature as an artist and boss — the sort who'd be re-hired for the sitcom's fifth season and go on to make Adult Swim's cartoon juggernaut. Even after those successes, recognizing self-improvement still to be done, Harmon co-founded another podcast, Whiting Wongs, with Rick and Morty writer Jessica Gao to shine a light on his and Hollywood's lingering race issues. This introspection also resulted in perhaps the sole encouraging moment to come from the #MeToo movement.
In early 2018, Community writer Megan Ganz called out Harmon on Twitter for his inappropriate workplace crush on her and explained the long-term damage it caused to her perception of her own talent. Rather than rush out a vague Notes App mea culpa, Harmon wallowed in the charge for a week, taking full stock of how shitty he'd been to his subordinate, before delivering an ad-libbed nine-minute apology on the podcast's next episode. So thorough, contrite, and obviously heartfelt was the confession that Ganz took to Twitter to not only publicly forgive Harmon, but also praise the speech as "a masterclass in How To Apologize."
After the Harmontown finale, Harmon told Vulture it was the trauma of the Trump era and ensuing "increased awareness of how we're treating people who aren't shaped the same as us" that inspired his self-reflection.
"We can't just drag the very clear blinking neon monsters into the street and burn them at the stake," he said. "That doesn't solve problems. The problem is actually the things that we're getting away with — the things that aren't recognizable or prosecutable as crimes, even internally. The things that we're not aware that we're even doing."
It's this perpetual self-auditing that many Harmontown fans cite that first drew them to the podcast. A far less toxic fandom than that of other popular cult of personality-based shows, "Harmenians" are an exceedingly kind, supportive, and welcoming bunch. Harmon's openness about having Asperger's, childlike fascination with those different from himself, and willingness to engage with almost anyone who grabbed a mic fostered the purest form of a safe space — one where Dan could voice his most un-PC thoughts, and audience members could immediately call him out on them. As they found each other via the podcast, the fans ultimately elevated Harmontown from audio entertainment to full-fledged community, almost a real-world manifestation of Harmon's NBC fiction.
That he is now in his happiest, most enlightened state yet is a key reason why Harmon decided to pull the show's plug. While he's thrilled about the positive role he's played in so many of his fans' lives and acknowledges his gift for "soothing a certain type of alienated individual," he said he "wouldn't be doing them any favors by sticking around" and delivering a show that, he predicts, would increasingly become about the guilt he feels about his newfound success and happiness.
While he hopes "it turns out [he] was way ahead of [his] time in the untapped market of some beautiful mode of expression," Harmon is banking on a less dignified legacy when future generations rummage the Harmontown archives from the digital equivalent of a box in the attic.
"Harmontown will be the equivalent of that black and white footage of the cannon shooting the fat guy," he said. "Some people will find it interesting. Many people will go, 'Why was this recorded?' And nobody will listen to it more than once."