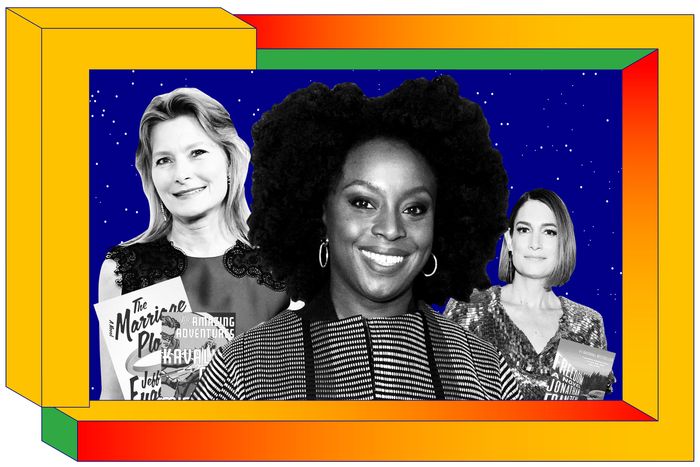 Photo-Illustration: Ari Liloan and Getty Images
I won't start with Franzen, because nobody needs that. Not anymore. So let's just start with the women.
In late March 2011, the New Yorker fiction editor Deborah Treisman interviewed Jennifer Egan about her new novel-in-stories, A Visit from the Goon Squad. It was Egan's fourth book, following a string of minor hits, and it was also that rare event in 21st century publishing — a cyclone of critical and commercial triumph, from airport tables to book-review pages. Treisman read aloud a note from a reader who explained that Egan's writing made her want to "discontinue her subscription to her antidepressants." Goon Squad was a hybrid miracle, a brilliantly arranged postmodern collage with a beating heart warm enough to render SRRI's obsolete. Who knew that could still happen?
One week earlier, Egan had won the National Book Critics Circle Award, and over the next month she would win the L.A. Times Book Prize and the 2011 Pulitzer for Fiction. Sales of the paperback tripled after the Pulitzer announcement, and at the end of the year it made the New York Times list of its ten best books. In the years since, Goon Squad has sold 875,000 copies, a bonanza for literary fiction. So when "best of the decade" season finally descended upon us this fall, it wasn't so surprising to find Goon Squad included by outlets like LitHub and Time and Entertainment Weekly — the last of which gave it their top spot.
The same year as Goon Squad, Jonathan Franzen's Freedom was also steamrolling its way across the literary landscape. Sam Tanenhaus, then the editor of the New York Times' book section, reviewed it himself, declaring it "a masterpiece of American fiction" in his first sentence. It was a finalist for the L.A. Times Book Prize and the NBCC Award, the prizes that Goon Squad took home. Critics argued over its place in the canon — above or below The Corrections? A time capsule or a prophecy? Time put him on the cover of its magazine and didn't quibble: "Great American Novelist."
You know all that, but it's worth repeating because of how steadily Franzen and his cohort faded as the 2010s wore on. Goon Squad — which blended fictional styles and devices without being indebted to any single one — turned out to be the leading edge of the new decade's defining literary trend. There's a gaping hole at the center of our decade's-end lists — although to call it a hole makes it sound like a deficit when really it's been a shift, a slide, a bloodless revolution.
If Franzen shot the starter pistol of the fiction of the aughts with The Corrections, Freedom would come to look like a bookend. Goodbye to all that. Five years after Freedom, Franzen's next novel, Purity, sold only about a quarter as many copies. Where once a passel of middle-ish-aged men — Jeffrey Eugenides, Michael Chabon, the rest of the Jonathans (Lethem, Safran Foer) — dominated the scene with their big, important distillations of the world, the voices that now stand out, the ones that drive the conversation around fiction, largely belong to women.
Their work is a panoply of technical precision, formal inventiveness, drilled-down particularity, grave-deep emotion, and whatever the hell else women feel moved to write about. It's a collection only in the sense that the 2010s were an era. Mostly it's marked by a refusal to cater to any one notion of what makes a classic. That, and the fact that we paid it loads of money and attention.
Let us list the novels of the teens that have achieved that rare trifecta — bestsellerdom, critical esteem, and cultural ubiquity. Fates and Furies, Lauren Groff's 2015 marital bait-and-switch. The Tiger's Wife, the Balkan-set fairy tale that spun up a flurry of excitement around the then-25-year-old novelist Téa Obrecht. (Call her the Foer of the 2010s.) The Woman Upstairs, Claire Messud's rage-filled 2013 page-turner, which launched a national "likability" debate that sadly persists today. My Year of Rest and Relaxation, Ottessa Moshfegh's 2018 opt-out opus. A Little Life, the sadness fest by Hanya Yanagihara that surely put all those Goon Squad readers back on their Prozac. Marilynne Robinson's Lila, the conclusion of her Gilead trilogy, which earned her an extended audience with the president. Americanah, which led to Chimamanda Ngozi Adichie being song-quoted by President Beyoncé and having the title of her next book emblazoned across an $860 Dior T-shirt. Room by Emma Donoghue. Swamplandia! by Karen Russell. Station Eleven by Emily St. John Mandel. Gone Girl. Never forget Gone Girl.
Yes, there were certainly men whose work made giant ripples. Anthony Doerr's Pulitzer Prize–winning All the Light We Cannot See spent a gobsmacking 130 weeks on the New York Times bestseller list. Anthony Marra's 2013 Chechen war novel A Constellation of Vital Phenomena was a personal favorite of mine. There was David Mitchell's genius The Thousand Autumns of Jacob de Zoet and, of course, Colson Whitehead's two exceptional reckonings with America's racist infrastructure — The Underground Railroad and The Nickel Boys. Whitehead landed on the cover of Time, the first author after Franzen to do so.
But over the past ten years, it was women who were celebrated for experimenting, women whose work redefined genres. Sally Rooney led a millennial revolution in realist storytelling with just two novels. Elizabeth Strout turned Sherwood Anderson's modus operandi — small-town insularity — into a one-woman industry of timely stories. Two of Jesmyn Ward's novels, 2011's Salvage the Bones and 2017's Sing, Unburied, Sing, won the National Book Award; they also reaffirmed the need for readers (and the publishing industry) to stop otherizing the work of black authors. With The Flamethrowers in 2013 and The Mars Room in 2018, Rachel Kushner established herself as a master of immersive, meticulous world-building, while Zadie Smith, that former wunderkind, continued to dominate with NW and Swing Time. And Hilary Mantel turned many of us into Thomas Cromwell acolytes (a most unlikely conversion) with an intensely psychological historical trilogy (due to wrap next March, under strict embargo).
But whither the Jonathans and the rest of their pack, and the literary future we were — like it or not — once promised? Safran Foer has largely moved into nonfiction; his only novel in the past decade, 2016's Here I Am, shied away from his hyperactive early style. Following the success of his 2011 hit The Marriage Plot, Jeffrey Eugenides has stayed relatively quiet. In 2012, Michael Chabon published Telegraph Ave; Ron Charles of the Washington Post wrote that sections of it "read like they've been written by a man being paid by the word who has a balloon mortgage due." Moonglow, in 2016, fared better with critics, but couldn't touch the hem of The Yiddish Policeman's Union or The Amazing Adventures of Kavalier and Clay. He's found greater success in television — albeit in partnership with his wife, the writer Ayelet Waldman. Father Time has also come for Lethem (despite the decent The Feral Detective) and Dave Eggers (except for A Hologram for the King).
It's as if the last descendants in the long line of white male literary Calliopes finally petered out, leaving the field wide open. But why? Maybe the times have actually changed. These men and their forebears had operated in a landscape that for decades had centered the same standard bearers: Carver, Cheever, Salinger, Updike, Bellow, Amis, Roth, DeLillo, followed by the frat pack of Easton Ellis, McInerney, and — yes — David Foster Wallace. The absurd idea of the Great American Novel as an aspiration and expectation, both a chimera and a measuring stick, held sway over the men and effectively excluded the women.
Brilliant female novelists were thought of an anomalies, lone wolves, genre-specialists. A Patricia Highsmith here, a Muriel Spark there. A few fully saturated the discourse, like Joan Didion and Toni Morrison, but more often they were politely applauded for their work as individuals and then neglected (Anita Brookner) or segregated (Zora Neale Hurston). Never were enough of them admitted past the gates to constitute a pack. Even into the early aughts, men were thought of as generalists, renowned for their ability to distill the world into one character, while women were specialists, too fixed in their aims to write beyond themselves. Women, it was implied, worked in dioramas while men produced life-size sets.
I'm perhaps the 135th person to pass along this non-breaking news — that the conversation about literary greatness has been largely dominated by the owners of penises. Except the joke is on the generalists now: The state of Western fiction today is a loose constellation, not a line of planets in rotation. All those tiny pinpricks light up the sky, but they don't revolve around any one gravitational center, Great or American or even a Novel.
The omniscient point of view, the overflowing roster of characters, the plot as vast as the prairie and the sober metaphors for so-called "American life" — these are no longer sufficient for a culture that isn't one culture. What single book could explain a decade that vaulted to power both Barack Obama and Donald Trump, gave us Peak TV and Russian Twitter trolls, and showed us that history hadn't ended, but fragmented? How do you anoint a literary lodestar when no single group any longer gets to decide what culture is, and how we ought to consume it?
Whether by accident or design, this state of affairs favors disparate voices, female and non-white. Post-2010, there is no queen of the castle, no equivalent to that circle of Jonathans. Subgenres pop up and feed off one another — the dystopian house of Margaret Atwood, domestic horror descended from Shirley Jackson — and even when they succeed, they do not preclude other styles. The cult of the Great American Novel is being supplanted by what novelist Claire Vaye Watkins calls a "do-it-yourself canon…wherein we can each determine our artistic lineages for ourselves, with curiosity and vigor, rather than trying to shoehorn ourselves into a canon ready made and gifted us by some white fucks at Oxford." "Uncategorizable," that term bandied about to describe Goon Squad, was the defining (anti-)genre of the 2010s, and hopefully will continue to be.
I'd like to obliterate the term "women's fiction" with a flamethrower just as much as the next woman, but I can sign to the idea that fiction dominated by women looks different than that which aspires to old male standards — standards that the readers of the past decade (the majority of them women) have ignored with their wallets. Because who wants to blend in, anyway? The consumer and critical marketplace isn't thirsty for more Jonathans, with their visions of a big abstract America into which most of us don't fit. They want more Rachels and Hilarys and Jesmyns and Sallys, and definitely a Jennifer.