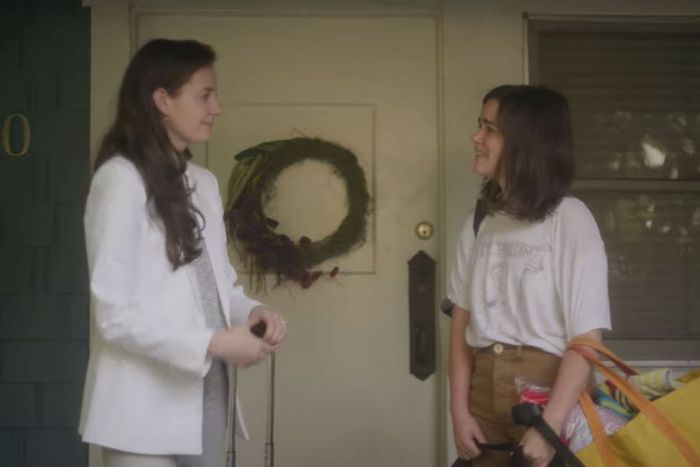 Zoe Jarmen and Stephanie Allynne in
Coda
.
Photo: YouTube
Nearly nine years ago, we started this column as a weekly tribute to the best in internet comedy video. Since then, we've seen web shorts morph from low-budget web series to high-budget web series, to low-budget standalone videos, to high-budget standalone videos, to … well, all of the above, swirling in a maelstrom that sometimes makes us cringe and more often inspires us to shine a light on some of the very best creations. As we march toward the precipice of a new decade, one thing is certain: Digital video in all its forms is here to stay. Here's a roundup of the videos we loved the most this month.
Coda, by Zoe Jarman
Sure, some of the score is a little on-the-nose Curb-y, but writer, director, and star Zoe Jarman's complicated letter to toxic friendship is funny and poignant. What begins as an ebullient reunion between two besties on one bestie's bachelorette weekend quickly morphs into the unengaged bestie's sleeping outside in the fucking cold because she discovered she has nothing in common with any of the bride-to-be's friends … or the bride herself. We've all been there, faced with the reality that those we were once so close to now seem like stranger s. Even beyond its thematic relatability, Coda's small moments of comedy and humanity make it the perfect contender for a watch during a little bit of cozy winter screen time.
Botox Angels, by Emily Kron & Molly Hager
This one's fucked up. A young child prays to God asking that her absentee father return. All seems to be solved when two angels appear in her bedroom heeding her call. Or wait, no, they're actually just there to offer her Botox. When the child refuses because she's 7 years old, the angels' minds are blown. Yes, it sounds kind of first thought, but what follows is clean, crisp joke writing and spot-on performances by angels, writers, and stars Emily Kron and Molly Hager, who make us smile widely even if they can't.
Happy Merry, by Katherine Biskupic & Leah Frires
One woman named Happy Holidays. One woman named Merry Christmas. One epic black-and-white showdown. Written by and starring Katherine Biskupic and Leah Frires, Happy Merry tackles the utterly ridiculous holiday-greetings argument with as much aplomb as its send-up of a good old mid-Atlantic accent. Beyond the core joke, the piece's intentionally absurd, old-timey cutaway gags make this "modern" debate feel rightfully kooky.
Half Past Wednesday, by Genuine Jerks
Who knew that an ambling country-rock tune about a made-up moment in the workweek when traffic violators get along with patrolmen and bartenders don't charge their patrons … is exactly what we needed? What this little ditty lacks in melodic originality, it makes up for with bawdy inventiveness of the calendrical variety.
Untitled, by Felipe Di Poi Tamargo
And finally, Felipe Di Poi Tamargo's latest: One minute of a stammering radio and/or podcast host trying very hard to get through the intro for his nebulously themed show. It's brilliant stream-of-nervous-consciousness with gems like "Welcome. Everything's dirty in my house. From the floor to the ceiling … And I keep asking myself, 'Wh–having fun, huh?'" Yes, Felipe, we are.
Luke Kelly-Clyne is president at Big Breakfast and a watcher of many web videos. Send him yours @LKellyClyne.