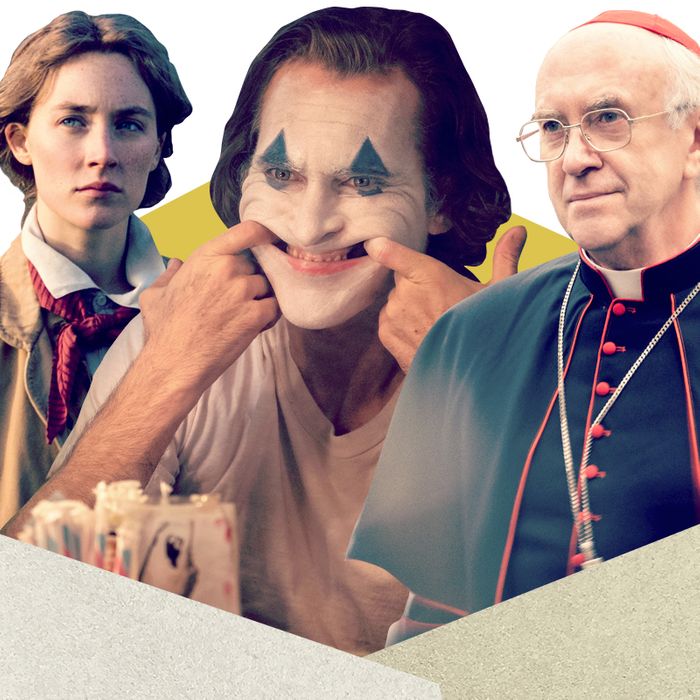 Photo: Vulture, Sony Pictures, Warner Bros. and Netflix
Monday morning brought not just the usual mix of exhaustion and despair, but this week, the Golden Globe nominations too! On the film side, the Globes are even more important than ever this year, as the shortened Oscar season has made them the rare precursor to hand out awards before the Academy's nomination period is up. On the TV side, well, the trophies certainly are just as nice as the Emmy, aren't they? Once you've digested the dozens of nominees, enjoy our experts' guide to the morning's snubs and surprises as dessert.
Movies
The HFPA boys' club is still intact
The Globes' regrettable tendency to overlook female directors was pointedly addressed by Natalie Portman onstage at the 2018 ceremony, but while the HFPA may have been momentarily embarrassed, it apparently did not see any need to change its behavior. In what was already a very male year, the Globes handed all the major nominations to a bunch of boys: another all-male directing lineup, the same in Screenplay, and as a further insult, zero films directed by women in the Drama or Musical/Comedy best-feature lineups. Little Women, Hustlers, Booksmart, and Beautiful Day in the Neighborhood were essentially confined only to the acting races. (Little Women also managed a Score nod.) The sole bright spot on this front was Best Foreign-Language Film, which recognized Lulu Wang's The Farewell and Céline Sciamma's Portrait of a Lady on Fire — all the more welcome since, due to Academy rules, neither of those films will be competing in that category at the Oscars.
Joker looks like an A-list contender
Film Twitter spent the fall rolling its eyes at Todd Phillips's DC Comics-by-way-of-Martin Scorsese origin story, which may have twisted awards expectations. But the HFPA clearly came out dancing, handing the film not only the expected Joaquin Phoenix nomination, but also nods in Best Motion Picture — Drama, and, in the morning's most shocking development, Best Director as well. (A Score nomination rounded out its haul.) Every year, the Golden Globes grant one lucky contender the honor of becoming their season's official Oscar villain, and it's looking ever more likely that this year, that spotlight will be on Joker.
The Two Popes was reborn
I like it when you call me big Pope-ah! For weeks, L.A. pundits had been suggesting that the HFPA was enraptured by the papal buddy dramedy, and while such predictions should usually be taken with a pillar of salt, in this particular case, they divined correctly. The Two Popes was thrice denied at last week's honors, but the Globes resurrected its fortunes, anointing it in Best Motion Picture — Drama, Best Actor — Drama, Best Supporting Actor, and Screenplay. The Screenplay nod is a crucial honor, since there are only five spots to go around. (Last year's A Star Is Born snub in that category was proof that the HFPA was a little less gaga on it than they seemed.) We'll see if the movie is Abel to build on these sacraments at the SAGs.
No De Niro in Best Actor
Since borderline cases like Marriage Story and The Two Popes decided to run in Drama (and Uncut Gems was placed there against its will), someone was always going to be left out in that lead-actor race. But few saw Robert De Niro as the one who'd see the door slammed in his face, particular as The Irishman otherwise pulled in all the nominations a would-be front-runner could have wanted. Was his character, a pathologically recessive mob assassin, to blame? Or perhaps the CGI de-aging process? Or was it instead the actor's mocking comments about the Hollywood Foreign Press Association at the 2011 ceremony? They remember …
A few bubble contenders got major boosts
Best Actress — Drama and Best Supporting Actor mostly went chalk, but other acting categories saw some under-the-radar performances gain more momentum. Building off his NYFCC win last week, Antonio Banderas snuck into the ultracompetitive Best Actor — Drama race, while the Supporting Actress field got shaken up by two surprising inclusions: Annette Bening in The Report, a performance that first earned buzz back at Sundance but has since seemed to fade, and Kathy Bates of the late-breaking Richard Jewell. Curiously, Bates is campaigning as lead at SAG. If she cracks that list as well, start making room.
No Cats allowed (except for Taylor Swift)
When word got out that Cats was in danger of not screening before various December awards deadlines, we gasped. Sure, the New York Film Critics Circle would be fine, but what would the Golden Globes be without Cats, an old-fashioned razzle-dazzle musical spectacular filled with new-fashioned digital-fur technology? As it turns out, Tom Hooper's film did screen in time, but it didn't quite get its claws into voters' heartstrings the way everyone assumed: It took in only a single nomination for Best Original Song — giving Taylor Swift another chonce of winning her first Globe — getting completely snubbed in the big categories. (It was altogether a rough morning for felines, as The Lion King got trolled with a nod in Best Animated Film that Disney did not campaign for.) Elsewhere in the nominations, the lack of Cats had the delightful knock-on effect of ensuring …
The film comedy categories were full of … actual comedies!
Man, what a fun category this year. It helped, of course, that in Once Upon a Time in Hollywood, Jojo Rabbit, Dolemite Is My Name, and Knives Out, we had a quartet of hilarious, critically acclaimed contenders. Those four made up the Best Motion Picture — Musical or Comedy category, with Rocketman filling the obligatory musical spot. The male half of the comedy acting categories matched this slate exactly, but then, in Best Actress — Musical or Comedy, things got wild. Awkwafina, the sole top-tier Oscar candidate on this side of the ballot, got through. Knives Out proved its strength with a well-deserved Ana de Armas nom. Plucky Booksmart made the grade with a nomination for Beanie Feldstein. Emma Thompson, of the pleasant Late Night, was our fourth. And then, for the fifth and final spot, the HFPA reached into their bin and pulled out … Cate Blanchett, of the critically savaged Richard Linklater bomb Where'd You Go, Bernadette. Ladies and gentlemen, the Golden Globes!
TV
Where is When They See Us?
Just a few months ago, Jharrel Jerome won the Emmy for Outstanding Lead Actor in a Limited Series for his work in When They See Us, and the show got 16 nominations overall. Over the weekend, the show scored six Critics' Choice Award nominations, more than any other series. Now that it's the Hollywood Foreign Press's turn to heap love on the excellent Netflix drama, that same appreciation was nowhere to be found. Jerome, Asante Blackk, and Vera Farmiga were snubbed in the acting categories, and the show didn't score an overall nomination. Did the HFPA just not watch the screeners, or is the story of the Exonerated Five not looming as large in the consciousness of the Foreign Press? Instead we get love for … Catch-22, an inspiring show about the power of wearing khaki.
So much for Succession's No. 1 boy
Succession's second season scored high marks from nearly every critic: Shiv's descent into complicity (and high-waisted pant collection), the pivotal Pierce family dinner, the Broadway show we're still waiting to see, Sands! But Monday morning, Succession's No. 1 boy — Jeremy Strong, looking very Jeremy Weak for most of this season's drama — didn't score a nomination. (Only Kieran Culkin and Brian Cox received coveted kisses from daddy GG.) Get Gerri on the phone, have Fisher Stevens draft a PR statement! Strong was the most tragic man of Succession's raucous bunch, and he ended the season on a high note of patricide: At the eleventh hour, Kendall confessed that, actually, dad's plan wasn't better, and he's been a toxic presence in the family business since the start. Please, Jeremy Strong, show up to the Globes in another brown suit in protest. You and that rap deserve a trophy!
A very big little nomination
What does it feel like to be Meryl Streep and wake up with another Golden Globe nomination? Is it like when a barista happens to remember my coffee order, or my landlord texts me back in a timely manner, or I remember to go to the pharmacy on the way into the office — pleasing in the moment, but then I remember that I still have to see A Hidden Life and there's that New Yorker profile that needs reading and also did I leave the butter out? Hmm. Streep, the original marriage storyer, was nominated for her 34th Golden Globe for playing Mary Louise Wright on BLL: She screamed at the table, she talked down to Reese Witherspoon, she did that thing with her crucifix necklace. Streep has as many Golden Globe nominations as years LeBron James has been alive. Imagine that!
Good morning, Apple!
Did anyone expect The Morning Show to have such a strong showing? The HFPA loves movie stars, sure, but both Jennifer Aniston and Reese Witherspoon are head-to-head in the Best Performance by an Actress in a Television Series — Drama category, with Witherspoon picking up a nomination for this and decidedly not Big Little Lies. The Morning Show got an overall nomination, too, for Best Television Series — Drama. It's the first Apple TV+ show to get awards attention.
… and Kit Harington?
After five Best Drama nominations (plus a supporting actor win for Peter Dinklage in 2012) and years of being the most blogged about show ever, Game of Thrones ended its run with the Iron Throne destroyed, King Bran, no dragons, and … an acting nomination for Kit Harington? Okay, Golden Globes, if you say so!