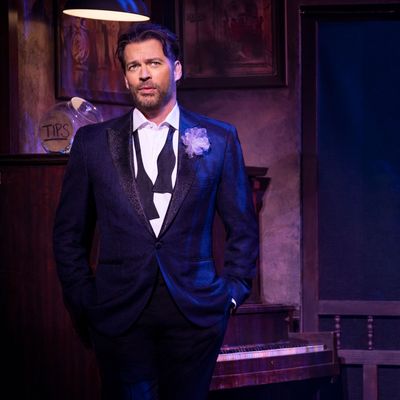 Night and day, under the hide of him.
Photo: Matthew Murphy
As the lights go down for the beginning of Harry Connick, Jr.: A Celebration of Cole Porter, the usual preshow announcement (shut off cell phones, etc.) carries a little extra kick. The voice asks us not to share any details of the show on social media, so as not to ruin the surprises for future audiences. That's … odd. The Harry Potter plays urged audiences at intermission to "Keep the Secrets," but Potter has a puzzle-and-magic plot. Connick is doing a revue of 70-year-old songs. Still, if you would like to stay unspoiled, then don't go past this sentence. He sings "Anything Goes"! I'm sorry, I'm sorry — I just thought you should know.
It's the right weather for this sort of show — we need an entertainment, a cozy throw, a weighted blanket, a warm dessert. It's also the easiest decision you'll ever need to make about where you put your leisure budget. Go have a listen to Connick on YouTube, singing Porter's "True Love" from High Society, something he does just this way in the show. Does the big-band arrangement, those trumpets punching right into your breastbone, do anything for you? Does Connick's Louisiana rasp slow your heartbeat? Are you listening with your eyes closed? If so, snap decision. The rest of y'all (yes, I will be drawling for the next 24 hours; thank you for your patience at this time) might think it sounds cheesy, and you'll pass. Absolutely fine, absolutely your right. This show is unabashedly for an older, more conservative audience that will applaud when Connick talks about how "young songwriters" are too explicit these days. Porter lyrics were more sensual because he just kind of hinted around, Connick says, and the crowd nods in shared pity for those benighted, unsexy youth. Feed this content to me with a spoon.
For the most part, the content is Cole. We hear "Begin the Beguine," "Night and Day," "Love for Sale," all in Connick's long, rich arrangements, full of his own jazz-piano breakdowns and showcase solos for the band. In only 90 minutes, he's not trying to race through the 800-song catalogue; he just wants to fall into the ones that feel most welcoming. Connick is good at what he does because of his ability to project ease. He's two parts New Orleans melt, one part lounge-artist slink. He wears a tux like it's sweatpants. Even when he tap dances, he's the kind of hoofer who goes gentle on the floor—a drummer using brushes instead of sticks. When Harry is singing, Harry is playing piano, or Harry is watching his band and giving little grunts and punches of approval, that ease gets into you too. Cole Porter wrote luscious songs, and the Connick treatment — he surprises us with syncopation but lulls us with timbre — warms your spine like the night's first slug of whiskey.
Admittedly, Connick is less deft with some other tasks he set himself for the show. He produces, writes, and directs as well, and — oh boy. It gives me no pleasure to tell you that he starts things off with a long, weird, CGI-filled video, in which he climbs a huge statue of Cole Porter, enters it via his ear, and passes into a kind of limbo where he has a spiritual encounter with a piano. Later, he talks about the evening as an attempt to "get inside Cole Porter's head," so you can sort of understand where the impulse came from. But other than an extremely brief biographical description (Porter was gay, paralyzed, and prolific, and died discontented), the man is left largely unexamined, and the video is just being bananas for no purpose. Connick has written some odd little scenes to couch the songs: He stands in a bedroom staring at a photo of his wife for one, and he and the upright bass player get run off by a cop in another. These are silly and awkward, and it's a physical relief when he stops acting and goes back to talking about the 25-piece band. He cannot sell the simple line "Oh, hello, Mark!" to virtuoso trumpeter Mark Braud. But he's smooth as whipped butter when he banters with conductor Andrew Fisher and praises concertmaster Louise Owen and tenor-sax maestro Jerry Weldon.
He's written one quite wonderful sequence, though, in which he shows us how he arranged "Night and Day." He walks us through the way that specific lyrics (a reference to a clock) make him choose instrumentation, and then, once he's chosen trumpets, how he decides between cup mutes and Harmon mutes. The projections show us how the notation changes, and the brass section behind him plays the heck out of the song in response. It's still all about ease — Connick tries singing the song in a couple of different keys, then chooses the one that "doesn't make him work that hard." But oh, the veil is down. We've seen the musicianship and care that all that relaxation requires, and it makes us melt a little further. We're in such good hands, after all.
Harry Connick Jr: A Celebration of Cole Porter is at the Nederlander Theatre.