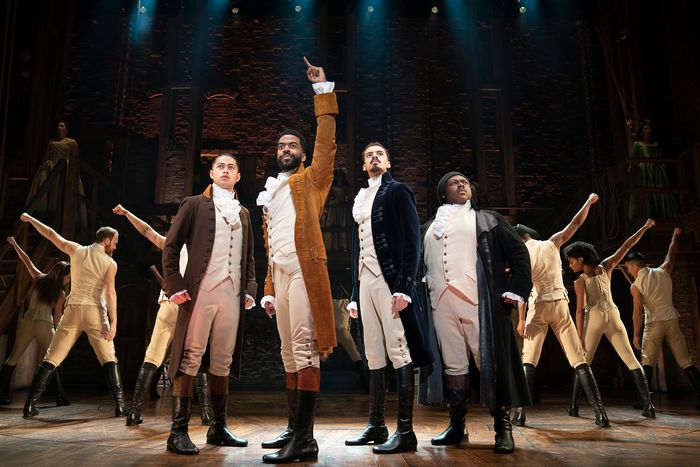 Photo: Joan Marcus/Hamilton
How does a bastard, orphan son of a whore and a Scotsman, dropped in the middle of a forgotten spot in the Caribbean, get holiday tickets to Hamilton? Okay, rhyming aside, Hamilton tickets can feel truly out of reach for those of us who have heard nothing but, "Good luck!" for the past four years. Talk about a true political injustice — the mere thought that seeing Hamilton on Broadway is more untouchable than reservations at Pastis.
Well, allow us to squash such thinking. Hamilton tickets are actually more than attainable — just in time for the holidays — if you know where to look. Read on for our top-tier advice on how to get tickets this season, without selling a kidney or scouring the 42nd Street black market.
Start your week at the box office.
Hamilton plays at the Richard Rodgers Theatre on 46th Street between 8th Avenue and Broadway, where the box office opens at a chic 10:00 a.m. You might come across a decent-sized line, but don't let that deter you. (Remember, this is Hamilton we're talking about.) Monday mornings are the best time to try for tickets, if you can sneak into work a little late that day. Anything is possible if you have the gumption of someone like, say, Alexander Hamilton.
Skip the third-party sellers.
If you're not feeling a box office visit, then buying online is totally respectable. Just make sure what you're buying is legit — HamiltonMusical.com and Ticketmaster are your best bets on getting real tickets at a really decent price (for Hamilton, at least). Tickets start at $199, and you can snag great seats for around $239. If we're being honest, there's not a bad seat in the house at the Richard Rodgers, but we also support the initiative to "treat yourself" any day.
Make it a weeknight event.
The lowest-price performances are — shocker! — Tuesdays through Thursdays. Bonus points if you can make a Wednesday matinee work in your schedule. For those 9-to-5 professionals we know and love so dearly, a weeknight performance might be even better than a weekend — pick a pre-show dinner spot and make it a whole post-work situation. Also, who wants to travel to Manhattan on a weekend?! *Shouts into the void at any outer-borough commuters*
Buy now, go later.
Best availability for Hamilton is for performances in January, February, and March of 2020. The good news is, everyone loves a cute ticket confirmation printout in lieu of a physical present, so buy now and put together a date night for the future. It very much still counts as a holiday gift, and if you're coming from out of town, this gives ample time to make any travel arrangements.
Enter the lottery for $10 tickets (yes, $10).
And last but not least, the biggest deal of them all! Hamilton has its own lottery through their app (aptly named Hamilton), where you can enter daily for a chance to win $10 tickets. You can choose to enter for a single or a pair, and you'll be notified over email or text should you win. The lottery route is best for Greater NY locals, as you're notified on the day prior to the performance you'd be attending. And although we know many who have won the Hamilton lottery more than once (some are born to walk in the light), we wouldn't put all your eggs in this basket. Still, download the app here, and don't throw away your shot just yet. Godspeed!
Hamilton is playing on Broadway at the Richard Rodgers Theatre 226 W. 46th St. Tuesday – Sunday.
This is paid content produced for an advertiser by New York Stories. The editorial staff of Vulture did not play a role in its creation.