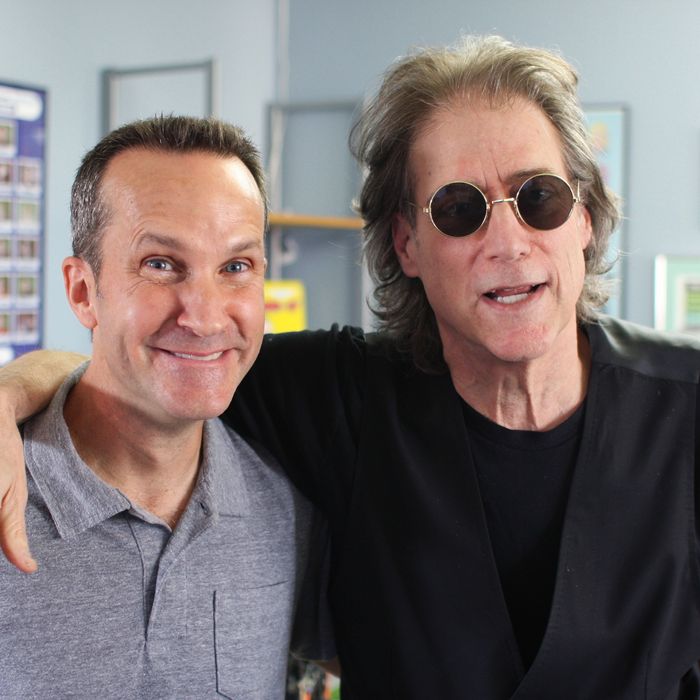 "Blow me." Photo: Courtesy of Never Not Funny
Are you new to comedy podcasts, overwhelmed by the array of options, and wondering where to begin? Then welcome to Start Here, a recurring guide to the best comedy podcasts available — and our recommendations for which episodes are the best entry points to your next auditory obsession.
If they were to construct a Mount Rushmore for comedy podcast hosts, it would have to feature Jimmy Pardo. Pardo has been a working stand-up for more than 30 years, and he was famously the warm-up guy for Conan O'Brien for half a decade. But he is perhaps best known for his podcast with producer/co-host Matt Belknap, Never Not Funny, which is currently in its 25th season, having also released ten annual 12-hour-long Pardcast-a-Thon fundraisers and weekly bonus episodes for paying members of the show's Player's Club.
Embedded in Pardo's legacy are the roots of any other comedy podcast to start in the last decade. Without the launch of his and Belknap's show in the veritable Dark Ages of 2006, there would be no Comedy Bang! Bang!, no WTF With Marc Maron, and — God forbid! — no The Joe Rogan Experience. As Maron put it in 2011, "[Pardo] made it seem possible. Jimmy made us know that it was doable, and fun, and a viable new medium to be funny with." So why, after 13 years and a move from behind a listener-restrictive paywall onto (free) podcasting network Earwolf in 2014, hasn't Never Not Funny become a watercooler hit like its successors?
It may be in part that the show's format was already entirely uncool by the time podcasting hit critical mass. Never Not Funny has what is now a standard structure: a bumping introductory theme song leading into two guys trading dad jokes about traffic, their kids, and the band Chicago; an interview with a comedian or celebrity; and a more formal wrap-up, usually devoted to plugs and final ads. This seemingly ancient format of two white dudes riffing was actually Pardo and Belknap's bread and butter years before every white dude and his buddy had a show. In podcast history, they are the Ur-dudes. To top it off, Pardo also hosts Playing Games With Jimmy Pardo, and this November he debuted yet another show, the music-centric video web series Jimmy's Records & Tapes. As a result, the Pardosphere can seem so expansive that newcomers might be overwhelmed by its breadth.
But the likelier reason NNF gets ignored in roundups and end-of-year lists is that, like any entertainment institution, it's been around for so long as to become like the sun in the sky: rarely noticed, always there, inevitable.
The good news is that for those who have always meant to listen, but never have, there is a perfect antidote: The best episode in Never Not Funny history, episode No. 1,117, which offers curious listeners the perfect casual Pardcast introduction. Recorded in 2012 and rereleased on Earwolf on March 6, 2014, when its host fell ill with laryngitis, the guest on the episode was one of the show's elusive white whales, which made it an excellent emergency replacement for a missed show. That guest, of course, was Richard Lewis.
In their original opening segment from two years earlier, Pardo and Belknap sound over the moon to have nabbed the legendary comedian. They caution that their conversation is unusual, though, because it leans heavily on Lewis's stories, with the hosts taking a rare back seat. "When I started this podcast, I said there are dream guests that we could never get. And Richard Lewis was one of these names," Jimmy explains. "The other, of course, was Greg Fitzsimmons — and we got him!"
Sure enough, Lewis arrives guns blazing, interrupting his own intro by screaming that he "almost got shot in the head four times" trying to get to the studio. Pardo at first sounds embarrassed, scolding "intern" Garon Cockrell for keeping the guest waiting, before demanding that Lewis get on the mic. "You're wasting gold!" he yells by way of an invitation. "Oh, blow me!" Lewis yells back.
This exchange instantly sets the tone for a ferociously hostile, electrically funny episode unlike any in the show's history (as Pardo puts it in the episode, when it comes to Never Not Funny, "Usually, I'm the blowhard"). In fact, it may be the second most contentious conversation in any comedy podcast ever (that honor goes to Gallagher), though in this case what comes through is mutual respect between two "fucked-up" guys.
Pardo spends the first half of the interview struggling to get a word in edgewise. It's hilariously impossible (at 65, Lewis is vivacious and savagely quick), but Pardo puts up the fight of his life. Every time he inquires about, say, Chicago's importance for touring comics or Lewis opening for Diana Ross, the guest spins it into a wild riff about, say, having a three-headed manager. Interrupted one too many times, he calls the barrel-voiced Pardo a "moron" who "looks like an extra in Caddyshack"; Pardo fires back that Lewis, his guest, is actually a "fuckhead."
At one point, desperate to keep things on track, Pardo peppers Lewis with questions mid-flow on a riff about working for Al Gore. Lewis pretends to be incensed by Pardo cutting in and pounces: "You're a control nutcase! Look at your hair. It's like one buzz cut away from the scene in Taxi Driver where they show his Mohawk."
Only after 45 minutes do these faux-hostilities slow, and warmth begins to creep in. Lewis admits that he's having a blast, and Pardo, sensing an opportunity, offers his hero a compliment: "I love that you're known for being a comedian. My mother doesn't go, 'Oh, the actor Richard Lewis.' She goes, 'Oh, the comedian Richard Lewis.' I think that's phenomenal because there's very few of you guys." But Lewis remains pugnacious, asking, "And how would you define Jimmy Fallon?" "Unwatchable," retorts Pardo.
When Lewis's hackles come down for good, the floodgates of his mythic life in comedy open. He talks about Larry David mocking him on the set of Curb Your Enthusiasm. He name-checks friendships with Julian Lennon, Warren Zevon, Eleanor Keaton, and Kitty Bruce. He describes sleeping through a three-hour Bob Dylan concert after smoking laced marijuana, stealing Tom Petty seats, and losing his friend Steve Lubetkin during the 1979 Comedy Store strike.
Seventy minutes into their conversation, with Pardo having successfully buttered him up, Lewis finally offers listeners access to the treasure trove of his "affection-sex addict-junkie" mind. By the time this expert comic finishes holding court, the 90 easiest minutes in Never Not Funny's long history have passed. Belknap has managed not a single word, and Pardo seems completely starstruck. This makes sense, as the only response to Lewis's storytelling is awe.
Even that doesn't stop Jimmy from trying to close out what he would later call one of his favorite episodes with one last compliment. "What a joy," he sputters. Lewis's response? "Blow me."