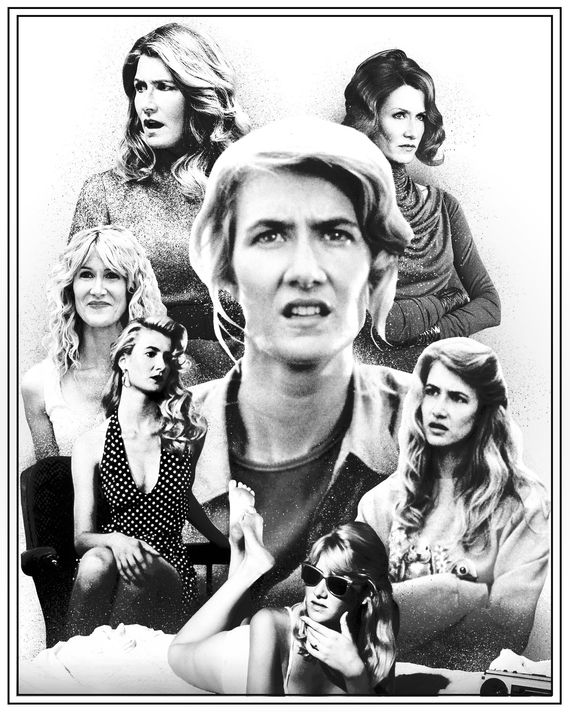 Photo-Illustration: Maya Robinson/Vulture
This article was featured in One Great Story, New York's reading recommendation newsletter. Sign up here to get it nightly.
We talk often of longevity in actors, but it's almost always the result of hardheadedness — Tom Cruise or Clint Eastwood finding new ways to do Tom Cruise or Clint Eastwood things, even as the times change. Occasionally, it's owed to a long list of capital-A accomplishments: Meryl Streep and Daniel Day-Lewis come to mind. But then there are those rare actors who change our very idea of stardom. Laura Dern has, over the years, become more famous, but there isn't one role, or type of role, or even a style of performance one can point to as the reason for her decades-long success. Her stardom is defined not by an ability to do a few things extremely well but by the staggering variety of full-bodied characters she inhabits while retaining her essence.
But what is that "essence"? Dern is an actress equally at ease with the slightest of gestures and glances — those blink-and-you'll-miss-it moments that reveal worlds of complexity and pain — and the theatrically broad strokes that acting gurus might shun as being too much. It seems like it would take just a millimeter for her lips to curl into a conspiratorial smile, twist into a disgusted grimace, or break into an existential shriek. She projects vitality and familiarity — we feel as if we know her and like her — but also a wild unpredictability. Anything seems possible when she's onscreen.
You can see it in her earliest films. Right at the end of Joyce Chopra's Smooth Talk, there is a moment that is easy to miss but hard to forget. Dern's 15-year-old character, Connie, has just returned from what has been ominously described as "a Sunday drive" with a menacing drifter, played by Treat Williams. The suggestion is that Connie has been raped. Her older sister, June (Elizabeth Berridge), expresses concern when the girl mentions that she went for a ride with a stranger. There is a long, uncomfortable pause. Connie gives a hesitant smile and says, "Maybe I didn't go. Maybe I'm going out of my mind." Then, after another nervous pause, another smile: "Listen, I didn't go. Don't worry. It didn't even happen." The camera stays on Dern, who was 16 at the time. For a split second, her smile grows anguished. It might be the most subtly heartbreaking few seconds of acting I've ever seen.
Just a few months after Smooth Talk's theatrical release in 1986, Dern appeared in David Lynch's Blue Velvet as Sandy Williams, the next-door neighbor who, alongside Kyle MacLachlan's Jeffrey Beaumont, gets pulled into uncovering a seemingly ordinary town's vast, unspeakable underbelly. In Lynch's vision, performers are called on not for their way around subtlety but for their ability to be big without ever going camp. Dern plays Sandy as a figure of angelic innocence who at one point delivers a (now immortal) monologue about "the blinding light of love" brought by thousands of robins she saw in a dream. On the page, it's one of the strangest, most ridiculous things you've ever read; onscreen, delivered by Dern, it's a moving vision of goodness that counters the film's pitch-black narrative of murder, deceit, and deviancy.
In 1986, thanks to the one-two punch of Smooth Talk and Blue Velvet, everybody seemed to be talking about this extraordinary new actress named Laura Dern. Of course, she wasn't actually new. Born to two of American film's great character actors, Diane Ladd and Bruce Dern, she'd started performing in the early 1970s. (She can be seen eating an ice-cream cone in Mel's Diner toward the end of Martin Scorsese's Alice Doesn't Live Here Anymore, for which her mom was nominated for an Academy Award.) Over the years, she'd performed opposite fellow child actor Jodie Foster in Foxes and played a blind girl who falls in love with a boy with a face-disfiguring bone disorder in Peter Bogdanovich's Mask, a film for which she reportedly turned down a chance to appear in a big Brat Pack flick that might have sent her career in a totally different direction. At her recent Vulture Festival appearance to receive our first-ever honorary degree (look, we may not be an accredited educational institution, but we wanted to give her a prize), Dern credited her parents with giving her the confidence to turn down those early big-money roles in favor of more interesting, challenging parts. Maybe they're the reason she seems to have understood early on that there was no such thing as a role too minor or a movie too small.
So she didn't get to work with John Hughes and other teen-comedy auteurs, but she did work with Lynch and Martha Coolidge and Alexander Payne and Robert Altman. The blockbuster roles simply came later, and even those she made her own. Some were puzzled when Dern — at the time thought of as a more "serious" performer — was announced as one of the leads of Steven Spielberg's Jurassic Park. Yet the way she played paleontologist Ellie Satler, with a combination of childlike awe and nerdy enthusiasm, made the character quickly become a hero to a generation of viewers. Years later, she brought surprising layers of intimacy to the role of the regal, heroically doomed Rebel Alliance vice-admiral Holdo in Rian Johnson's Star Wars: The Last Jedi.
In some ways, Lynch still "gets" Dern better than just about anyone else. Four years after Blue Velvet, he pretty much confirmed her range (as well as her flair for the absurd) by casting her as one-half of the snarling, lusty lovers at the center of his surreal hell-ride romance Wild at Heart. Sixteen years after that, he put her at the center of Inland Empire, an occasionally impenetrable but always fascinating look at an actress's fractured self and a movie that, when you think about it, is all about the existential terror of having range. And while it would probably take a whole book to explore the ways in which Lynch uses Dern as the intensely melancholy, foul-mouthed Diane Evans in 2017's Twin Peaks: The Return, what's perhaps most notable about it is how it seems to play against every preconception we might (erroneously) have about Dern — and yet still manages to be an extremely Laura Dern part. By the time it's over, you can't imagine anyone else but her doing it.
Now, this season, we see her in two roles that couldn't be more different. As Scarlett Johansson's shark divorce attorney in Noah Baumbach's Marriage Story, Dern has one of the all-time great introductory shots: Immaculately dressed and coiffed, she apologizes to her client for looking "so schleppy." Dern somehow conveys the character's self-absorption while winking to us; we laugh at this person, but we also, weirdly, trust her. Meanwhile, in Greta Gerwig's Little Women, she plays the March sisters' mother, Marmee, who has classically been depicted more as a symbol of maternal perfection than an actual human being. Dern's performance is generous and gentle but never passive. It's a small role, yet again, we're enraptured by her presence — because she's Laura Dern, and we're always wondering what's going on in Laura Dern's head.
Perhaps no recent role better demonstrates her versatility than that of Big Little Lies's Renata Klein, the high-strung workaholic whose season-one tantrums felt alternately threatening and ridiculous, then in season two became cathartic and necessary. "Tragicomic" doesn't quite describe Renata; her extremes are sharper, more involving. Dern plays her (and, by extension, us) like a piano, making sure to hit every last goddamn note. Watching the character develop, we're caught in a slipstream of cringey revulsion and ugly-cry identification.
At Vulture Fest, Dern recalled that a veteran actor had likened her to Charles Laughton early in her career. That might have sounded to some like a dig — the portly, odd-looking Laughton often played characters who were detestable or pathetic. However, it's a surprisingly apt comparison: Laughton was known for transforming himself for different parts. Within any given performance, he made some of the most unconventional acting choices you've ever seen, and he always remained Charles Laughton. In her case, Dern doesn't so much transform as absorb: Each new role, each momentary choice, adds to her persona. And somehow, Laura Dern remains Laura Dern.
*A version of this article appears in the November 25, 2019, issue of New York Magazine. Subscribe Now!