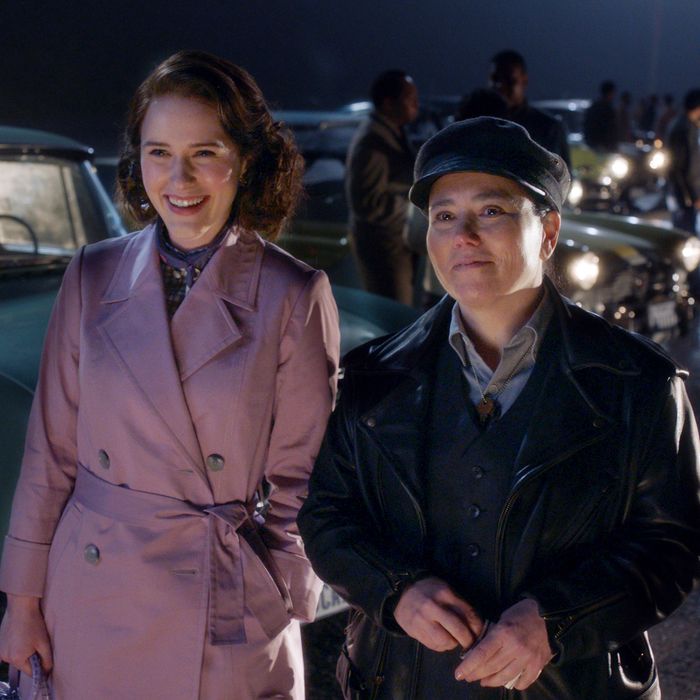 Rich woman, poor woman, who are now possibly both poor women?
Photo: Amazon Studios
This piece contains spoilers about season three of The Marvelous Mrs. Maisel.
The Marvelous Mrs. Maisel is a show that can often be as annoying as it is charming. This is especially true in season three, the most uneven batch of Mrs. Maisel episodes so far, and one that attempts to address a nagging issue that has afflicted the series since its beginning: the elitism and privilege that its main characters carry around as unapologetically as Miriam "Midge" Maisel pursues her stand-up-comedy career.
In season three, money gets squandered and assets get stripped away. This happens first to Miriam's parents, Abe and Rose Weissman (Tony Shalhoub and Marin Hinkle), who are forced to give up their wildly spacious Manhattan apartment after Abe loses his professor job and then, rather swiftly and in a move that seems out of character, Rose decides to forgo her entire trust fund because she feels demeaned by her siblings. For reasons that defy believability, their only option is to move in with their former in-laws, Moishe and Shirley Maisel (Kevin Pollak and Caroline Aaron), a couple they absolutely can't stand and can stand even less once they have to share a home in Queens with them.
By the end of the season, Midge (Rachel Brosnahan) finds herself in similar circumstances, though she doesn't know it yet. Her manager, Susie (Alex Borstein), has gambled away all of the money Midge earned on tour and asked Joel (Michael Zegen), Midge's ex-husband, to manage her income moving forward. Midge doesn't realize it, but her plans — including her intention to buy back her and Joel's old apartment and move back in, along with her parents — are about to be upended. Though season three sets up the possibility of a major fall for Midge, it closes with a significant setback (more on this momentarily) that leaves aside the fact that she may have just lost everything and have to start over. That conclusion suggests that the show has reached an important crossroads in the way it handles Midge, her family's wealth, and Midge's ability to grow as a human being.
Throughout this season, Midge has not taken money for granted. During episode seven, for example, she hustles from radio spot to radio spot purely for the sake of collecting paltry fees or payment in the form of pancake syrup. At the same time, she continues to take a certain lifestyle for granted. While on tour in Miami, she stays at the swanky Fontainebleau hotel. She still has enough chic, fit-and-flare dresses to be able to change ensembles multiple times in a day. Most egregiously, given the financial problems her parents have faced, Midge is still adamant that her son, Ethan, needs to attend private school in Manhattan in a neighborhood where her family no longer lives, because going to public school in Queens will basically ruin the kid's life. Joel points out that they may not have the means to stick to their private-school plan, and that it might not be practical either. Midge doesn't care. In short: You can take the girl out of the Upper West Side, but you can't take the Upper West Side out of the girl.
One of Midge's biggest faults is her inability to recognize her snobbishness and social myopia, a condition that, in theory, should have been mitigated by life on the road and being exposed to all kinds of people while on tour with singer Shy Baldwin (Leroy McClain). But it isn't. On one hand, this is really disappointing and makes it more challenging to embrace the notion that Midge is the sort of anti–Phyllis Schlafly renegade she's portrayed as in episode seven. On the other hand, it's hard to imagine a Marvelous Mrs. Maisel that unfolds without aesthetically luxuriating in some of the trappings of wealth. Midge becoming more "woke," for lack of a better word, stands at odds with the show's sensibility.
A big part of the appeal of this series is its sense of atmosphere: its production design, those costumes, and a general air of 1950s and '60s cheer. The Marvelous Mrs. Maisel is bright and colorful, a show whose rich, retro beauty is one of its biggest assets. Even the supposedly awful Queens where the Maisels live looks like an idyllic Pleasantville, apart from all the yelling that echoes down the streets thanks to Shirley and Moishe. (By the way, if Moishe shouted that he wasn't wearing pants one more time during this season, I might have strangled myself using a pair of vintage slacks.)
Via Susie, the Amazon series shows us that not everyone in New York lives in the kind of splendor that the Maisels and Weissmans enjoy. Joel's new club in Chinatown doesn't exactly scream high-end, either. But The Marvelous Mrs. Maisel has reached a point where its aesthetic, which definitely revels in the trappings that come with upper-class life, may be more blatantly at odds with the direction in which Midge needs to go in order to grow as a character. I don't think the show can continue without its heroine beginning to mature more than she has.
At this point, Midge is a contradiction, a comic rebel who is friends — and, in this recent season's best episode, almost more than that — with Lenny Bruce but also someone who has lived an extremely comfortable life and doesn't seem interested in fully bursting out of that bubble. That tension is actually an interesting thing to explore, but The Marvelous Mrs. Maisel often skates right up to the edge of exploring it, then does a 180 and glides away toward another stand-up set filled with jokes about marriage and Jewish mothers.
Part of the problem is that series creator Amy Sherman-Palladino really wants us to like Midge. We're supposed to admire her confidence and find her occasional impatience with the world around her amusing. That worked well enough in season one, but now that the series seems poised to last for several seasons — Amazon hasn't officially renewed it for season four, but that seems inevitable — it can't coast as much on charm. It needs to own Midge's flaws and really show her wrestling with them.
It comes closer than it ever has to doing that in the final moments of the season finale, when Reggie (Sterling K. Brown), Shy's longtime friend and manager, fires Midge from the Shy Baldwin tour after she, while opening for the singer at the Apollo, makes several jokes that allude to Shy's very much closeted homosexuality, something that only she, Reggie, and a very select few know about. It's unclear whether the audience picks up on the subtext, but Shy feels like he's been mocked and outed in his own community by a white woman in whom he confided. So just as quickly as Midge got hired, she's out on her ass.
The fact that she doesn't grasp why her words were poorly chosen or how hurtful they might be speaks to how self-involved Midge is, and how ill-equipped she is to navigate relationships with people who have backgrounds that differ from hers. Midge doesn't come across as homophobic or racist, but she does come across as a white woman who has only considered on a very surface level what it must feel like to be marginalized. Which, to be fair, hardly makes her an anomaly, in 1960s America or even today.
You could argue that as a Jewish woman attempting to pursue a career usually limited to men, she has some idea what it feels like to be marginalized. But Midge has grown up surrounded by people very much like herself. As much as the show paints her as a risk-taker, the longer The Marvelous Mrs. Maisel goes on, the safer the risks she takes begin to look.
By introducing that Shy Baldwin arc and implying that Susie's money misjudgments will be a major issue for Midge in the future, the series hints that it might be ready to reckon more openly with Midge's blind spots. I hope that's the case. For someone who constantly mines her own life for comedy, the moment is long past due for Mrs. Maisel to turn a critical eye on herself.