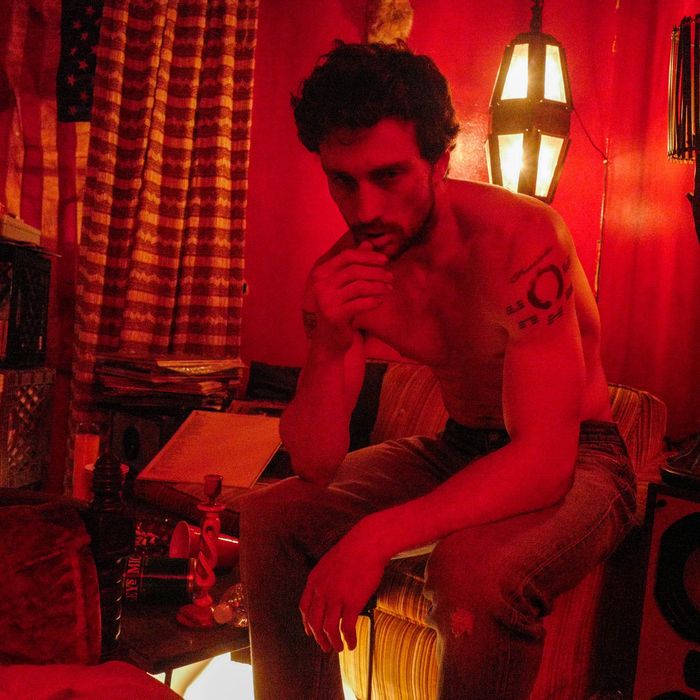 Aaron Taylor-Johnson as James Frey in
A Million Little Pieces
.
Photo: Momentum Pictures
This awards season's strangest bit player has been disgraced memoirist James Frey. In the years since the author was exposed as having fictionalized swaths of his supposedly true best seller A Million Little Pieces, he's been kicking around the edges of Hollywood. He started a company in 2010 with the manifest goal of churning out books that could be developed into adaptations like I Am Number Four, which starred Alex Pettyfer as a hunky alien, Frey's predicted next big YA thing after wizards and vampires. Then this fall, Frey, of all people, was revealed to have come up with the concept for Queen & Slim, Melina Matsoukas and Lena Waithe's take on Bonnie and Clyde as seen through a lens of racialized police violence. According to Waithe, Frey introduced himself to her at a party, and pitched the idea as one "he couldn't write himself because he's white." She ran with it, building out the plot and writing the script herself, but giving him a story credit.
And now a big-screen version of the book that made Frey famous, then infamous, is out in theaters, well over a decade after the furor surrounding it died down. Dealing with source material that probably wouldn't have made as big a splash if it hadn't been positioned as a real, raw story poses some interesting dilemmas when it comes to adaptation. But the film, directed by Sam Taylor-Johnson (Fifty Shades of Grey) from a screenplay she wrote with her husband and lead actor, Aaron Taylor-Johnson, doesn't do anything interesting with the book's history beyond gesture to it with an opening quote — "I've lived through some terrible things in my life, some of which actually happened" — that's misattributed to Mark Twain. The two otherwise approach their adaptation on the level, and the result is an underwhelming addiction story that feels not just familiar, but more focused on the bad-boy swagger of its main character than his actual recovery.
That character, who's named James Frey, is played by Aaron Taylor-Johnson with a tough veneer that's only sometimes positioned as a defensive façade. Other times, the film seems to sincerely see him as cool, as he sprawls on the couch in the rehab common room with a cigarette dangling from his lips, or takes his rage out on a young tree, or does some forbidden flirting with a fellow patient named Lilly (Odessa Young). A Million Little Pieces takes place almost entirely on the grounds of the Minnesota facility that James checks into at the behest of his brother Bob (Charlie Hunnam). But it starts off with a glimpse of James at a party, shirtless, tattooed, and high, eventually falling off a balcony in the incident that will have him shipped off to seek help. The other attendees look annoyed or amused, but the camera itself is entranced as he strips down and dances in slow motion to the Smashing Pumpkins, genitals and arms windmilling — more the addict as rock star than the addict as hitting rock bottom.
We learn that James will die if he keeps living like this. We see him enduring unanesthetized dental work on his ruined teeth. We never really get a sense of why or when he decides he actually wants to get clean. Rehab's often glimpsed by way of characters like James at the movies — white and well-off enough to afford it, possessed of an attitude but also all that potential, as though an emphasis on opportunity cost is needed to give this process urgency. This year's given us Taron Egerton in Rocketman and Lucas Hedges in Honey Boy as celebs initially resistant to, but then benefiting from, treatment. (It also gave us Matthew McConaughey as Moondog in The Beach Bum, who blithely breaks out of the facility he's sentenced to attend, no worse for the wear.) Last year's Beautiful Boy explored this mind-set, with Steve Carell as a father who keeps seeing wasted chances rather than what's increasingly a life-or-death issue for his addict son. It's a narrow perspective, and A Million Little Pieces attempts to broaden itself with brushes with people who have it worse.
James encounters an array of colorful fellow patients played by Giovanni Ribisi, Billy Bob Thornton, David Dastmalchian, and Charles Parnell, and gets counseled by staffers played by Dash Mihok, Juliette Lewis, and Ryan Hurst. They all feel like they're there to impart lessons to James so that he can move forward with his life, while they may not. That's especially the case with fragile Lilly, who's essentially a sacrificial offering made on the altar of James's sobriety. That the film can't bring itself to treat their developing relationship as the terrible idea it clearly is from the start speaks to just how smitten the movie is with its protagonist, who does surprisingly little grappling with his own demons and any hurt he may have caused. At one point, Thornton's character encourages James to burn a confession he's written about dark things he's done and to make peace with himself, and it's shocking, given how little we've actually seen or heard of that history.
The stylish hollowness of A Million Little Things makes a provocative, if apparently inadvertent, point about its source material: It makes you wonder why this kind of viewpoint on recovery has had such a hold on us, to the point where someone can embellish his story with the right kind of details to make it a hit.