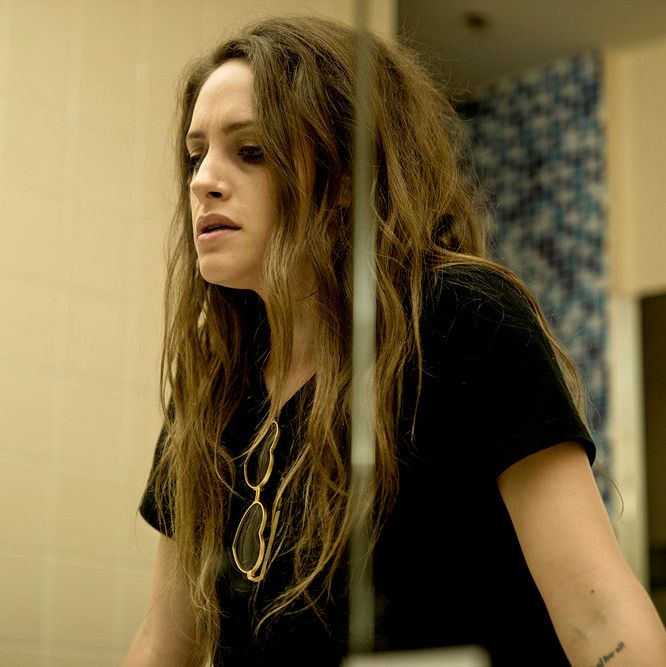 Photo: USA Network/Elizabeth Fisher/USA Network
"What's next?" That's the usual question following a big score, or even just the completion of a major life event. A heady mixture of emptiness, anxiety, and excitement are normal. The future is wide open after all. It's up to you to make of it what you will.
Sam Esmail takes this idea seriously in the antepenultimate episode of Mr. Robot. (Though "410 Gone" is the tenth episode, the series finale will be a two-parter.) The Deus Group hack is complete. The money they stole will be returned to the people. Whiterose has been exposed. Elliot and Darlene successfully "Robin Hood-ed those motherfuckers." But when it's all over, they're still left with life, and the myriad pieces that need to be picked up and put back into place.
This week, Esmail focuses on Dom and Darlene, who have been dancing around their feelings for each other for a while now, save for one night of passion. Dom survived surgery but is under investigation by the FBI after revealing her Dark Army–influenced crimes. Despondent and shell-shocked, she leaves the hospital against medical advice to return to her apartment to hang out with Alexa and eat a grilled cheese. Suddenly, Darlene shows up to destroy Alexa ("She is not real! She is not your friend! She is just a robot you use to buy paper towels!") and whisk her out of the country.
The Dom and Darlene relationship hasn't always been the most consistent element of Mr. Robot. Esmail and company have more or less taken their pairing on its face instead of acutely developing it. Plus, Grace Gummer and Carly Chaikin's antagonistic energy hasn't always generated actual chemistry. The cop-criminal love affair is a classic staple, but it usually works better if it doesn't just coast on the premise's inherent tension.
But in "410 Gone," Gummer, Chaikin, and Esmail's script make up considerable difference. Their characters are both paranoid and traumatized, living on the other side of a hellacious threat. There's still distrust between them, but Darlene's determination to break through Dom's steely defenses reaches an emotional crest. Dom was isolated and depressed before she started investigating fsociety or the Dark Army, but it's only gotten worse after being betrayed and living as a hostage for so long. Darlene knows what it's like to go from Hell and back as well, and though she's dealing with her own demons, she still wants to snap Dom out of her misery. Not just by running away with her, but also by demonstrating her affection.
It's that motivation that charges the money transfer scene. First, it inverts the paranoia baked into the rest stop setting — Esmail opens with a chilly overhead shot of the area, a recurring visual motif of '70s paranoid thrillers from the Alan J. Pakula school; the hordes of bustling people who may or may not be tailing them; the eerie park bench that renders Dom and Darlene sitting ducks. But when Darlene transfers the stolen Deus Group money equitably amongst people's E Coin accounts, it becomes a place of celebration. Surprised, relieved faces beam across the area. But more importantly, it shows Dom why Darlene lives against her very code. She'll have to live with her more severe crimes forever (mainly murder), but that simple act of returning money to the people was why she set down this path in the first place. It was the entire point of fsociety. She operated outside the law to defeat those who abused and profited from its weaknesses. Chaikin's potent self-righteous delivery sells her excitement as well as Gummer's reserved expression. They finally reach an understanding.
Even more good news is around the corner: The Dark Army has gone underground, or at least has abandoned Dom and Darlene as targets. Leon, a former Dark Army agent turned gun for hire, transports the two safely through potentially dicey areas to the airport and wishes them well. Dom runs into Irving (Bobby Cannavale, returning to the show presumably for one last appearance) at the airport bookstore and fears the worst, but it turns out he's in town on his book tour. (He finally published his novel: Beach Towel.) He's the one who tells Dom that no one is after them and they have no reason to look over their shoulders. So why are they flying off to Budapest?
Well, to be with each other. At least that's what Darlene all but tells her when Dom insists on staying behind. Neither Dom nor Darlene have been alone, or felt alone, for a long time now. They have a shared history and it makes sense for them to pool their fear and trauma together to heal each other. Yet, Dom still has a life and family in New York, and Darlene has no reason left to stay. They part in tears, believing that they're on the right path.
But then, at the last minute, they each have a sudden change of heart. Set to Carly Rae Jepson's "Run Away With Me," Darlene walks to her gate, but when she gets there, she starts experiencing a panic attack right before she's about to board. Meanwhile, Dom arrives at the "No Return Entry" point by the airport exit and begins to sprint back to the gate. It's a scene straight out of a romantic comedy: Dom arrives in the nick of time, calms Darlene down, and they board the plane together following a tender embrace.
Except that isn't what happens. Esmail pulls one of his best "twists" and instead, Darlene leaves the gate and runs to the bathroom just as Dom arrives to board the plane. As Darlene hyperventilates, an onlooker in the bathroom asks if she needs help or wants to inform someone at the gate. Dom, realizing Darlene isn't on the plane, feebly tries to exit but sits down following a flight attendant's query. They're both separated once again, just when it seemed like they were about to be together, free from violence and evil forces.
However, Esmail doesn't play the moment as tragedy. On the contrast, "410 Gone" ends on an optimistic note. Esmail suggests that Dom and Darlene need to learn to live with themselves before they try to live with each other, that it's important to find a way to first be comfortable being alone before embarking on a new relationship borne out of fraught situation. Odds are they're both going to be okay. (Darlene even has two job offers! One from Leon, supposedly as a freelance hacker, and a second through Dom, who encourages her to apply to U.S. Cyber Command "when she's ready to grow up.") So Darlene calms herself down and pronounces to the onlooker she can take care of herself, and Dom finally, finally falls asleep right before the plane takes off. In the end, it was Darlene who needed to stay and carve out a new life and it was Dom who needed to escape the grind and take a much-needed vacation. If this is the last we see of either character, Esmail gives them both a helluva sendoff.
Orphan Code
• Joey Badass receives all of Esmail's most pop-culture-heavy dialogue. He quotes Max von Sydow's character from Three Days of the Condor and references Kilgore Trout's "steal a mirror" phrase, meaning "to take a leak," from Kurt Vonnegut's Breakfast of Champions.
• Music Corner: Besides Carly Rae, Leon plays Hall & Oates' "Wait For Me" and Dom hilariously asks Alexa to play Faith Hill's "The Kiss."
• The back cover of Irving's debut novel, Beach Towel, says it features themes of political corruption and income inequality. Sounds familiar.