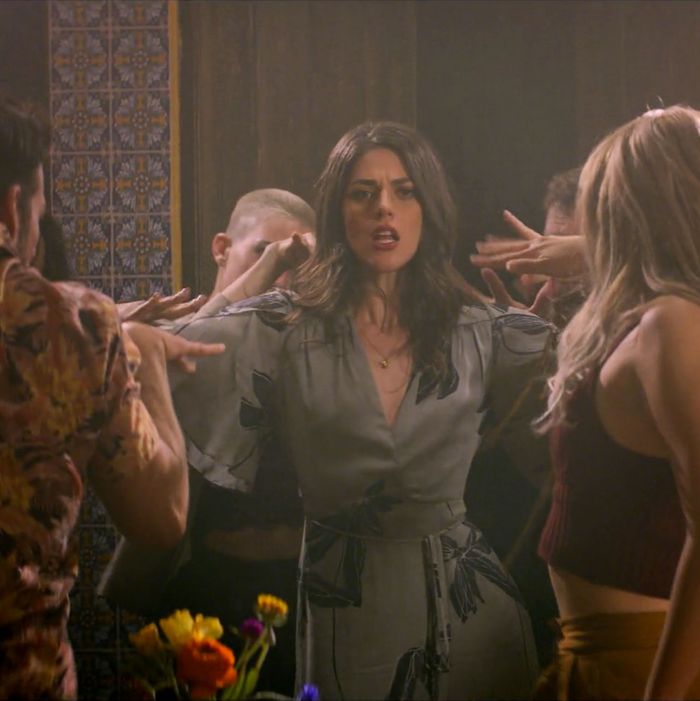 She's got thick skin and an elastic heart.
Photo: Netflix
In the first episode of Soundtrack, when Callie Hernandez's character arrives at a big, emotional moment, out comes Sia's "Elastic Heart." But Hernandez is not singing a cover. To be clear, Sia's own version of the song is coming out of her mouth: This is a Netflix TV series in which everyone sings their feelings, and all those feelings come out in the form of elaborate lip syncs to pop songs. "I was very inspired by that idea that when we think of a song and when we sing along to it in our heads, we hear the artist, we don't hear ourselves," creator Joshua Safran told Vulture.
Safran, who previously ran the second season of Smash (and is currently at work on a Gossip Girl reboot), knows his way around making a musical with original songs, but filling a series with lip-synced performances was always a key part of his pitch for Soundtrack. He grew up a fan of Pennies From Heaven (both the BBC series and the Steve Martin movie), which incorporate lip-synced performances to popular songs into their plot, and wanted to make that same idea work within a TV show. After selling two other pilots in one season, Safran pitched 20th Century Fox's TV division on this series, which was originally called Mixtape, with the idea of structuring it around a group of interconnected people, each defined by a specific taste in music, as represented by the songs they lip-sync. The result is somewhere between Pennies From Heaven and that scene in Magnolia where everyone lip-syncs Aimee Mann, with some TV-ready twists. "What if Paul Thomas Anderson made This Is Us?" is how Safran describes the premise.
Of the three pilots Safran sold, Mixtape was the one that got picked up. As he began mapping out the series, he decided to "let the songs actually tell me the plot." He had a rough idea of setting the story in Los Angeles, where "everyone is so disconnected from one another," and then created playlists for each character, with up to 150 songs on each one to fill in ideas about their backgrounds and personalities. From Brandon Flowers's "Between Me and You," Safran was inspired to create for one main character, Sam (Paul James), a single father who's working several jobs to support his kid. From Kate Bush's "Hounds of Love," he developed the idea for Nellie (Hernandez), an aspiring artist who goes through a break-up in the first episode, though they didn't end up using that song. "Fox felt the first song in the series should be something more recognizable," Safran said. "On top of that, the lyrics were not doing what was my stated intention, which was to make this a real book musical where, if the songs don't tell the story of the characters, they should be cut." They went with "Elastic Heart" instead, a song that Safran believes "tells the entire story of Nellie."
Other characters' music taste goes in different directions. Nellie's parents (played by Madeleine Stowe and Campbell Scott) favor oldies, while Nellie's eccentric friend Gigi (Megan Ferguson) lip-syncs old-fashioned showtunes. Near the end of many episodes, characters' lives collide into a lip sync that mashes up two songs simultaneously, which ate up the largest part of the show's music budget. "You would pay for the rights for each of the songs, then you paid an extra set of rights for the new song we're creating," Safran said. "While we had a larger music budget than I've had in the past, half of it went to a mashup, basically, which is why not all the episodes have them. I just couldn't afford to have them all."
To clear the rights to the music the show wanted, Safran worked with music supervisor Jen Ross, who helped flag the songs that might be too expensive, the ones that haven't been cleared in a long time, and the artists who would probably say no. He wrote around 60 personalized letters to the artists whose songs they needed to clear , and got all but seven of the artists they asked to clear their songs. That list of rejections included Lorde and Pink, who didn't want their songs rewired into a mashup without their supervision, and Stevie Wonder, who said he didn't understand the concept of lip syncing and didn't think the idea would work. "He was like, 'If you want to use one of my songs on the radio in the background, we can discuss that,'" Safran said. "That was a pass that I respected."
Once the songs were cleared, filming the lip-synced numbers required having the actors navigate the emotional and technical beats of the songs, so it would seem as if they were singing live. The actors rehearsed with choreographer, James Alsop, and with a lip-sync coach who showed them how a singer — like Sia, for instance — would move during a performance. "You actually have to breathe the same way the artist breathes so it looks like dialogue," Safran said, noting that he insisted on that aspect of rehearsal after Benj Pasek and Justin Paul, the songwriters behind The Greatest Showman, told him that Rebecca Ferguson watched a video of Loren Allred's performance of "Never Enough" to make sure her lip sync matched.
Even while they filmed the pilot, which was made for Fox before Netflix picked up the series, Safran wasn't sure if the concept would fly, so he cast musically talented leads in case the network insisted on having everyone sing covers instead. During test screenings, he said, a large portion of the audience was confused about why one singer's voice was coming out of another person's mouth. "I have no idea if the audience will accept the lip syncing," Joshua said, "but I know that if they do, they're along for a really cool ride."