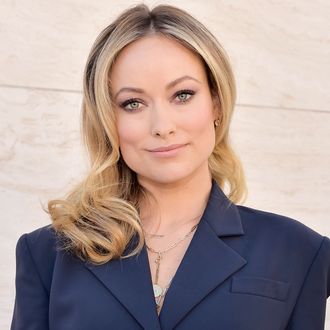 Photo: STEFANIE< KEENAN QWZZ]/Getty Images for The Hollywood R
Actress Olivia Wilde has somewhat amended her position on the controversy surrounding her character in the movie Richard Jewell. Based on the true story of the attempted bombing of Atlanta's Centennial Olympic Park during the Summer Olympics in 1996, Wilde plays Kathy Scruggs, a real-life journalist who did some very consequential reporting on the investigation into the bombing. In the film, it is strongly implied that Scruggs traded sex with a source for information on the bombing suspect, but folks who knew and worked with Scruggs — who died in 2001 — say she never did such a thing, and that it is an unfair characterization of what would be a big ethical breach for a professional journalist.
Wilde previously gave something of a defense for the feature-film version of Scruggs, telling The Hollywood Reporter, "I think people have a hard time accepting sexuality in female characters without allowing it to entirely define that character," Wilde said on the red carpet. "We don't do that to men, we don't do that to James Bond — we don't say James Bond isn't a real spy because he gets his information sometimes by sleeping with women as sources." But now a few days later, the actress and filmmaker is amending her stance on the fictionalized treatment of Scruggs, emphasizing that she does not think the reporter leveraged sex for information, and that she knows that isn't standard practice for female journalists. Also, she wants you to remember she didn't write the character. Wilde laid out her thoughts on Twitter.
Both of Wilde's parents are journalists. Her father currently works for Harper's Bazaar and her mother is both a print journalist and a documentarian. So, she is very familiar with the real lives of media professionals, and how they differ from their characterizations on film — characterizations that routinely depict women in journalism trading sex for access. Ultimately, she'd probably like you to take this up with director Clint Eastwood.