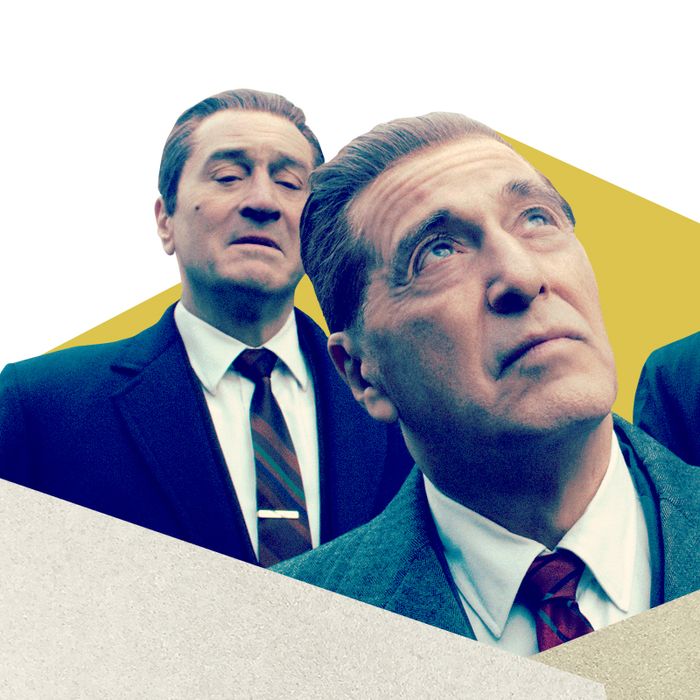 Photo: Vulture and Netflix
Every week between now and January 13, when the Academy Award nominations are announced, Vulture will consult its crystal ball to determine the changing fortunes of this year's Oscars race. In our "Oscar Futures" column, we'll let you in on insider gossip, parse brand-new developments, and track industry buzz to figure out who's up, who's down, and who's currently leading the race for a coveted Oscar nomination.
Best Picture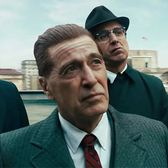 The Irishman
Collectively, the Gothams, National Board of Review, New York Film Critics Circle, and American Film Institute are the Iowa and New Hampshire of awards season: tremendously unrepresentative, and there's no real reason why they come first, but since they do come first, their picks have weight. In the first week of actual prizes, no contender had a better start than The Irishman, which picked up Best Picture honors from the NBR and NYFCC, and made the AFI's top-ten list. Considering the demographics and preferences of those bodies, these wins weren't exactly shockers, and the issue of how the film's three-and-a-half-hour run time, as well as the Netflix factor, will play with the Academy is far from settled. However, we can only interpret the results we have, and at the moment The Irishman looks like our early front-runner. Next week's Golden Globe nominations should tell us more.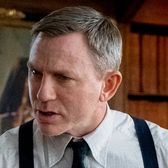 Knives Out
Before the season began, the mystery of whether Knives Out was an Oscar movie was even murkier than the murder of Harlan Thrombey. "I dunno … maybe it's a Globes play?" one publicist wondered over the summer. The movie's awards bona fides remain an open question — another insider recently laughed in my face when I brought it up as a potential Best Picture nominee — but after a great Thanksgiving box office, Rian Johnson's whodunit cracked both the NBR and AFI lists, earning an additional Best Ensemble Award at the former. Mary Poppins Returns could tell you that guarantees nothing — but consider: The movie has mainstream appeal and a sneaky political message, both qualities voters have valued highly in recent years. Keep an eye out.
Current Predix
1917, Ford v Ferrari, The Irishman, Jojo Rabbit, Joker, Little Women, Marriage Story, Once Upon a Time in Hollywood, Parasite
Best Director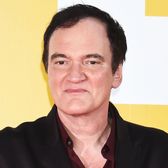 Quentin Tarantino, Once Upon a Time in Hollywood
Once Upon a Time got plenty of runner-up laurels this week, as Tarantino was named NBR's top director, and earned screenplay honors from the NYFCC. Alongside The Irishman it feels like our other early front-runner, and if voters are still torn between those two very different tales of postwar Americana at the end of the race, handing Tarantino his first-ever directing Oscar seems like a plausible way to split the ticket.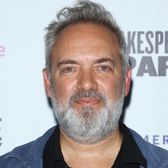 Sam Mendes, 1917
On Gold Derby's prediction graphs, the trending lines for Mendes and 1917 are climbing steeper than the casualty figures from the Western Front. The film leaped into the race with a series of pre-Thanksgiving screenings that left viewers crowing about Mendes's stunning achievement. It's a little bit Dunkirk, a little bit Birdman, a little bit The Revenant — three films that earned Best Director nods, with two of them winning. I have an inkling Mendes's late push will be slightly more successful than General Ludendorff's.
Current Predix
Noah Baumbach, Marriage Story; Bong Joon Ho, Parasite; Sam Mendes, 1917; Martin Scorsese, The Irishman; Quentin Tarantino, Once Upon a Time in Hollywood
Best Actor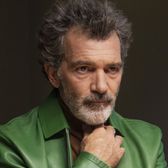 Antonio Banderas, Pain and Glory
At their best, the NYFCC's picks can shine a spotlight on challengers who feel slightly undervalued, hopefully getting voters to reconsider their case. That's what they did with their lead acting awards this year, honoring Banderas's vulnerable performance as an aging Spanish director grappling with love and loss. Though few predictions feel secure in this bloodbath of a category, Banderas at the very least earned himself a fresh look.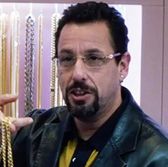 Adam Sandler, Uncut Gems
Another bubbly contender, Sandler got his own boost when the NBR unexpectedly chose him in Best Actor. Unfortunately, the win was accompanied by news that the Golden Globes reclassified Gems as a drama, not a comedy. Those who've seen the movie and have not died of a heart attack in the middle know that's probably the correct call, but it makes Sander's road to a Globe nom next week that much tougher.
Current Predix
Antonio Banderas, Pain and Glory; Robert De Niro, The Irishman; Adam Driver, Marriage Story; Eddie Murphy, Dolemite Is My Name; Joaquin Phoenix, Joker
Best Actress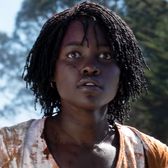 Lupita Nyong'o, Us
Assumed Best Actress front-runner Renée Zellweger notched her first win of the season from the NBR, but the NYFCC, as is its wont, decided to give us a delightful surprise: Lupita! As with Banderas, it's a helpful momentum boost for this early-season dual role. Can she keep it rolling next week?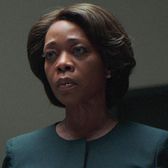 Alfre Woodard, Clemency
Woodard's path to a nomination likely hedged on picking up momentum in the early contests, especially the ones that restrict their field to indie films. Instead, she went home empty-handed at both the Gothams (where she was nominated, but lost to Awkwafina of The Farewell) and the NYFCC. Clemency does not exactly feel like an HFPA pick, so the veteran actress will likely have to count on love from SAG, which announces its nominations next Wednesday, to stay in the race.
Current Predix
Awkwafina, The Farewell; Cynthia Erivo, Harriet; Scarlett Johansson, Marriage Story; Charlize Theron, Bombshell; Renée Zellweger, Judy
Best Supporting Actor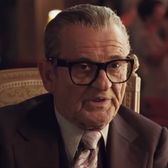 Joe Pesci, The Irishman
I'm higher on Pesci's chances than some — voters have lately treated the supporting categories as a place to bestow more favor upon Best Picture front-runners — and he got the win this week from the NYFCC. (The NBR went with Brad Pitt of OUATIH; it is what it is.) I've heard Academy members call his soft-spoken gangster "the soul of the movie," and if The Irishman is as strong as it currently looks, I have a hard time seeing him getting left out.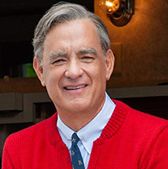 Tom Hanks, A Beautiful Day in the Neighborhood
The Mr. Rogers not-quite-biopic had a quietly decent opening, but it blanked at all of this week's awards, and its chances of being an all-around contender seem dim. I still think Hanks makes the final five, but plugged-in pundits like Anne Thompson have started to drop him from their lists.
Current Predix
Tom Hanks, A Beautiful Day in the Neighborhood; Anthony Hopkins, The Two Popes; Al Pacino, The Irishman; Joe Pesci, The Irishman; Brad Pitt, Once Upon a Time in Hollywood
Best Supporting Actress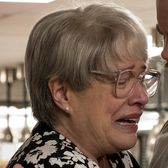 Kathy Bates, Richard Jewell
The National Board of Review has a well-known affinity for the work of Clinton Eastwood Jr., so it was no surprise to see Richard Jewell pop up all over the place, including supporting-actress recognition for Bates as a mother in distress. Pundits who've seen the film (I haven't) have been hailing her performance, and this category feels like it still has a few spots up for grabs.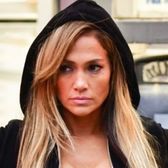 Jennifer Lopez, Hustlers
Like Woodard, Lopez could have used wins at the Gothams and the NYFCC to cement her position as the hipster alternative in this race, but no dice. So why is she an "even" while Woodard is a "down"? Chalk it up to optimism about the Globes, where Hustlers seems poised to be a solid player in the Musical/Comedy categories.
Current Predix
Laura Dern, Marriage Story; Jennifer Lopez, Hustlers; Florence Pugh, Little Women; Margot Robbie, Bombshell; Zhao Shuzhen, The Farewell