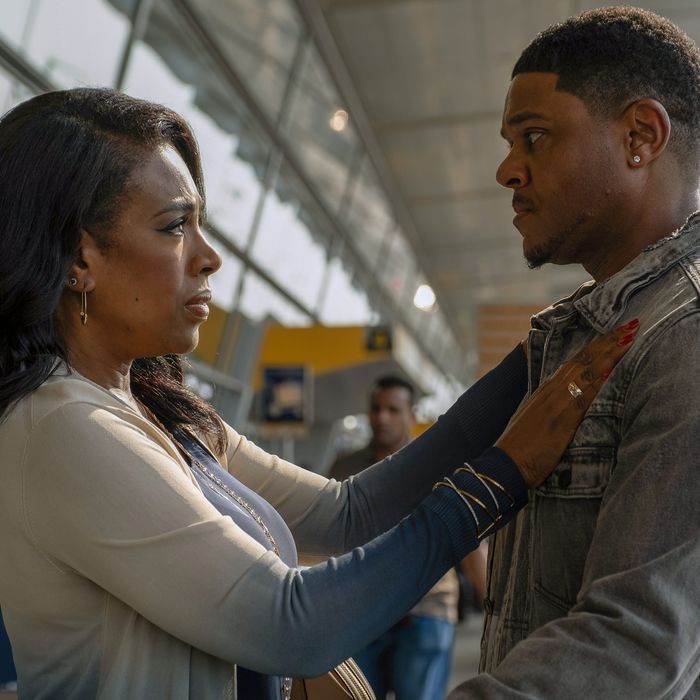 Let us welcome back Sheryl Lee Ralph, who can deliver a line like, "Sounds like some Donovan
bulllllllshit
to me" like no one else can.
Photo: Jeff Neumann/SHOWTIME
Around now, Showtime programs have a habit of presenting what could be called a transitional episode — one that finishes tying up loose ends from the last season and sets the stage more completely for the new one. To that end, the third episode of the seventh season of Ray Donovan fulfills the double duty of possibly writing the final chapters to the drama that ended season six, maybe even saying goodbye forever to two characters, while also giving us an idea of what to expect for the rest of this season. While the resurrected Mickey Donovan rides off into the sunset, Ray Donovan tries to find his better self, even if that leads to a war with one of the most powerful people in New York.
A long "Previously On" segment reveals the difficulty of writing an episode like "Family Business," which has to play with lingering plotlines from the last season while also progressing the new one. Of course, the lengthy segment ends with the return of Mickey Donovan, now presumed dead by the authorities, which makes him an even better patsy for the crimes now being investigated by the NYPD.
For a lot of "Family Business," Ray and Mickey drive around New York, planting the right evidence in the right places to convince the cops that Mickey was the lone gunmen that killed corrupt cops at the end of last season. It does lead to one question that requires a bit of suspension of disbelief: Mickey Donovan is someone who Ray Donovan really can't risk being spotted by the cops or FBI. After all, he's supposed to be burned up in a prison bus. Would Ray really just have him sitting in the passenger seat of a car all day? It seems awful risky.
Whether or not you buy that aspect, the subplot does allow for some good screen time between Liev Schreiber and Jon Voight. Mickey keeps trying to push and pull and a stoic Ray, asking him if he wants to hear about his miraculous escape and telling him it's okay if he cried when his dad died. It's nice to get some shared scenes between two of the show's best actors, but the key to Mickey being along for the ride is likely the two ghosts from his past that he spots while on the journey. First, when Ray goes to get stories straight with Daryll, Mickey spots Claudette, his lost love and Daryll's mom. If Mickey comes back into this world — which feels likely — it will almost certainly have something to do with wanting to see or maybe even protect Claudette. Second, he identifies Molly Sullivan as a face from the Donovan past, and reveals that her father is not someone to be trifled with. More on that later.
The important thing is that Ray's journey of planting fingerprints and other DNA around New York appears to work. Mickey Donovan heads out of town and Officer Perry is told to shut down the case. Is it that easy? It seems very possible that the case is actually finally closed — less possible that we've actually seen the last of Mickey Donovan.
However, what about Lena? Ray's cool-as-ice partner heads back to Los Angeles this week. One has to believe her face will appear one more time before the series ends, but she did have a very satisfying arc last season, and it will impact the coming battle for Ray if she's not by his side. It may be the time to give her character, if not a goodbye, at least some time off.
The rest of the supporting cast of Ray Donovan has their subplots slowly pushed forward in the background of the Ray and Mickey drama. One at a time:
1. Bunchy Donovan learns that being a vigilante isn't all it's cracked up to be. Basking in the afterglow of doing what he thought was right by stopping the armed robbery of the drugstore, Bunchy doesn't stop to think about the consequences. Not only are his bosses not considering a raise, they may even fire and sue Bunch for not following protocol. And Bunchy's coming drunken spiral gains more fuel when he learns the kid he shot is in critical condition. It sends him to the bottom of several bottles, and an emotionally conflicted goodbye to Mickey. Perhaps the best beat of the episode comes when Bunchy gets out of Ray's car early and we hear the sound of church bells — the church has been a demon in the life of Bunchy Donovan his entire life, but it's also reflective of the religious guilt he seems to be feeling about sending his father away.
2. Daryll Donovan has a reunion with his mother Claudette, played wonderfully by Sheryl Lee Ralph, who can deliver a line like, "Sounds like some Donovan bulllllllshit to me" like no one else can. Claudette returns for Mickey's funeral, but kind of immediately becomes a loose end. Not only does she know Mickey's still alive, she knows something ain't right with Daryll's stories to the cops about November 7. What role Claudette will play going forward is unclear, but it's interesting how much she's around for major events this week.
3. Terry Donovan returns to Liberty and the holistic medical group promising him salvation. Liberty takes him to a commune far from the city, where Terry meets a shaman who promises him a cure. This subplot is clearly just getting started, but arguably feels more like a discarded Los Angeles twist than a New York one, right? We'll see where it's going.
4. Bridget Donovan gets closer to her producer boss after singing "The Air That I Breathe," and they share a kiss. This guy has no idea what he's in for.
In the end, the most important event this week is Ray's final decision to give the memory card with the photos of Kevin Sullivan to Kevin's sister Molly instead of the mayor. Ray is reminded that his sister used to be Molly's babysitter. She always said such nice things about Ray. Maybe Ray could still be the person that his sister saw in him.
Deleted Scenes
• Bridget notices that the piano melody that her boss is playing sounds a lot like "The Air That I Breathe" and references not just the band that sang that, the Hollies, but Radiohead. Wondering why? It turns out that Radiohead was accused of stealing "Creep" from the former, and actually give credit now to the Hollies on the liner notes for the song. Read more here.
• We haven't gotten enough great Mickey Donovan lines this year so let's all enjoy: "Being a cop killer is one thing, Ray, but don't make me look stupid."
• That line is good, but Voight's best in the episode is when he makes a joke about an eternal flame being a strange choice for a guy who burned to death and then laughs at his own stupid joke. It's important to be able to entertain yourself.
• Let us give thanks for another Alan Alda scene this week, and hope that continues to happen every week.