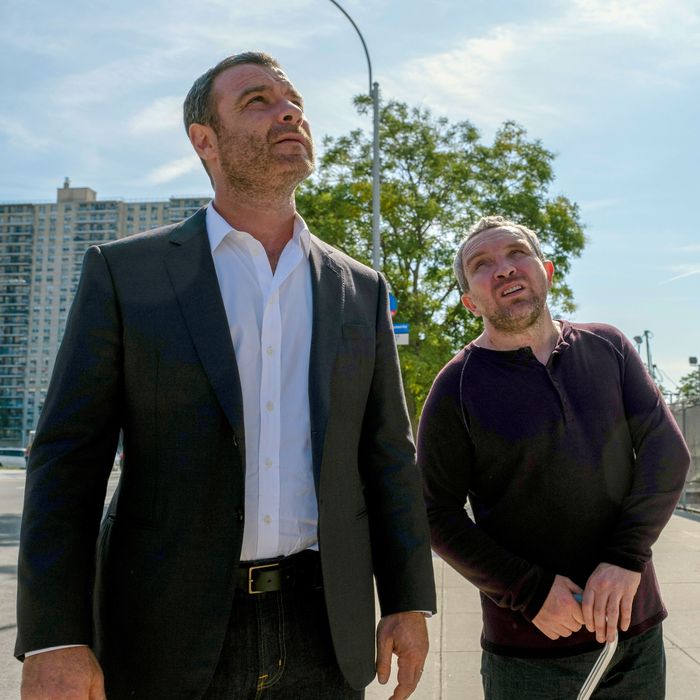 Photo: Jeff Neumann/SHOWTIME
The best episode of the seventh season so far pushes the narrative forward with a dark sense of humor and ace direction from co-star Dash Mihok, making his debut in the director's chair. It's a great episode in how it allows for nice character beats without losing the plot, particularly in a series of scenes between Liev Schreiber and Eddie Marsan, who know these characters so well by now that they feel like actual brothers. And there's actually a scene in which Ray smiles and laughs! We're lucky if that happens twice a year.
Ray is not smiling as the episode opens, watching a naked Molly Sullivan as she sleeps. (Don't do that, guys. It's creepy.) You can almost see him constructing walls around himself, worried that he's going to get someone else hurt. As he plans his dramatic exit, Molly calls him on his bullshit, saying, "You act like you're the only person in the world who struggles with intimacy." She could be good for Ray — the first person to see through his games since Abby died — although bringing her dad, Jim Sullivan, back into the Donovan sphere may not be good for anyone. Jim is the kind of guy who calmly sits in his daughter's living room drinking whiskey first thing in the morning so he can chat with Ray. He wants to pay for assurances that the pictures of Kevin will never be released.
Most of the dark humor this week comes courtesy of Mickey, Sandy, and Daryll's attempt to get to the bottom of a heist that happened 42 years ago. The problem with vengeance for a slight that's nearly a half-century old is that most of the perpetrators are dead or senile. So we witness Mickey and Sandy waterboarding an old man in a basement before Sandy shoots him. They do get a line on who may know something, though — a former colleague named O'Malley.
Outside of Ferrati and the weak investigation by the NYPD, season seven of Ray Donovan has been lacking a memorable villain. Enter a surly Kevin Corrigan! The great indie actor is playing Declan Sullivan, the black sheep of the Boston crime family. In one of the season's best scenes, a boardroom exchange that plays like "Boston Succession," Declan learns that dad is planning to pass most of his assets and the control of his operations down to Kevin and Molly. Even the $1.2 million annual stipend won't make Declan happy. He needs control. This is surely going to end poorly, but the injection of energy from Corrigan and Peter Gerety as Jim is exactly what this season needed.
Another scene to remind us that Alan Alda is a living legend inspires Ray to go see his brother Terry. Ray notices his therapist's hand is shaking and they discuss Parkinson's, which Alda actually has. It's moving to see him use his disease in a way that informs and shapes his art, blurring the line a bit between character and performer. Hearing Alda talk about the time coming soon when Ray will have to transition to a new therapist has a different emotional weight when you consider the truth of the actor's health as well.
In the world of the show, the conversation inspires Ray to call Terry, who also has Parkinson's. Ray gets to Terry just in time, pulling him out of a depression so deep that his brother has stopped taking his meds and has nothing in his fridge but beer. Ray gets his prescription and forces Terry to go with him to pick up the car that the mayor towed to a distant impound lot. It leads to a great series of scenes, starting with one on the train about what Ray talks about in therapy. Terry reveals the normalcy of the day that their sister killed herself. He clearly wishes he could talk to somebody, too. It's a case of two excellent actors who have years of backstory embedded in their dynamic.
Meanwhile, Bunchy is getting pushed again. He gets a call from the mother of the kid he shot a couple weeks ago. Her child needs a better hospital and they don't have money for it. So, when Bunchy gets fired, he decides to go on a crime spree, robbing the chain that just revealed to him that the people who work there are not supposed to fight back. In Hillary Clinton, Richard Nixon, and Donald Trump masks, Bunchy collects $17K, but learns the hard way that this doesn't get you far in medical terms in 2019. Going with the mother to meet with a better doctor, he drops that they still can't afford him. What does Bunchy do now?
Another cracking branch of the Donovan family tree comes in the form of Smitty, who learns directly from Bridget that his wife cheated on him. Kerris Dorsey has two great beats in the scene. When she walks in, the look on her face as considers what to say to Smitty is like she's looking at a wounded animal. And then she gets mad when Smitty cries. She wants anger. Screaming is fine, but not crying. It's that toxic brand of masculinity that she's formed through the tough-guy Donovan image she's seen her whole life. Men don't cry. They hit. They yell. It's a complex, well-written moment, and it pushes Smitty to get a bat and do something violent to the man who slept with his wife — although it's not necessarily to impress Bridget or win her back. It looks like they may be done for good.
While Ray and Terry are riding a rollercoaster as they wait for the impound lot to open, Mickey, Sandy, and Daryll kill a senile old man in the woods. Before they electrocute the poor guy, they learn that he taped all of his conversations with Sullivan. While he's fumbling his way through it, Mickey is technically getting what he needs. And the poor guy honestly thinks he'd be a billionaire if not for being screwed out of his share in 1977. Of course, he wouldn't be. He'd have found a way to blow it. But Mickey Donovan is one of those guys for whom the problems of life are always someone else's fault.
The most heartbreaking scene comes moments after Molly calls Ray as he's driving home with his brother. There's a nice moment when Terry realizes just from that call that Molly may be special and says, "Good to see you happy," just before they hit a deer. They have to get out of the car and shoot it to put it out of its misery. Is it foreshadowing? Who's the deer in pain that will have to be put down? Or, perhaps, what will jump out when the Donovans least expect it?
Deleted Scenes
• When Mickey is fantasizing about how he would have been rich, Sandy quotes George Best, wonderfully but also slightly incorrectly. The actual quote is "I spent a lot of money on booze, birds, and fast cars. The rest I just squandered."
• As Mickey is prepping to electrocute a guy, he mentions a "Russian piano player" who used electroshock therapy. I think he's referring to Vladimir Horowitz, who reportedly used the technique to treat depression in the '70s.
• Diany Rodriguez is excellent this week as Valentina Santiago, the mother of the kid Bunchy shot. In her first scene, she captures the turn from being vulnerable to realizing she's talking to the man who put her in this situation. I hope we see more of her.
• Once again, the Ray Donovan casting team is one of the best on TV. Peter Gerety is perfect as Jim Sullivan, and Kevin Corrigan is always solid and seems primed to bring some dangerous energy to the season. Finally, Mike Starr as O'Malley was a great choice.