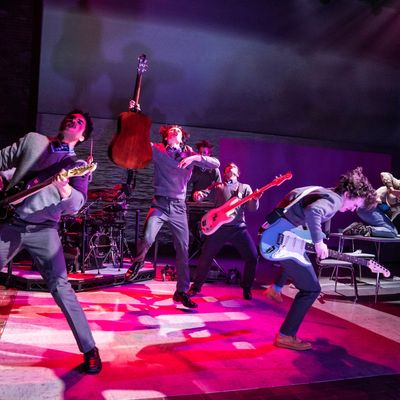 New show on Monday:
Sing Street
opens at NYTW.
Photo: Matthew Murphy
Until this musical popped up, I hadn't seen John Carney's superb 2016 film Sing Street. And first things first: If there are any poor fools out there who are living in such a state of ignorance, go watch the movie immediately. Everything good about the musical at New York Theatre Workshop lives there in that film—and so much else besides. The original has specificity where the stage version elides and evades; it's cheekier and sexier and franker and weirder. And yet I say this only to preface a thousand words about how instantly transporting and delightful the musical is.
Essentially, one synthesizer chord renders the nostalgia-prone weak, two leave us helpless. And the opening number of the 1982-set Sing Street—in which a capering cast of boys in Catholic-school sweaters sings Depeche Mode's "Just Can't Get Enough"—involves a whole little fleet of rolling synthesizers. Those 30-year-old musical puppet-strings still work. The audience instantly starts grooving along, relieved to feel that synthpop leash yanking at our spirits again.
There's barely any set, but Bob Crowley does put a huge black-and-white image of water on the back wall—the leaden Irish Sea. The music (pulsing under Christopher Akerlind's pink lights) is the vivid fantasy that tries to drive out the bleakness: We're in the head and headphones of young Dubliner Conor (Brenock O'Connor), who has plenty of grey life he wants to escape. His charismatic brother Brendan (Gus Halper) has become a depressive shut-in; his architect-in-training sister Anne (Skyler Volpe) resents her studies; and their father Robert (Billy Carter) and mum Penny (Amy Warren) bicker and fret over money, work, affection, and fidelity. 1980's Ireland is a sinkhole economically, and the couple are clawing at each other in the scrabble to survive. In minutes, the bad news comes. The family can no longer afford to pay Conor's school fees, so he's off to learn from the notoriously abusive Christian Brothers on Synge Street.
While 15-year-old Conor's reeling from his first, brutal day at the boys' school, he spots the lovely 16-year-old Raphina (Zara Devlin), who hangs out by the local phonebox waiting for her adult boyfriend to ring. In an instant, Conor invents a band and a future music video that she'll want to star in, and thus begins the age-old tale of Boy Meets Girl, Boy Impresses Girl, Boy and Girl Dress Up in Silky Shirts Like Spandau Ballet. The bullies arrayed against Conor are a paltry force once he's got his gawky but brilliant ensemble Sing Street together, not to mention once the songs, written by Carney and Gary Clark, start tumbling out of his guitar. The awful Brother Baxter (Martin Moran) can enact his disciplines on Conor, insisting that he wear black shoes or be slapped for his insolence, and the thuggish Barry (Johnny Newcomb) can threaten and bash him. But other voices are louder.
New York Theatre Workshop has done well with John Carney before: Its staging of his film Once was the first note struck in the Workshop's fanfare of recent cultural domination. It had been a minute since Rent—but then along came Once in 2011, which went to Broadway, and suddenly, everything you're excited about uptown comes from New York Theatre Workshop: Slave Play, Hadestown, What the Constitution Means to Me. Again it's done a clever, pared-down version of movie that seemed inextricable from its Dublin setting; again it's emphasized the communitarian aspects of music-making (all the actors play and sing everything) over the loneliness that's hidden very carefully at the heart of Carney plots. For instance, in the film, Conor walks into Synge Street as Motorhead's "Stay Clean" roars along on the soundtrack. In Enda Walsh's adaptation, that introductory music is Depeche Mode. It might seem a small thing to switch from "Got the right to make you sorry for yourself" to "Every time I think of you I know we have to meet," but it tells us a little something about what the respective versions think about the generative power of sorrow.
The dialogue, a melding of Walsh and Carney's work, is often terrific, and layered with little humanistic gracenotes. For instance, a scene in which Conor is trying to get advice from his big brother begins with an exquisite moment. They watch their mother drinking her wine in the sunlight, and—amazingly in that noisy house—they feel a deep communion with her. Many of these textual arabesques remain intact, but Walsh and director Rebecca Taichman have made several unhelpful changes to the story, including, weirdly, the removal of the two big musical spectacles. They cut a fantasy sequence in which a music video shoot turns into its big-budget dream, as well as the pointed events of "Brown Shoes" (sample lyric: "the boot's on the other foot now") in which the students turn against the Christian Brotherhood. For the most part, the cast is presented as scrappy but loveable, and all in it together. There's still fighting and falling out of love in the Walsh version, but there's less abuse and we-don't-talk-about-it terror. Is it all right that this Sing Street seems softer than its parent? It depends on what you need from it. It'll give you joy, anyway, which is saying a mouthful.
And the conduits for that joy are the three main players: O'Connor, Devlin and Halper. The fine-boned Halper is warm and unaffected with his brother, while serving us peak Richard Marx, hair floofed in a mousse-y pile. Devlin has command and vulnerability and freshness—not three things you often find together. If we bristle at her dramatic function as a lovely muse (Conor writes her a song called "The Riddle of the Model"), her performance makes a case for her as the play's center, rather than its prize. And O'Connor paradoxically makes a wonderful leading man by seeming to cede that ground to her every time they're together. He's great at conveying his youth, nervously flapping around in his excruciating fuchsia lady's trench coat (the New Romantics are a tough act to copy), and then suddenly and surprisingly grounded every time he sings. He's doing the same thing Carney and Clark's music does, every time it starts picking up the theater and jouncing it around. Yes: youth is absurd, the 1980s were embarrassing, and we all look silly when we dance. Great reason to do it, the show says, and we all bop out of the theater and down the street.
Sing Street is at New York Theatre Workshop through January 26.