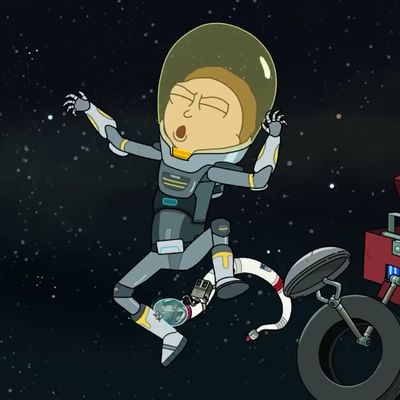 It's not exactly a life-altering existential romp, but the last new episode of Rick and Morty to air this decade does at least move with breakneck speed from a relatively simple setup — Morty, once again ignoring Rick's words, tries to help a planet of snakes — to the sort of in-depth mash-up of sci-fi tropes that's been one of the series' calling cards from the beginning.
Despite the title, "Rattlestar Ricklandia" doesn't have much to do at all with the Syfy drama about a society of refugees trying to avoid eradication by killer robots. Instead, it's much more influenced by The Terminator, though that's not apparent when Rick and Morty first take off on what Rick says will be a long, unspecified adventure, one quickly derailed when Rick gets a flat and Morty won't stay in the car while he fixes it. "There's literally everything in space!" Rick says of the potential dangers of Morty leaving the car, proven almost immediately when a space snake (complete with little spacesuit) bites Morty, nearly killing him.
Rick, doing what normally he does in these situations and working to save Morty's life while complaining about what a pain in the ass it is, tracks down the space snake's home planet, analyzing it to develop an anti-venom. Turns out the snake was an early space traveler from a planet otherwise consumed by racism, which tickles Rick ("imagine being a racist snake!") but bums out Morty once he's cured. Perhaps Morty's been watching Apple TV+'s For All Mankind, because he doesn't want to be why "19 billion snakes lost hope," hope being something, presumably, that the first lady snake astronaut in space would have brought back to her home planet.
So Morty tries to rectify things by buying a new snake on Earth and then sending her back to the snake planet in lieu of the dead one — which doesn't go over as well as Morty would hope. The snake planet identifies "Slippy" as an alien in its midst, and that triggers a dialogue-free conspiracy thriller-turned-love story, as a local snake scientist and Slippy try to communicate, only to become eventually entwined.
"Slippy's" presence on the snake planet quickly escalates into a planet-uniting war to end all wars, and Rick's solution to fix things is to give the snakes time travel so that someone can travel back to the beginning and stop all this from happening. Things move so fast in the second half of the episode that at one point it becomes a literal pile-on of Terminator references, coupled with time-traveling snakes also going back in time to try to save Snake Lincoln, which then leads to the rise of Snake Fascism and Space Hitler. (As we learned from the season premiere, for most realities fascism is the default.)
Eventually, Rick and Morty get some help from timeline cop Shleemypants (voiced by the always welcome Keegan-Michael Key) to shut down the advanced evolution of the snake culture. "That's about as much curvature as you're going to get from a time travel story," Rick tells Morty, before announcing that because Morty disobeyed him, this whole mess now counts as one of Morty's adventures, meaning that Morty's hope to go to Boob World is over.
By the way, Rick and Morty's intergalactic adventures yet again run alongside a Jerry misadventure, which basically boils down to "Rick gives Jerry ten hours of buoyancy after Jerry nearly falls off the roof, and Jerry nearly gets killed as a result." It's a beat that's been played time and time again — Jerry lets his ill-placed pride and foolish desire to do something for his family without Rick's help — that contains some fun jokes (Jerry's concern about putting down his security boulder at the bar because of its large number of ceiling fans being among the good sight gags). But by the end of it, Beth and Rick's annoyance with Jerry's bad choices is pretty relatable to the audience. Remember when Beth and Jerry's marriage nearly died in season three? Season four's interest in pushing the reset button and ignoring the real issues of their relationship is just one of the aspects that's kept the show from hitting the depths of emotion it's mined in seasons past.
In general, while there have been only five episodes to judge the show on in 2019, at this point it seems deliberately catered to those who only want wacky space adventures, which is only disappointing if you spend much time remembering just how profoundly thoughtful and at times sad this show has the ability to be. Time-traveling snakes with little laser guns are fun, but Rick and Morty is capable of a lot more.
Dispatches From the Multiverse
• One of "Rattlestar's" best touches is not giving the snake people any established understandable snake language — they do learn to communicate with humans, but the snake-only sequences rely entirely on hissing and visual elements to go deeply inside the snake world.
• The pet shop guy who sells Morty a new snake knows how to make a sale: "Any snake over $50 yearns for the beyond. Yeah, I've seen them do it."
• For those wondering about whether Beth is actually a clone or not: Labels on the other bottles of goo that Rick can transform into speaking avatars: "math teacher," "pizza guy," "Summer," and "Cop 7." Maybe it's not there because Rick already used it up?
• "I will eat your world." "Honey, my dad can hear you." Oh, so that's what Beth and Jerry call it.
• Musically, snake jazz isn't that bad. Also, given that it's now currently less than ten days until Christmas, the festive touches to the episode (especially the slightly tweaked closing theme) were appreciated.
• Ending the episode — and this half of the season — with a literal still photo of a grandfather punching his grandson in the face isn't exactly full of holiday cheer. But brah, Rick and Morty never promised to be anything different.