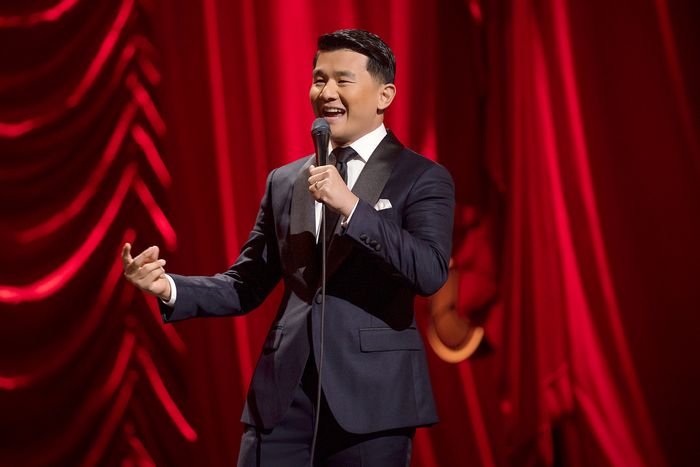 Ronny Chieng in
Asian Comedian Destroys America!
Photo: Netflix
Ronny Chieng has gone into a trance. In the midst of his Netflix stand-up special, Asian Comedian Destroys America!, he's impersonating a content-obsessed American, staring at an iPhone, iPad, laptop, TV, and Apple Watch screen at the same time, all while demanding Amazon Prime hand-deliver the smallest, most trivial items "into your home like an emperor."
"We need it, Prime. We need Prime harder, faster, stronger," he chants. "Faster Prime! Prime Now! Prime Now. Two-hour delivery. Prime Now. Give it to me now. When I press 'buy,' put the item in my hand … now."
Chieng, a Daily Show correspondent who was born Malaysian but grew up in Singapore and New Hampshire, quickly establishes his perspective as an Asian immigrant, experiencing American culture with near-disgusted awe. Chieng targets American excess with relish, joking that we are "breaking the laws of reality with the abundance." He doesn't let Asian people off the hook either, though, putting his own spin on that well-worn stereotype that Asian parents want their kids to become doctors.
"Helping people is at the bottom of the list of reasons," he says. "Don't let that get in the way of what this is really about. It's about the money and prestige."
Eventually, Chieng launches into a monologue expressing his wonder at the robotic toilets he encountered at a Japanese hotel. The audience is howling with laughter as Chieng imitates a hardworking bellboy aiming the water at his exposed bottom. Abruptly, though, the mood shifts just one degree in a more serious direction.
"People in the West don't really know this," he begins, without any real transition from his bidet material. "Chinese people and Japanese people have, like, beef, stretching from World War II — because in World War II, Japan did tons of war atrocities to the Chinese people."
I sat up a little straighter on the couch when I heard this. The beef he's talking about sounded familiar to me.
There was one acceptable form of discrimination in my home growing up. I have long since disavowed prejudice of all kinds, but I can't erase the truth: My father, who was born in Jakarta and is half-Indonesian, regularly deployed racial slurs against Japanese people. Early on in my childhood, my father explained that he disliked Japanese people because during WWII, their government had interned his father, along with ten million other Indonesian people, in work camps. For his entire life, he's held all of Japan responsible for what happened to his father and tried to pass that hatred down to me. I've since informed him that such language is unwelcome in my presence, and we rarely discuss that aspect of our family history anymore. The rest of the world is mostly silent about these atrocities, too; mention of these events do not appear in Western textbooks, television shows, or movies. That's why it came as a bit of a shock that Chieng decides to wade into the complicated tension between Southeast Asia and Japan.
The room goes quiet, and a little prickle of tension seems to rise in the air, but Chieng doesn't let the energy drop. He addresses the audience, reassuring them it's okay if they've never heard of these events.
"People in the West don't really know this because there's no Schindler's List for Chinese people, okay?" he says, to slightly uncomfortable laughter. "If you didn't know it, I'm not calling you out."
For a moment, it's unclear where this exchange will lead, but Chieng quickly switches back into comedic mode. He describes growing up in Singapore, where documentaries are produced year after year to remind everyone of Japan's war crimes, and then the confusion he felt actually visiting Japan with a lifetime of that stuff "swirling around your head." I won't ruin the joke's ultimate destination for you, but both ISIS and Pokémon are involved.
Chieng's special fulfills Ezra Pound's seemingly impossible maxim, "Make it new." Nowhere else in the West right now can you hear a Malaysian comic compare the World War II–era Japanese army to modern-day ISIS. Chieng is at his best in that uncomfortable moment between offense and humor, when the audience is laughing despite a full-body cringe. But what makes Chieng's special really worth watching is that it centers a purely Asian perspective. It's about us, and for us, full stop. Chieng isn't just a Southeast Asian comic with a huge platform, which would be a victory in itself. He's a Southeast Asian comic using that platform to explore his identity and make our way of seeing the world relevant, and relatable, to everyone in the room.
The last place I thought I would ever find solidarity with other Asian people over these experiences is a comedy routine. By speaking openly about events that are rarely acknowledged in Western society, Chieng gave a voice to Southeast Asian people like me, who may have never heard our shared history repeated outside of our homes. He managed to make a traumatizing aspect of my childhood funny, lessening both the hurt and shame it caused.
Chieng's special recognizes that our lives can be funny, and nuanced, and complicated, too, and that what we experience — though it may be unfamiliar to Western audiences — is worth a whole entire Netflix special. I came for Chieng's masterful dunks on capitalism. I stayed because Chieng used comedy to open the door for Southeast Asian people like me. There's room for us on the big stage, too.