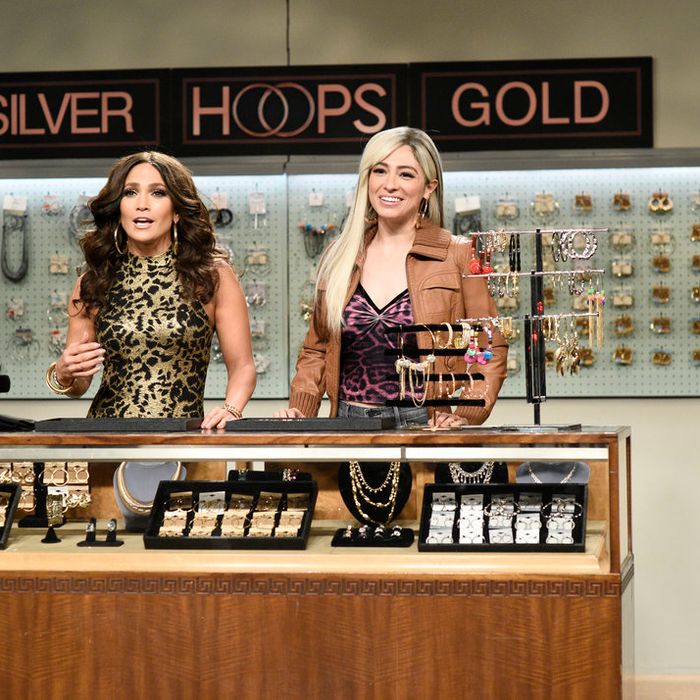 Though it's been almost a decade since Jennifer Lopez last hosted SNL, it's a good year to have her back. She turned 50, traveled around the world with her "It's My Party" tour, starred in the acclaimed Hustlers, and will be performing the Super Bowl halftime show in February. In past appearances, J.Lo has shown her enthusiasm, playfulness, and more than a hint of that Bronx-born, 100 percent that-Jenny-from-the-Block persona. (For the record, the sketch I can't get out of my head is Michael O'Brien's 2010 "All Star" sketch, in which J.Lo convinces her terrified daughter that Smash Mouth is "just some positive guys from San Jose trying to have some fun.") It's good she left the musical guest duties to DaBaby this time, as she had something to do in nearly every sketch.
As usual, this week's sketches are presented here in order from best to worst.
NATO Cafeteria Cold Open
After catty comments made by Emmanuel Macron, Justin Trudeau, and Boris Johnson about President Trump at the NATO summit this week, the world leaders meet as though in a junior high cafeteria. Macron (Paul Rudd), Trudeau (Jimmy Fallon), and Johnson (James Corden) play the cool kids who tease Trump (Alec Baldwin). They also make Trump sit in the corner with the dorky delegate from Latvia (Alex Moffat), and invite Angela Merkel (Kate McKinnon) to take the empty spot at their table. Though this idea of NATO cliques was batted around a lot this week, the conceit is sound and the writers hone it well. The surprise guest stars bring a nice energy, but none of their contributions really stand out; McKinnon's giddy Merkel predictably steals the spotlight. Framing it as an anti-bullying PSA made by Melania Trump (Cecily Strong) is a nice out.
Chad & J.Lo
After a rehearsal for her latest tour, J.Lo stays late to work some stuff out by herself — and notices Chad (Pete Davidson) offstage, performing his roadie duties. Though he doesn't like her singing, his dull candor is refreshing and he is once again irresistible to women. Though J.Lo is newly engaged, she can't seem to resist Chad. In the span of four minutes, there's full-frontal male nudity, a faceplant from the stage, a burp, a fart, and the entrance of A-Rod himself. Though this sketch has been revived quite a bit, Chad's monosyllabic indifference wins again. Davidson manages to make the horny, brutally honest, clueless man-child charming, and J.Lo (or, as Chad calls her, "Jell-O") brings a nice bit of misguided passion.
The Corporal
In old black-and-white movie What Do You Figure Is Going on in That House?, two sisters (Kate McKinnon and Aidy Bryant) await the arrival of "the Corporal," a mysterious man of high status who will marry one of them and carry them away. Their obstacle: a gorgeous third sister (Lopez), who can't stop being sexy despite her willingness to be locked in a cage or practice kissing lobsters when she's allergic to shellfish. Bryant and McKinnon make the banter of the nasty, conniving sisters sing, and specific moments (as when Bryant talks about how much everyone would hate Lopez's sexy suffering sounds) let you know how much they love playing together. It's a reminder that the McKinnon-Bryant duo is the best alliance to emerge on SNL in the past year or so.
Weekend Update
The top of Update concerns the advancement of the impeachment inquiry and other related Trump headlines. Colin Jost has a nice bit about Nancy Pelosi, who evoked her Catholicism when telling a reporter she didn't hate Trump: "The Catholic approach wouldn't be to impeach Trump, it would be to quietly transfer him to a different presidency." Michael Che examines both Trump's lazy tariffs and new food stamp guidelines before Kate McKinnon comes on as Nancy Pelosi. As Pelosi told reporters she prays for Trump "all of the time," here she offers up some of those prayers. She hopes God will put Trump in a kind of Liar Liar circumstance and deliver unto Lindsey Graham a baby that is both black and gay. McKinnon nails Pelosi's wide-eyed, oddly vacant stares and the breathy speech patterns. She and the writers also manage to articulate the secret complaints beneath Pelosi's tight-lipped smiles while keeping things admirably grounded.
The material gets a bit rangier in Update's second half, but there are some fun zingers including a new slogan for the Peloton bike: "You'd Better Keep It Tighter Than the Babysitter." Beck Bennett returns as Jules, "Who Sees Things a Little Differently." The privileged trust-funder and would-be artist is sleeping in his dad's pool house because of a "cocaine misunderstanding," but he still wants to tear everything down and remake it in his image. Santa doesn't need milk and cookies, he needs CBD and a note that reads You Are Enough. Jules's muddled imagination takes some wild flights and strange turns this time, and Bennett makes this moronic and tone-deaf idealist feel entirely relatable.
Hoops
If you need a piece of jewelry that says, "I fight other women," you need Hoops. Gino's Girlfriend and Her Cousin (Lopez, Melissa Villaseñor) have all the massive, gold earrings so luxurious they'll "turn your ears the color of money." Wear them to events such as "Ex-Boyfriend's Wedding" or "Accusing Barbara" and have words printed inside including "Daddy's Big Bitch" or "Diabetic." Put them on a baby, wear them to a Christening, just know that everyone will say you look nice, "like a rapper's accountant." This sketch is a joke machine, and the players keep the rhythm and pacing right. Anyone looking for this episode's nod to J.Lo's Bronx roots, this would be it.
Surprise Home Makeover
This edition of HGTV's Surprise Home Makeover Holiday Edition marks the return of Matt Schatt (Mikey Day), the unassuming schmo who is somehow attached to a smoking hot woman. Host Becker Cheeks (Kenan Thompson), Carpenter Steve (Beck Bennett,) and designer Brylee (Bowen Yang) are so distracted by Schatt's marriage to the beautiful Jacqueline (Lopez) that they can't care about the job they're meant to do. Matt is not only gawky and promiscuous, he is a lover of Smurfs — with a Smurf tramp stamp to prove it. It takes the same line as previous Matt Schatt sketches, but the actors do a fine job of selling the material. The best moment by far is Brylee's dick grab, which he executes to find out whether the secret lies in Matt's penis size. (Alas, no.)
Barry's Bootcamp
During instructor auditions at Barry's Bootcamp in Staten Island, two participants (Ego Nwodim, Mikey Day) get subjected to a long line of ridiculous teachers including Amber, Patron, Armoire, Beef, and Cora (Bowen Yang, Lopez, Cecily Strong, Beck Bennett, and Heidi Gardner). They offer insane motivational speeches about how quitting is for losers like OJ Simpson, and how to make your dreams come true, including the one where your teeth fall out. The first version of this sketch back in October felt a bit more twisty, strange, and perfectly noxious; and though this edition can't quite measure its level of intensity, it's still the perfect sort of 10-to-1 sketch. Give good players good reasons to chew the scenery, and it's probably going to work.
PottyPM
According to a commercial spokesman (Kyle Mooney), this new gadget means no more leaving the warm bed in the middle of the night to go pee. Just affix the hose to your business when going to sleep and when the time comes, just let things flow. How does it work for women?, a woman (Lopez) wants to know. Uh, is there a flap? Is it the clitoris? Is the butt involved? The hapless salesman quickly proves his absolute ignorance about the female anatomy, completely panicking until his cohort lets him off the hook. If Mooney didn't write this, the writer made the best choice possible in picking him for the part. His jittery attempts to make things right wouldn't be quite so sweet with another player reading the lines. The graphics give a nice assist, too.
Them Trumps: Rally
The latest episode of Them Trumps — from the producers of Empire, the first show to "ax the question, 'What if Donald Trump was black'" — brings Darius Trump (Thompson) to a rally in Hershey despite impeachment hearings. With Darius Jr. (Chris Redd) and L'evanka (Ego Nwodim) there to support him, Darius takes the stage in an appeal to his unshakable base. The crowd doesn't mind that he abused his power because he Makes America Swag Again — until he reminds them that he's black. This brief sketch exists to deliver one joke, and that joke does hit, but there's a lot of packaging. Of course, Thompson brings the likability.
Wisconsin Women
Two recent transplants (Alex Moffat and Heidi Gardner) try to adjust to snowy Wisconsin by shopping at the local hardware store. Three proprietors in rustic bobs (Lopez, Kate McKinnon, Cecily Strong) warn the "citiots" about bears while the store's live-in weirdo Kimmy (Chloe Fineman) goes to get bacteria cakes for their septic systems. A bear shows up and attacks commence. This one is a bit all over the place, and it's unclear exactly what it is meant to anchor the comedy — the snotty attitudes of the "Wisconsin Women," the inexplicable oddball who haunts the shop, the clueless city folk? If it's just meant to be a truly absurd world, the tone doesn't quite get established well enough.
Hip-Hop Carolers
The Christmas rituals of a besweatered, well-off family (Heidi Gardner, Alex Moffat, Kyle Mooney) get interrupted by a crew of hip-hop Christmas carolers (J.Lo, Kenan Thompson, Pete Davidson, Chris Redd). They insert new lyrics into hits from 20 years ago (e.g. Pras's "Ghetto Superstar" and Bone Thugs-N-Harmony's "Crossroads") that have to do with Home Alone. The homeowners tip the performers, unaware they're being robbed by DaBaby. There's something that doesn't quite make it off the page here. The songs are messy, the lyrics get lost in the shuffle, and the sketch's focus is lost. Depending on your tastes, you might just enjoy watching Davidson in the background, giggling and barely doing his job of holding a portable speaker.
Jennifer Lopez Monologue
A tuxedoed J.Lo thinks about New York holiday traditions this time of year, but more importantly, she's thinking about her big year. On top of Hustlers' success, her tour, and turning 50, she got engaged to Alex Rodriguez and wore a dress on the runway that she wore 20 years ago. Her message: Don't let them count you out. Then she sings "Santa Claus Is Coming to Town." The monologue takes this shape presumably to give Lopez a chance toot her horn, wear that green dress, and sing somewhere during the show. It's not exactly fair to list this as a sketch, but it's got a chuckle or two in it.
Once again, Lopez comes at the material with an energy and zeal that really feeds the other players. There are pieces that don't hit, sure, but there are more than enough sketches (e.g. "Chad & J.Lo," "Surprise Home Makeover") that give Lopez room to invest. And though the star power felt unnecessary, it was nice to see a cold open with a honed perspective on the week's news, rather than a regurgitation of headlines. And whatever Weekend Update lacked in good gags was made up for in character monologues from McKinnon and Bennett. Next week, Scarlett Johansson will return to host. As she's already proven her SNL chops repeatedly, the real question is how, exactly, will Michael Che razz Colin Jost about the engagement?