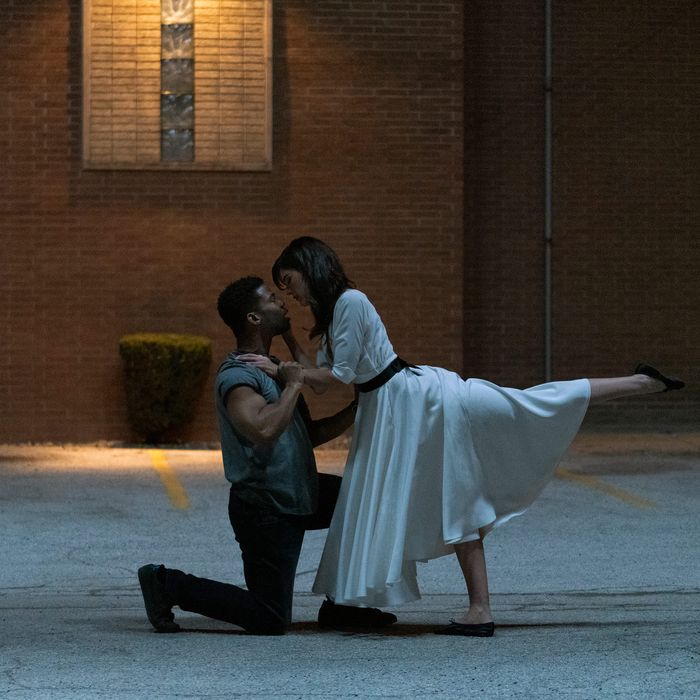 Paul James and Callie Hernandez, dancing their way through
Soundtrack
.
Photo: Parrish Lewis/Netflix
Soundtrack: It's a modern-day Cop Rock, minus the cops.
No, that doesn't quite capture it.
For everyone who's ever wondered what it would look like if This Is Us and Lip Sync Battle had a baby, there's Soundtrack, now streaming on Netflix.
That's closer.
Soundtrack is part La La Land, part the "Wise Up" scene from Magnolia, part the Movements from The OA, and part This Is Us. Oh, wait! And also a little Crazy Ex-Girlfriend.
That might be the only way to describe this bold but very wobbly new series created by Joshua Safran, who also created Quantico, wrote and executive-produced Gossip Girl, and — most relevant here — acted as showrunner during season two of Smash. Soundtrack follows the drama within an extended family and frequently uses musical numbers to underline the emotions that are being felt. Each episode is described as a "track" and focuses on two characters who frequently break away into imagined flights of musical fancy. At some point in each episode, there's a mash-up, where the two characters, whose stories are often proceeding on different timelines, will perform numbers that overlap. In episode one, for example, Nellie (Callie Hernandez) dances and mouths the words to Demi Lovato's "Sorry Not Sorry" while Sam (Paul James), another lead character, does the same thing to "Believer" by Imagine Dragons. In the third episode, Sam does "Ain't No Sunshine," which is interwoven with his cousin Dante (Jahmil French) "singing" Bruno Mars's "When I Was Your Man."
I put the word "singing" in quotes because none of the actors actually sing. They lip-sync every song that shows up on Soundtrack, which runs the gamut from show tunes to St. Vincent, and from Kelly Clarkson to Steely Dan. The performances often involve elaborate choreography and creative production design. At one point Nellie, an aspiring artist and graphic novelist, gets yanked into one of her sketches in a move reminiscent of an A-ha video. Conceptually, it's a fascinating approach to a scripted drama and one that may appeal to members of Generation TikTok as well as their parents, who grew up watching early MTV. But it's also a really risky approach, and the risk doesn't quite pay off.
In any musical, especially on scripted TV where we're generally more accustomed to watching people talk, every attempt to stage a song is the equivalent of jumping off a high dive. It can result in a very graceful entry or turn into a sloppy belly flop, and the difference between the two can come from just a tiny tilt sideways. Soundtrack's choices occasionally land gracefully — its eighth episode, by far its best, succeeds on all the fronts that a love story peppered with musical numbers should. (More on that episode shortly). But too often, the numbers are, if not outright belly flops, certainly dives that give off way too much splash.
An even bigger issue is the often somber nature of Soundtrack's sweeping story, which sets a tone that makes it even harder to stage musical numbers that don't come across as pretentious parodies of themselves. The first episode introduces Sam, a widower with a young son (Isaiah Givens) who's forced to move out of the house he once shared with his wife and into an apartment in the Watts section of L.A., where he can live closer to his Aunt Annette (Marianne Jean-Baptiste) and cousins. Nellie, the aforementioned artist, is also central from the very beginning, though it isn't clear until the end of the first episode how her life connects to Sam's. Let's just say that if you finish that episode and are not reminded of This Is Us, let me know and I'll send you a free Crock Pot.
Soundtrack follows more characters who are close to Sam or Nellie, including the previously mentioned Dante, Sam's cousin who has recently been released from prison; Annette, Dante's mom; Nellie's mother, Margot (Madeleine Stowe), a well-known actress who acts as micromanager of her daughter's life; Nellie's father, Frank (Campbell Scott), who's rebuilding his life after serving time for committing fraud; and Joanna (Jenna Dewan), a struggling dancer who eventually pursues a career in social work that puts her in Sam's orbit. Nearly all of these L.A. dwellers have an interest in creative endeavors — Sam is a singer-songwriter who pursues that passion on the side — and most carry tons of baggage related to their families. Those two factors help to explain why each of these men and women are over-dramatic and expressive enough to burst into imagined song on a regular basis.
And yet those transitions can still be awkward. When Campbell Scott drunkenly staggers around a party, singing Peter Gabriel's "Big Time" in people's faces, it's supposed to be awkward, but not as awkward as it turns out to be. During a terribly tense argument in a hospital, Sam runs off to try to see his girlfriend before she goes into surgery, at which point the scene transforms into a jaunty dance number set to Ray Charles's "Bye Bye Love." It is a wild tonal switch, and it isn't the only one. Too often, the songs don't advance plot or character in any significant way, they just feel shoehorned in as part of the effort to satisfy Soundtrack's requirement to make regular use of pop music.
The major exception is the aforementioned episode eight, which focuses entirely on Nellie's roommate Gigi (Megan Ferguson) and her whirlwind romance with a chef who's thinking about opening a restaurant in L.A. Diverting from the heavy main storylines that dominate the rest of the season, this hour of Soundtrack plays as though the series finally gave itself permission to just have some damn fun already. All the musical numbers — primarily semi-obscure showtimes like "But Alive" as sung by Lauren Bacall in Applause and "Poor Everybody Else" from the musical Seesaw — work beautifully, and Ferguson adds an extra sparkle to all of them. You finish watching that one and go, "Oh, that's what this show could have been if it wasn't trying to do all this other … stuff."
The problem isn't the cast, whose members are talented and clearly game to throw themselves fully into this experimental format. (She doesn't get to fake-sing, but it's worth noting that Amy Irving also shows up as Frank's over-exuberant girlfriend and is a delight.) The problem is the often melancholy tone that hangs over the series, which aims to be a serious work but never comes across as deep. For example, there's a whole mess of thorny economic and racial issues that Soundtrack acknowledges but soft shoes around without fully delving into them. Plus, like so many Netflix shows, episodes would benefit enormously from running an hour in network TV terms — meaning 42 minutes of content — instead of an actual full hour.
It's a shame, because I like the idea of Soundtrack, which has the potential to appeal to every musical theater nerd who misses Smash and Crazy Ex-Girlfriend. But its execution doesn't meet its potential. This show is the opposite of an earworm. It's a song you hear and forget before you can even begin to get it stuck in your head.