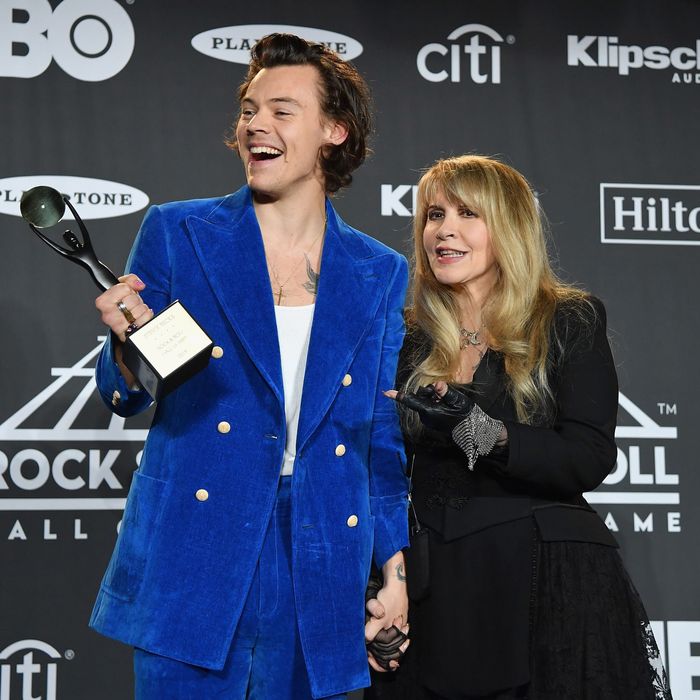 Photo: Angela Weiss/AFP/Getty Images
Twitter was a divided place after the Rock and Roll Hall of Fame announced its slate of presenters for the 2019 induction class earlier this year, thanks to the polarized, and just plain confused, reaction to Harry Styles being picked to induct Stevie Nicks at the ceremony. Fleetwood Mac fans immediately sized up this little punk; One Direction fans generally had no idea what Nicks's deal was; meanwhile, some well-informed music enthusiasts brought their meme A game. Whether or not the match makes sense — the two do share similar sonic paths, effortlessly transitioning from wildly popular bands to solo careers — the pairing isn't actually as unexpected as it might appear on paper. On the contrary, the two have a (brief, but wonderful) history.
Starting a few short years ago, Nicks and Styles have blossomed into what can best be described as a long-lost son and mother relationship, one you can only dream about with the help of too many melatonin tablets. (And/or crystal visions.) They've spoken admirably about each other in interviews, covered each other's songs, dabbled in a duet or two, and even collaborated at a Rock and Rolle Hall of Fame induction. It's a newish relationship, but one that's already brought plenty of joy. Here's how it all happened.
April 2015
Styles, in a 2017 Rolling Stone interview, reminisces about how he calmed his nerves and prepared to meet Nicks for the first time, backstage at a Fleetwood Mac concert in London on her birthday in 2015: He brought some cake, baby! "Piped her name onto it. She loved it," he said. "Glad she liked carrot cake." Styles's sister, Gemma, was also there, and shared a photo from the moment she met Stevie on Instagram afterward.
Prior to that meeting, Styles had first come into Fleetwood Mac's orbit the year earlier when Mick Fleetwood took his teen daughters to a One Direction concert where, it turns out, the bulk of the fangirling was for Fleetwood. "At that point, the girls are going, 'Dad, just don't embarrass us! No dad-dancing,'" he recalled to the Mirror. "What happened in front of my daughters was dad became a superstar! They all wanted to meet me! My ante got upped! All their songwriting team wanted to meet me." Funny enough, he and Styles went on to become unlikely pen pals: "That's when I met Harry and he's come to three of our shows. He writes to me from weird places and has met Stevie. So, yeah, a funny little relationship."
May 2017
Nicks fondly remembers Styles's cake generosity, and adds the extent of how much her fellow bandmate, Mick Fleetwood, loves him. "Mick has kind of adopted him," she said. "There are just women in Mick's family and Harry is that tall, lanky musical son he always wanted, so they keep in touch."
That same month, Styles embarks on an extensive international tour in support of his debut album. During one of his first stops in Los Angeles, he surprises the crowd with the appearance of his "queen of everything" Nicks, and the two perform his song "Two Ghosts," Fleetwood Mac's "Landslide," and Nicks's "Leather and Lace" together. "I'm pretty sure that this was going to be up there with one of the best nights of my life," he said in his introduction. "If there was any doubt, I'm pretty sure I'd like to confirm, in my entire life, I never thought I'd be able to say this. Please welcome to the stage, Stevie Nicks."
September 2017
Styles sporadically covers Fleetwood Mac's "The Chain" throughout his tour. We'll save you the annoyance of watching a shaky fan-shot video in favor of this smooth performance from the BBC Live Lounge.
January 2018
Fleetwood Mac receives the honor of MusiCares' "Person of the Year," a Grammys-adjacent award that recognizes philanthropic musicians. Styles is on hand to fête and introduce the band for their mini-concert, and they invite him to perform "The Chain" by their side. He again expresses disbelief to even be breathing their same air: "There are several things I thought I would never be doing in my life. One is sharing the stage with these legends, let alone having the honor of introducing them to the stage."
February 2019
Asked about her timeless appeal to a newer generation of Fleetwood Mac fans in an interview with Rolling Stone, Nicks uses the opportunity to discuss her relationship with Styles. They're family-official now! "He's Mick's and my love child. When Harry came into our lives, I said, 'Oh my God, this is the son I never had.' So I adopted him," she explains. "I love Harry, and I'm so happy Harry made a rock and roll record — he could have made a pop record and that would have been the easy way for him. But I guess he decided he wanted to be born in 1948, too. He made a record that was more like 1975."
March 2019
Styles is announced as the presenter who'll induct Nicks into the Rock and Roll Hall of Fame as a solo artist. It's unclear if Nicks personally selected her "adopted" son to do the inducting, but either way, it's pretty clear she's not likely to complain. And now, to await another duet!
Later in March 2019
It's the lovefest of the century between Styles and Nicks at the Rock Hall induction in Brooklyn, with Styles saying, among other sentiments, in his induction speech that Nicks is "everything you've ever wanted in a lady, in a lover, in a friend." He added: "She is more than a role model; she's a beacon to all of us. Whenever you hear her voice, life gets a little bit better. When she sings, the world is hers, and it is yours."
The duo also opened the ceremony with an inspired duet of "Stop Draggin' My Heart Around," with Styles taking over vocals for the late, great Tom Petty. Backstage, Nicks accidentally mixes up Styles's old band, One Direction, with 'N Sync, but is otherwise effusive in her praise to her new pal. "This beautiful child should've been born in 1948, too, because he just fits in with all of us," she said. "I think that he succeeded beautifully. That means he will still be around in 30 to 40 years."
May 2019
The lovers (!?) and friends meet up in Rome to re-perform "Landslide" and "Stop Draggin' My Heart Around" at a very swanky afterparty for Gucci's Cruise 2020 fashion show. The moda is good, but the musica is better.
December 2019
Nicks surprises the crowd during one of Styles's first Fine Line shows, with the duo once again taking "Landslide" out for a spin. "I know, cool isn't it?" Styles told the crowd as they held hands and grooved around the stage. Aw!