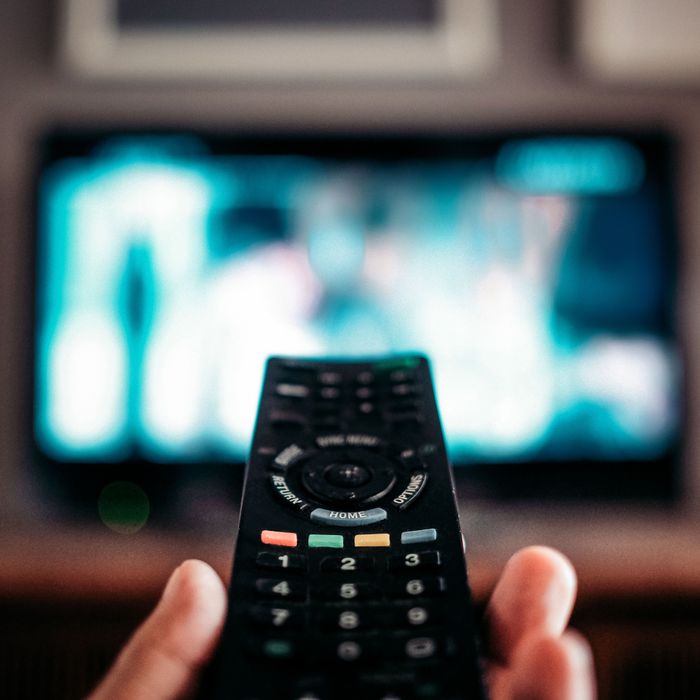 Photo: Getty Images/EyeEm
Over the past decade, Netflix and its rivals have come to rely heavily on the power of algorithms, those top-secret computer programs designed to connect audiences with the programming they're most likely to enjoy based on what they've previously watched. But as Peak TV gives way to the era of Too Much TV and an even more ridiculous amount of content spreads across a rapidly multiplying number of services, platforms are supplementing that sophisticated software with a more low-tech method of helping subscribers find their next favorite show: human beings.
While computer-generated suggestions aren't going away, companies are increasingly looking for other means to help viewers discover shows and movies they might otherwise have missed in a world where something significant premieres almost every day. The industry calls this "human curation," which is basically a fancy phrase for describing nonautomated ways of hyping specific content. AT&T-owned WarnerMedia's upcoming HBO Max service, for example, plans to expand its sister cable network's "Recommended by Humans" promotional campaign by having the stars and producers of its shows, as well as other celebrities, make short videos to highlight particular projects. Those videos will be embedded directly on the service in the hopes that, say, a testimonial from Zac Efron might prompt a young millennial to watch The Exorcist for the first time.
Meanwhile, Netflix, the platform known for its "Because You Watched …" algorithmic suggestions, is currently beta testing something called "Collections," which are thematic playlists made by company staffers instead of its computers. Netflix isn't saying yet whether it plans to expand the test beyond a select pool of Apple iOS users or make it a permanent feature.
Platforms are turning to human curation because of what they see as the limits of reactive recommendation algorithms: They can predict what you might like based on what you've watched in the past, but they can't forecast how your tastes might change or how you're feeling physically and mentally. "An algorithm doesn't know that when I sit down to watch TV, I may be in the mood for something happy, something sad, something like a romantic comedy or a drama," says Brynn Lev, vice-president of editorial and programming for Comcast Cable, which, under the brand name Xfinity, serves more than 20 million TV customers across 39 states and the District of Columbia. Lev argues that computers are also pretty helpless when it comes to spotting hot programming trends or figuring out what newer subscribers might want to watch, since algorithms use past programming choices to guess what you might want to see next.
Like its streaming competitors, Comcast has been aggressively expanding its human curation efforts, particularly since the 2012 launch of the Xfinity X1 platform, which uses streaming technology to create an on-demand experience similar to what a consumer gets with a digitally native app such as Netflix or Hulu. Over the 15 years Lev has been with Comcast, Xfinity has evolved from rudimentary forms of curation (like video segments touting weekly or monthly highlights) to more modern navigation tools, such as offering customers mood- and genre-specific playlists ("Shows to Make You Happy" or "Inspired by True Crime"). Xfinity has also worked to develop an editorial voice for its curation, hiring almost a dozen staffers with specific interests and backgrounds to appear in onscreen videos and help craft those specialized playlists. The hope is that the flesh-and-blood staff will fill in the gaps where computerized algorithms fall short.
"Human curators and our editors are very much in the know from a cultural perspective," Lev says. "[They know] what content is coming to the platform soon that maybe just launched that day or that maybe is critically acclaimed but doesn't rate very high from a ratings or popularity perspective."
More recently, Xfinity has started what Lev calls the "next phase" of its human curation efforts: Raising the profile of those aforementioned editors and turning them into personalities both on and off its platform. Users searching through the Xfinity on-demand interface now find pages devoted to personalized programming picks and playlists from staffers such as TV/LQBTQ editor Scott Conant or TV/Entertainment editor David Onda. There are editors who specialize in African-American interests, kids' programming, lifestyle shows, and music. Each editor portal contains a video bio of the staffer, lists of their current and past favorites, and dozens of program selections designed to help audiences get to them, such as "First R-rated Movie" or "Kids' Movies I'll Watch With No Shame."
In the coming months, Lev expects the editors will become more active on social media interacting with subscribers and perhaps offering program advice in real time. The long-term goal is to have customers see these editors as trusted sources for recommendations. "We want to try and figure out how to leverage these editors to really expand Xfinity, to let people know that this brand — not only these editors but the brand — actually stands for something."
Xfinity's effort is similar to what cable networks such as MTV, FX, and TCM did in the 1980s and '90s, when VJs or on-air hosts like Tom Bergeron and Robert Osborne served as public faces for their networks. "We generally want to help customers cut through the noise," says Onda, whose Xfinity editor page is heavy on '80s and '90s nostalgia. "We know there is a lot of content out there, so we want to serve you what we are passionate about." As a result, the Xfinity editor playlists can get super-specific, bordering on nerdy: Onda has a playlist devoted to '80s animation that features deep cuts such as Robotech (buried deep in the on-demand offerings of STARZ Encore) and The New Adventures of Gumby. Conant, meanwhile, put together a self-care playlist filled with on-demand yoga classes and something called The Damanhur Federation from a channel called Gaia.
Unlike on-air TV hosts of the past, who generally just read whatever was put on the teleprompter, Lev insists Xfinity editors aren't simply shills for their corporate masters at Comcast hyping whatever project its programming partners want to push. "We want customers to really trust that what they're getting out of these editors isn't just me behind the scenes telling Scott or David what to put on there," she says. "That would not invoke a lot of trust with the customer. So we are really letting these editors have free rein in terms of how they want to program their page." Conant concurs: "It really is at our discretion. If there's a show that no one on the team is really getting behind, then I don't think it warrants us promoting it."
To be sure, Xfinity editors regularly meet with publicity execs, programmers, and even talent from various shows and networks. The platform sends staffers to Hollywood to pretape video interviews with show talent. "But as it relates to what the editors are getting behind, by no means are we at the whim of a programmer just because they say that this is a priority," Conant insists.
As noted earlier, Comcast's Xfinity is hardly alone in the human curation game or in trying to raise the profile of its behind-the-scenes staffers. Over the past two years, Netflix has built specialized social-media accounts beyond its main @Netflix handle with an eye on reaching specific parts of its subscriber base. Its @StrongBlackLead account has amassed 347,000 followers on Instagram and over 112,000 on Twitter. The streamer also has specialized social-media feeds for family programming (@NetflixFamily) and genre programming (@NXonNetflix), among others. And while Apple hasn't made too much noise about it, its Apple TV app is using human curation to guide audiences to content beyond the Apple TV+ streaming service: Sections such as "Movies We Love" and "Choose Your Holiday Mood" rely on more than just software to suggest viewing options. Still, these video services are playing catchup to the music world, where platforms such as Spotify and Apple Music have for years relied on human curators to guide listeners to new music. (Spotify's Rap Caviar playlist, for example, is hugely influential in creating hits.)
Of course, for all the effort companies such as Comcast and Netflix are putting into human curation, some portion of their subscriber base will likely have no desire to browse the content choices of total strangers. (Not everyone pays attention to Vulture's carefully considered, altogether awesome recommendations, either, though they should.) "This may not be for every customer," Lev says of Xfinity's editor pages. But if a decent-size portion of the platform's user base does make use of the recommendations, "then that's a win," she says. The overall goal, both at Xfinity and with most platforms, is to get audiences to spend more time on the service. "Time spent on our platform watching content [and] engaging with our service … is one of our big goals," Lev says.