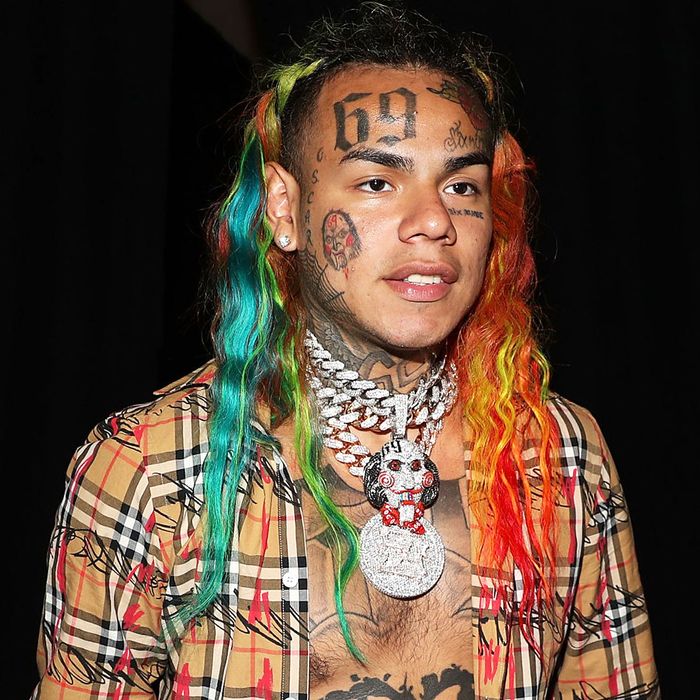 Tekashi 6ix9ine.
Photo: Shareif Ziyadat/WireImage
SoundCloud rap has exploded over the last two years with rappers whose criminal pasts have led to uncertain futures. XXXTentacion was murdered last June while awaiting trial on charges that he brutally assaulted and threatened to kill his pregnant girlfriend in 2016, allegations which only heightened his notoriety online during his brief career. (He confessed to the abuse in a since-surfaced secret recording.) Similarly, Tekashi 6ix9ine, whose rainbow hair suits his troll persona, has had his fame come with an asterisk. Last year, 6ix9ine narrowly avoided jail time and having to register as a sex offender for pleading guilty to the use of a child in a sexual performance in 2015; instead, he was sentenced to four years probation.
But that was only the tip of his controversies: He went on to dace life in prison on federal racketeering charges related to gang activity and a potential future in witness protection due to his cooperation with the federal government. On December 18, Tekashi met his fate in Manhattan Federal Court when he was sentenced to two years in prison after a whirlwind of chaos. To try to make sense of it all, we've compiled a timeline of his fast rise and even faster fall.
Pre-2017 Rise to Fame
6ix9ine, born Daniel Hernandez in 1996, grew up in Bushwick, Brooklyn, New York, and was raised by a Mexican mother and Puerto Rican father. His father was murdered in 2009 when Hernandez was 13 years old. According to his No Jumper interview, 6ix9ine was expelled from school in the eighth grade and did not further his education. "I stopped going to school to help my mom pay the rent," he said. Following his father's death, he worked several jobs and began selling marijuana to help support his mother and brother.
In 2014, 6ix9ine begins rapping on a whim. "I started rapping for fun to be honest with you. I didn't really want to be a rapper or whatever," he told No Jumper. "I just started making music because everybody was like, 'Yo you look mad cool.'" He develops an online presence built off his eccentric fashion choices — including wearing oversize shirts emboldened with the words "Pussy Nigga," — his rainbow-colored hair and grill, many face tattoos including a giant "69" over his right eyebrow (he estimates he has over 200 tattoos of the number) and a portrait of Jigsaw, and starting beef with other SoundCloud rappers including Trippie Redd by trolling them on social media. Photos of him also start to become a viral meme. During that time, he begins releasing scream-rap music under the Slovakia-based label FCK THEM, including "Scumlife", "Yokai," and "Hellsing Station," and featuring anime in his music videos. He establishes the 6ix9ine persona, describing it as a "lifestyle."
"I stand up for the kids who can't stand up for themselves, " he'll later tell Mass Appeal. "Kids that get bullied and deal with a whole bunch of cyberbullying and school bullying — kids in group homes, detention centers, where they don't have parents there looking out for them. They feel alone, like outcasts, or some type of joke to society. I'm the hope for those kids." His song, "Scumlife," he explained, stands for Society Can't Understand Me. (It is also a reference to the Flatbush gang; 6ix9ine has also said he's been affiliated with the Bloods set known as 9 Trey Bloods — his other nickname, TreyWay, is both a reference to that set as well as his manager of the same name.) He has refused to wear name-brand clothing like Supreme so as to appear relatable to kids who can't afford those designers the way he couldn't growing up. "I start my own trends. I'm making it cool to be a bum, to be poor," he says. "Tekashi is his own character … I build my own world and I want my world to look like it's on fucking fire."
2015 Sexual-Misconduct Case
February 21: Amid his rising notoriety, 6ix9ine is accused of having sexual contact with a minor. On February 21, he attends a gathering at a Harlem apartment where videos are filmed of a naked girl later revealed to have been 13 years old at the time. According to the details of a criminal complaint filed a week and a half after the incident, and later obtained and publicized by Jezebel in December 2017, 6ix9ine, who was 18 at the time, is seen in one of the videos "making a thrusting motion with his pelvis" and "smacking her on her buttocks" while she "engages in oral sexual intercourse" with another man, who was also later arrested. In a separate video, the girl is seen sitting naked on the laps of 6ix9ine and another man; in a third video; a man is seen pouring liquid on the girl's breasts while she sits on 6ix9ine's lap. The videos are uploaded to Instagram and 6ix9ine reuploads them to his own account, later telling police he did so "for my image." 6ix9ine claims to have believed the girl was of legal age at the time. "When she came in she asked me how old I was and I told her I was 18 and I assumed she was older. The way she was asking made me think she was older," he told police.
March 5: 6ix9ine is arrested and charged with the use of a child in a sexual performance.
October 22: 6ix9ine pleads guilty to one felony count of use of a child in a sexual performance. According to Jezebel, the terms of his plea deal state that in the time until his sentencing (originally meant for October 2017, but since continuously postponed until October 2018), he is to complete one year of probation, 300 hours of community service, two years of mental health treatment, not to share "sexually explicit or violent images featuring women/children" to social media, and write an apology letter to the victim and her family — all of which appear to have since been completed. He is also required to obtain his GED and stay out of criminal trouble for two years. District attorneys are now arguing he has violated the latter two requirements.
2017
July: A photo of 6ix9ine on Instagram, displaying his tattoos and colorful hair, goes viral on Reddit, drawing attention to his music.
October: 6ix9ine releases "Gummo," his official debut single, which rises to No. 12 on the Billboard Hot 100.
November: 6ix9ine does a widely circulated interview with DJ Akademiks in which he gives his version of the events of the 2015 case, speaking publicly about it for the first time. "I don't know her exact age, I think she was 14 or some shit like that," he says. He claims to have been "17 years young" at the time of the incident, despite correctly stating to police that he was 18, and denies having any sexual contact with the victim. "'I'm not touching the girl, I'm not having sexual intercourse with the girl, I'm not doing nothing, she just nude in some type of way," he says. "I didn't rape nobody, bro, the girl wasn't even raped … I didn't have no sexual contact with the girl … but I was in the video."
2018
January 6: 6ix9ine is involved in an alleged altercation with a 16-year-old boy at the Galleria Mall in Houston, Texas. According to the police report obtained by Pitchfork, the boy tries to take a video of 6ix9ine, prompting the rapper to grab him by the neck "causing small scratch marks and pain." 6ix9ine and his bodyguards allegedly further threaten the boy to erase the video, which he does "to not get hurt again." In July, 6ix9ine is arrested in New York at JFK airport on an outstanding warrant for the incident and is charged with misdemeanor assault. In October, the alleged victim, Santiago Albarran, appears in court to reportedly ask that 6ix9ine not be prosecuted, even posing for a photo with the rapper. The case is ongoing.
February 23: He releases his debut mixtape, Day 69.
April 19: A woman tells Babe that 6ix9ine knowingly engaged in a sexual relationship with her when she was underage. Martha Gold, now 18, claims that they met in March 2017 when she was 17 and he was 20 and that she repeatedly informed him of her age. She says they had sexual contact in Los Angeles, where the legal age of consent is 18. She does not appear to be pressing charges. "I'm not tryna put him in jail or anything, but he has to learn to stay in his lane," she says.
April 25: 6ix9ine's manager, Tr3yway, is reportedly investigated in connection with two shootings, one at Barclays Center on the day of the Adrien Broner fight, and the other hours prior on the streets of Brooklyn. His crew is also reportedly investigated for a shooting on a music video set in Brooklyn days prior. The incidents all reportedly involve rapper Casanova, with whom 6ix9ine had beef at the time. TMZ reports that 6ix9ine has been banned from performing at Barclays due to the alleged incident.
May 20: 6ix9ine allegedly illegally parks in front of a fire hydrant in Brooklyn while also allegedly driving with a suspended license. He is reportedly charged with two misdemeanors: operating a vehicle without a license and facilitating aggravated unlicensed operation of a motor vehicle.
May 21, the very next day: The morning after his arrest for the parking incident, 6ix9ine reportedly gets into an altercation with a police officer at the 77th Precinct in Brooklyn. After being instructed to take off his unlocked handcuffs, 6ix9ine allegedly "grabs and squeezes" the officer's hand against the cuffs and refuses to take off the cuffs or let go of the officer, allegedly causing the officer "swelling and redness to [his] fingers and, to suffer substantial pain, to fear further physical injury." He is slapped with four more misdemeanor charges due to the incident: third-degree assault, third-degree attempted assault, third-degree menacing, and second-degree obstructing governmental administration. Both cases are still ongoing.
June 18: 6ix9ine is reportedly investigated for a shooting in New York involving rapper Chief Keef. He denies any involvement, though the two have beefed online and he insinuated his involvement on Instagram.
July 22: He releases "Fefe" with Nicki Minaj, his biggest and most commercial song to date. It rises to No. 3 on the Billboard Hot 100. Minaj later defends working with 6ix9ine despite his misconduct, saying "The thing with me, when I know somebody there's nothing you can tell me about them. That's just how it is."
Also on July 22: 6ix9ine is involved in an attack the same day his Nicki collaboration is released. He is reportedly kidnapped, pistol-whipped, and robbed in Brooklyn. "As crazy as it sounds.. yesterday morning I had a feeling that it was my day to die," he later writes on Instagram. He also claims it was not a publicity stunt to promote the single.
August 8: 6ix9ine starts beef with rapper YG over a line on YG's song "Su Whoop" in which he calls out fake Bloods, alluding to 6ix9ine. 6ix9ine taunts YG on Instagram, saying his single "Fefe" with Nicki is outselling YG's single with Nicki, "Big Bank." He added, "You a whole bum out here. Stop going on radio stations tryin' to promote your album mentioning my name. You a big-ass dummy."
August 10: The Manhattan District Attorney's office requests that a judge revoke 6ix9ine's plea deal in the 2015 sexual misconduct case, arguing that he violated the terms of the deal by getting into further legal trouble and did not complete his GED in time. They ask that he be required to register as a sexual offender and that the rapper be sentenced to one to three years of jail time. 6ix9ine's lawyers are arguing that any arrests that occurred after the original planned October 20, 2017, sentencing date should not count against his plea deal because it would've expired by then. Pitchfork reports that postponements to that hearing were due to 6ix9ine's lawyers requesting more time for him to complete his GED, which they say he did in April 2018.
August 21: Nicki Minaj claims that MTV would not allow 6ix9ine to perform with her at the VMAs. "Tekashi, I wanted to perform with me at the VMAs. And somewhere along the line he didn't get approved to perform by the powers that be," she says. "I don't want anyone to think for a second that I would not have asked him to come on my stage to perform his amazing hit 'Fefe.'"
September 1: 6ix9ine performs at Jay-Z's Made in America Festival on the main stage to massive applause despite showing up two hours late. It's his first major U.S. festival performance, which he points out during his set saying no other festival had invited him. Minaj brings him out to perform with her during her headlining set at the festival.
September 9: Kanye West hits the studio with 6ix9ine, fueling speculation that he'll appear on Kanye's album Yandhi.
September 14: YG releases the video for his song "Bulletproof," which features a 6ix9ine look-alike in jail. He flashes the word "pedophile" on the screen, alluding to the misconduct case.
October 22: Pitchfork reports that 6ix9ine is due in court for three separate incidents in the same week — the 2015 sexual misconduct case, the Houston fan incident, and the altercation with the police officer in Brooklyn. He is expected to appear at a sentencing hearing in the misconduct case on October 26 where he could face jail time; he does not attend the October 25 pretrial hearing for the Houston case but is scheduled to be deposed on December 20; his October 23 for the cop case is adjourned and he is scheduled to be back in court on November 14. In the misconduct case, the D.A. further argues for jail time citing 6ix9ine's multiple arrests that violate the terms of his plea deal, his gang affiliations, using his social media presence to perpetuate violence by starting feuds with other artists, as well as the criminal investigations involving the Chief Keef shooting and the shooting involving his manager. The DA writes: "[6ix9ine] has failed to mature into the law-abiding adult anticipated by the plea agreement which he signed on October 20, 2015."
October 26: 6ix9ine avoids jail time for the 2015 sexual misconduct case involving a minor, sentenced instead to four years probation. He'll get credit for one year served. At his sentencing, 6ix9ine tells the judge, "Your honor, sometimes I feel like I'm behind a closed door trying to convince the world I'm a good man. I'm not Tekashi 6ix9ine. I'm not committing murders, I'm not out there robbing people, and I'm not out there raping people."
October 26, later that day: According to TMZ, gunfire breaks out at a post-sentencing dinner in mid-town Manhattan following an argument between 6ix9ine's entourage and a record executive's bodyguard. "A third party" allegedly fires four shots during the dispute, hitting one of Hernandez's bodyguards in the stomach. He is subsequently taken to the hospital with non-life-threatening injuries..
October 28: 6ix9ine makes a surprise appearance at Power 105.1's Powerhouse NYC concert at the Prudential Center in Newark, NJ. He performs a full set and alludes to how his legal troubles have affected his career, telling the crowd, "I never get invited to shit like this."
October 29: The Associated Press reports that two men in 6ix9ine's entourage are arrested for "gang assault" in connection with the afterparty shooting following his sentencing. One of the men, Faheem Walter, was the bodyguard shot in the incident; the other is named as Zachary Bunce. According to the report, the two men had attempted to enter the restaurant Philippe Chow on the Upper West Side and, when turned away, they returned and hit an armed security guard with a chair. That guard then shot Walter. 6ix9ine was reportedly not present at the time of the incident.
November 4: Tekashi is reportedly involved in a verbal altercation with YG affiliate, rapper Slim 400, at ComplexCon in Los Angeles. According to reports and Slim himself, Slim and his crew barred Tekashi and his crew from entering the venue.
November 5: Responding to the incident at ComplexCon in an interview with paparazzi, Tekashi mocks Slim for being lesser known and taunts YG for his affiliation with Slim. "If YG was really your friend, you wouldn't be in the hood right now. But YG can't even get himself out the hood," he says.
November 7: One of Tekashi's managers, Shotti (né Kifano Jordan) reportedly surrenders to police in connection with the shooting at Tekashi's post-sentencing after-party where one of Tekashi's bodyguards was shot. Shotti is charged with gang assault and criminal possession of a weapon.
Tekashi is snapped out in Los Angeles with an entourage now including at least five bodyguards. That's him overshadowed in the middle.
Tekashi announces he's dropping his debut album, titled Dummy Boy, on Black Friday, November 23. Its cover features a cartoon version of Tekashi peeing out a rainbow onto a checkered floor. "Watch me outsell everybody suck my dick," he writes.
November 9: TMZ reports that an alleged shooting occurred on the Beverly Hills mansion set of a Tekashi music video featuring Nicki Minaj and Kanye West for a new song off 6ix9ine's forthcoming album. It is described as a drive-by shooting where eight shots were fired, but no one was hit. One bullet reportedly struck a bedroom window. According to TMZ, both Tekashi and Kanye were on the set, but Nicki had not yet arrived; Kanye "immediately left" while production was halted and the crew was "shaken up."
November 14: TMZ reports that a man was arrested for allegedly robbing and kidnapping Tekashi 6ix9ine back in July. Anthony Jamel Ellison, a former member of Tekashi's management team, was detained on November 6 on a federal warrant. He has been indicted on one count of carrying a firearm to commit a crime, one count of conspiracy to obstruct commerce by robbery, and one count of obstructing commerce by robbery. Ellison pleaded not guilty on all charges and awaits trial in Manhattan federal prison. Tekashi claimed at the time of the incident that it was an "inside job"; it appears he may have been right.
Tekashi also accepted a plea deal in the case involving his assault on a police officer in Brooklyn during an arrest back in May. Pitchfork reports that he pleaded guilty to "disorderly conduct" and received a sentence of conditional discharge that requires him to stay out of trouble and not discuss the case on social media. He reportedly faces 15 days in jail if he breaks those terms. According to the Blast, the violation will not appear on his criminal record.
November 15: Tekashi fires his entire team, including his manager Shotti, booking agent, and publicist. He also cancels his American tour.
November 16: Tekashi appears on "The Breakfast Club" to explain why he fired his team saying he "can't trust nobody" and that the shooting on the set of music video with Nicki Minaj and Kanye West was the final straw, insinuating he suspected it might've been an inside job. He also says he only fears two things: "God and the FBI."
November 18: Tekashi shares the track list for this debut album, confirming his song featuring Kanye West and Nicki Minaj, "MAMA." (Kanye is also featured on another song, "FEEFA.")
November 19: Tekashi is arrested on federal charges of racketeering and firearms related to organized gang activity as part of the local set Nine Trey Gangsta Bloods, including armed robbery, conspiracy to commit murder, and drug trafficking. He's taken into custody along with his ex-manager
Shotti, bodyguard Faheem "Crippy" Walter, and three other associates. The arrest is reportedly part of a joint investigation between the NYPD, Homeland Security, and the Justice Department's Bureau of Alcohol, Tobacco, Firearms and Explosives. He is charged with six counts of an eight-count indictment, two of which carry a maximum sentence of life in prison. 6ix9ine is held without bail and reportedly put in general population. It is revealed during his arraignment that his associates might have been planning a hit on 6ix9ine. They were secretly recorded saying they wanted to "super violate" 6ix9ine and that "certain high ranking members of the Bloods had authorized violence."
November 21: Two days after Tekashi's arrest, Minaj posts to her Instagram saying his album Dummy Boy would be delayed due to "reasons beyond music."
His lawyer argues that Tekashi was never a gang member but just behaved like one as part of his rap image. "An entertainer who portrays a 'gangster image' to promote his music does not make him a member of an enterprise," the statement reads.
November 22: Tekashi is reportedly transferred to a federal facility that is said to hold witnesses who are cooperating with law enforcement. His lawyer claims the transfer was for "security reasons," after gang members threatened Tekashi at the original facility he was sent to.
November 24: His new album Dummy Boy leaks days after its release is indefinitely delayed.
November 26: Tekashi pleads not guilty to six counts of racketeering in federal court.
November 27: 6ix9ine's debut album Dummy Boy is officially released while he's in prison. He reportedly signs a new distribution deal with his publishing company Create Music Group to put out the album, exiting his previous contract with Capitol Music Group and Caroline after a "disagreement" stemming from the album's leak.
The federal government announces it had an informant embedded in 6ix9ine's crew who recorded secret conversations with the rapper as well as his associates.
November 28: TMZ reports the findings of the wiretaps from the informant working with the Feds. Both Tekashi's former manager, Shotti, and associate, Mel Murda, were recorded making violents threats against 6ix9ine's life and discrediting him as a gang member.
November 29: Complex host DJ Akademiks, who was the first to report 6ix9ine's racketeering arrest, denies being the informant working with the Feds in a statement to TMZ. "[I have] zero connection to this criminal case against Daniel Hernandez & other co-defendants. I view them as good people to me," he says. "All these charges are a shock to me and do not involve me. I have never been questioned or much less cooperated in this. I am just a news reporter."
November 30: Rick Ross taunts 6ix9ine over his legal troubles on new song "What's Free" with Meek Mill and Jay-Z, using a homophobic slur to mock the rapper. "Screaming gang gang now you wanna rap, racketeering charges caught him on a tap/Looking for a bond lawyers wanna tax, purple hair got them f****ts on your back," he raps.
December 5: A Manhattan judge revokes 6ix9ine's four-year probation in his 2015 child-sexual-misconduct case, giving him credit for time served. He will also no longer have to complete 1,000 hours of community service. The decision was reportedly due to his multiple pending federal racketeering and firearms charges. While awaiting trial in federal prison, it was deemed that the court can't enforce the terms of his probation or community service. The sexual-misconduct case is declared closed.
2019
February 1: Tekashi 6ix9ine pleads guilty to nine counts of federal racketeering, following his November arrest. It's revealed that 6ix9ine is discussing a plea deal with prosecutors involving the disclosure of information regarding "multiple violent people associated with the same criminal enterprise." He faces 47 years to life in prison, though he likely won't be sentenced until 2020.
March 28: The rapper's former manager Kifano "Shotti" Jordan also pleads guilty to racketeering charges. During the proceedings, Jordan admitted to "using and possessing a firearm in furtherance of a crime of violence" and "discharging a firearm in furtherance of a crime of violence," related to two assaults in April 2019.
June 4: Rapper Kooda B admits to the court that Tekashi 6ix9ine paid him in exchange for getting someone to shoot Chief Keef, almost exactly a year after Keef was shot at in front of a Times Square hotel. Tekashi pleads guilty, saying that he did so "in furtherance of the Nine Trey." Kooda B faces up to 20 years in federal prison.
September 10: A report that lists the crimes Tekashi 6ix9ine has admitted to and won't be charged for under his plea agreement includes committing domestic violence from 2011 up until he was arrested in November.
September 17: 6ix9ine testifies in court against Nine Trey Gangsta Bloods members Anthony "Harv" Ellison and Aljermiah "Nuke" Mack, whom he allegedly associated with. He also pointed out any alleged gang members who appear in his music videos, adding that it was his idea to include them. Tekashi's witness statements are part of a plea deal with the Feds that may end with him in witness protection. 6ix9ine claimed that his role in the gang was to make music, make money, and in return they would offer protection.
September 23: It's revealed that Tekashi 6ix9ine's driver, Jorge Rivera, who was driving the car when 6ix9ine was allegedly kidnapped, had been working as a confidential informant following an ICE arrest.
September 26: According to TMZ, sources say that Tekashi 6ix9ine has no plans to enter the witness protection program following his prison time. Instead, he'll be paying for private security for both himself and his family.
October 10: Tekashi 6ix9ine reportedly signs an over $10 million record deal with his former label, 10K Projects. The agreement includes two albums, one in Spanish and one in English. Plans for civilian life are underway.
December 4: Prosecutors officially argue for a reduced sentence, calling his testimony "both incredibly significant and extremely useful" for their racketeering case against the Nine Trey gang. In their letter, prosecutors say they intend on requesting a lower-than-minimum sentence, provided that he "continues to comply with the terms of his cooperation agreement." A minimum sentence for Tekashi 6ix9ine is 47 years in prison.
December 11: "I find it difficult to find the right words to express what my life has been like for the last year," the rapper said in a letter to the court, asking for leniency. "It honestly feels like my world is crashing down."
December 13: 6ix9ine's mother, bodyguard, and girlfriend send their own letters to the court, vouching for him and explaining why he needs a reduced sentence.
December 17: The two individuals Tekashi 6ix9ine and his associates mistakenly robbed at Rap-A-Lot Records in April 2018, instead of its CEO James Prince, send victim's statements to the federal judge in charge of 6ix9ine's fate. One victim described the impact the attack has on his life and asks, "Why should this person, who nearly ended my life, be free when I am not free?"
December 18: Tekashi is sentenced to two years in prison, with credit for time served; he's expected to be released in 11 months and will remain on supervised release for five years. Tekashi addressed the judge at his sentencing, "I'm not a victim, I put myself in this position."