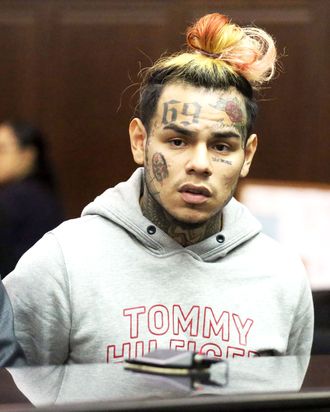 Photo: Jefferson Siegel/NY Daily News via Getty Images
Tekashi 6ix9ine told the federal judge who will soon decide his fate that he is becoming "more and more overwhelmed with emotions" in advance of his Dec. 18 sentencing for gang-related crimes, according to a letter filed Wednesday.
"I find it difficult to find the right words to express what my life has been like for the last year," the rapper said in his letter to the court. "It honestly feels like my world is crashing down."
Lawyers for the "FEFE" performer, whose legal name is Daniel Hernandez, are arguing that he should be sentenced to time served because he cooperated with prosecutors against his former Nine Trey Bloods associates. 
"There is no excuse, no justification and no apology good enough in this world to explain my crimes," Hernandez also wrote. "While I have been incarcerated,  I have had time to reflect on the recklessness and foolishness of my decisions. I wake up every morning asking myself was it worth it?"
Hernandez's letter was part of his legal team's bid for leniency, which came about one week after Manhattan federal prosecutors advocated for a reduced sentence because of his "incredibly significant and extremely useful" cooperation against members of Nine Trey, a Bloods gang offshoot.
His lawyers wrote in their letter filed Wednesday that, "despite the significant threat to his music career and his personal safety, Mr. Hernandez, a very well known public figure, publicly testified both credibly and powerfully in a highly publicized trial which led to the convictions of two Nine Trey members…Considering his significant cooperation and assistance, there is simply nothing else that he could have done to further his cooperation. He did everything asked of him, and at times even more."
"It is impossible to ignore the courage and integrity shown by Mr. Hernandez in testifying in such a public forum about such salacious activities," they also said in their letter to the judge. "In addition to the significant safety risks involved in testifying during such a trial, Mr. Hernandez also risked career suicide, given that the hip hop community seriously discourages cooperating with the government and providing testimony, or any information, against another individual."
"The level of risk to Mr. Hernandez and his family as a result of his cooperation with the government in this case is immeasurable… Mr. Hernandez will likely be looking over his shoulder, or relying on added security, for decades to come," they also wrote. "Undeniably, Mr. Hernandez's life will never be the same as a result of the extraordinary assistance that he provided to the government. He will probably never truly feel safe in public as a result of his decision to do the right thing in this case."
"Considering the issues discussed above, I respectfully request that your Honor sentence Mr. Hernandez to the jail time that he has already served during the duration of his case," wrote Lance Lazzaro, one of his attorneys.
Prosecutors had said in their court papers last week that Hernandez "provided an insider's view of Nine Trey and a first-hand account of many acts of violence that [prosecutors] otherwise did not have."
"He is a famous rap artist and was a high-profile member of a violent gang. In the face of threats made against him and his family, Hernandez decided to cooperate against his co-defendants and testify in a trial that was widely publicized," they said.
The feds' rec relates to a plea deal they brokered with Hernandez earlier this year.
Hernandez pleaded guilty to nine federal counts following his racketeering arrest in November. Under this plea deal, Hernandez agreed to cooperate, as to obtain a more lenient sentence.
Hernandez is facing from 47 years to life behind bars.
With Hernandez's plea agreement, however, prosecutors said they would request a sentence "below any mandatory minimum" if he "successfully" cooperated.
Prosecutors said in this same filing that they intend on asking for a lower-than-minimum sentence because he was so helpful, so long as he "continues to comply with the terms of his cooperation agreement."
Hernandez's sentence is ultimately going to be decided by the judge – because their push for leniency isn't binding.
Hernandez took the stand against two former associates in September in the racketeering trial against alleged Nine Trey Gangsta Bloods members Anthony "Harv" Ellison and Aljermiah "Nuke" Mack.
While testifying, Hernandez snitched so much that the #Tekashisnitch9 hashtag started trending.
He dimed on anyone from low-level gangsters to high-profile performers. He even claimed that Cardi B and Jim Jones were in the Bloods and Nine Trey, respectively.
During Hernandez's testimony, he claimed that Trippie Redd was in Five Nine Brims, a different Bloods offshoot. He also claimed that Chief Keef was part of the Black Disciples and that Casanova was with "another" Bloods group. He also detailed attacks on Chief Keef and Trippie Redd.
Ellison was found guilty of kidnapping Hernandez, and Mack was found guilty of distributing drugs; both were convicted guilty of racketeering conspiracy. They face up to life in federal lockup.
Prosecutors also claimed Hernandez faced risks due to his cooperation. "The defendant's cooperation has come at great risk to his and his family's safety, in ways far more significant than in other cases. Nine Trey is one of the most violent sets of the United Bloods Nation, claiming members throughout the country," they claimed. "Prior to his cooperation becoming public, the defendant relocated his family. The defendant was moved to a different prison facility and has been placed in a particular unit without any other gang members."
Hernandez's movements, meanwhile, "have been limited so as to avoid potential contact with other gang members. In addition, extra precautions were taken to transport him to and from court during his testimony."
"Other gang members and those in the rap industry have criticized him for cooperating and have openly questioned whether the defendant's safety could ever be guaranteed," they wrote. "There is no question that the defendant's life will never be the same because of his cooperation in this case."