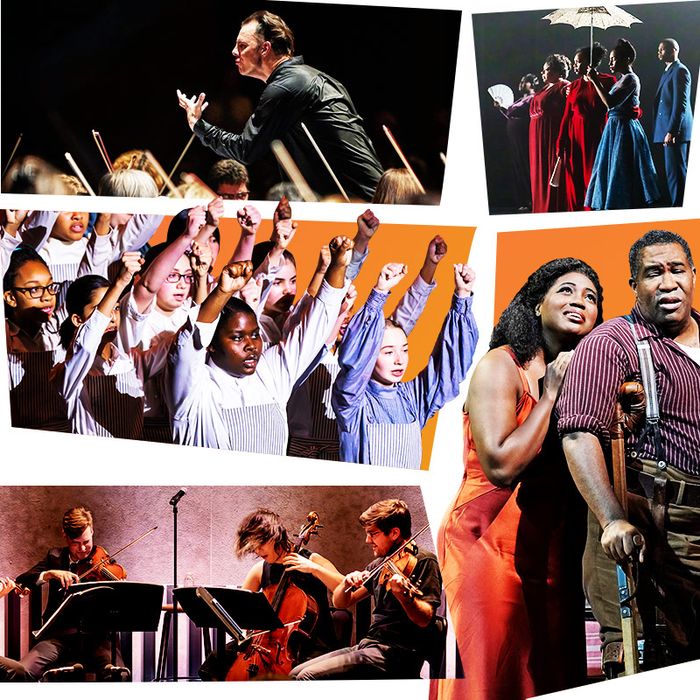 Photo: Vulture and Photos by Ken Howard/Metropolitan Opera, Kevin Yatarola/ Courtesy of Lincoln Center, Kate Glicksberg/The Shed and Alexandra Muravyeva, Chris Lee, Maggie Hall and Courtesy of Metropolitan Opera
The Metropolitan Opera had a terrible year offstage and an annus mirabilis in the house. The sordid legal battle with disgraced music director James Levine crawled to a close, quickly replaced by a clumsily handled #MeToo furor over Plácido Domingo. Onstage, though, there was plenty of magic, some of it masterminded by Levine's successor Yannick Nézét-Séguin. Heavyweight organizations closed the year thinking ahead: the Met brushed off criticisms and controversies and re-upped general manager Peter Gelb's contract until 2027. And Lincoln Center and the New York Philharmonic announced that they are (finally—really, honestly, definitely this time) moving ahead with a $550 million gut renovation of David Geffen Hall.
10. Vienna Philharmonic
The conductor Michael Tilson Thomas has spent much of his career dismantling the orchestral world's conventions and the rest of it building them back up. Even as he was winding down his adventurous quarter-century as music director of the San Francisco Symphony, he returned to Carnegie Hall at the head of one of the world's most traditional ensembles to play Mahler's Ninth, the last completed symphony work of a composer whose radicalism long ago went mainstream. Spacious, glimmering, and grand, the performance demonstrated how satisfying it can be when the revolutionary and the revanchist merge.
9. Giuseppe Verdi, Requiem
For his first American appearance, the Greek-Russian conductor Teodor Currentzis brought his own orchestra and chorus from Siberia via St. Petersburg, because what Western ensemble would tolerate his nanomanagerial style, which specifies the duration of every staccato. The result of was a performance of the Verdi Requiem so manically controlled, so suffused with high-precision uplift and catharsis, that it was hard to believe it was real.
8. The Black Clown
Davóne Tines, a bass-baritone with the dark, and glossy timbre of a bass clarinet, is the sort of singer who excites old-guard audiences and young composers at the same time. Tines spent nearly a decade co-creating (with composer Michael Schachter) and singing in The Black Clown, a stage work of uncertain genre based on the poetry of Langston Hughes, which galvanized last summer's Mostly Mozart Festival. It was a drawn-out sizzle reel, proving that Tines is equally comfortable singing a gospel melody, a sweaty blues, or a baroque aria.
7. Der Ring des Nibelungen
In Wagner's epic of greed, family loyalty, and betrayal, Brünnhilde is the disappointing daughter, the warrior paralyzed by an eon of solitary confinement. But when Christine Goerke sang the role in the Met's latest Ring cycle, the character's downfall was the singer's triumph. It's a punishing role, full of hollering and heroics, as well as stretches of intimate regret; decades can go by between one great Brünnhilde's peak and the next. So those of us lucky enough to hear Goerke in her prime will treasure the memory until we become insufferably nostalgic.
Philip Glass's 36-year-old opera (part three of his great men trilogy, after Einstein on the Beach and Satyagraha) finally floated into the Met on a cloud of blissed-out anticipation. Part of that was owed to to countertenor Anthony Roth Costanzo, who is as gifted a showman and marketer as he is a singer. Glassians knew what not to expect: arias, action, relationships, conflict, or even a comprehensible libretto. Instead, director Phelim McDermott turned the honeyed score into an interpretive juggling act, a pageant of costumes and crowns, a slow-motion dance, and an argument for transcendent superficiality.
5. Caroline Shaw and the Attacca Quartet
On the 2019 album Orange and in a free happy-hour concert at Lincoln Center's Rubinstein Atrium, the Attacca Quartet formed a bond with a quietly original composer who surely has an opera somewhere on her to do list. Shaw, who won the Pulitzer Prize in 2013, writes music that feels fresh but displays a command of some old-fashioned virtues, among them a finely calibrated ear for how harmony can simultaneously flow and support a musical structure, like an amalgam of water and steel. She also displays a love of language — her song "And So," meanders through Gertrude Stein and Billy Joel—and a keen sense of how specific voices work, including her own surprising soprano.
Every staging of the Gershwin's 1935 opera era feels like it's assembling an argument out of old grief and current trends. The Met's new production places the story squarely in the past, but the cast — Eric Owens and Angel Blue, to pick out just two members of a standout troupe — testified to the current opera world's deep reservoir of African-American talent. Once, black singers path to operas went through Porgy and Bess; now they come to Porgy from Wagner, Verdi, Rossini, and Glass.
When the British composer shows up at your doorstep carrying a big toolbox and promising to fix up a creaky old genre, know that he'll leave it a bit like DeLorean Time Machine: sparking, dazzling, weirdly familiar, and irresistibly warped. The seemingly 20-fingered pianist Kirill Gerstein gave the premiere of Adès's new concerto at Carnegie Hall with the Boston Symphony Orchestra and the composer on the podium—an evening of pleasurable delirium.
2. Fire in My Mouth
With a composer's gifts and a historian's soul, Julia Wolfe has hammered the story of the American worker into musical shape. She's written choral elegies to Appalachian steel drivers, Pennsylvania coal miners, and in her latest multimedia blockbuster, the immigrant seamstresses who toiled and died at the Triangle Shirtwaist Factory. An intensely expressive monument to loss, labor, and political rage, Fire in My Mouth received an incandescent world premiere by the New York Philharmonic (which later released a non-multimedia recording).
1. Dialogues des Carmélites
With Isabel Leonard as the snowy-souled Blanche and Karita Mattila as the raging prioress, the return of Poulenc's (almost) all-nun opera would have been pretty transcendent even without any additional virtues. But Yannick Nézét-Séguin's presence on the podium made it downright celestial.
*This article appears in the December 23, 2019, issue of New York Magazine. Subscribe Now!