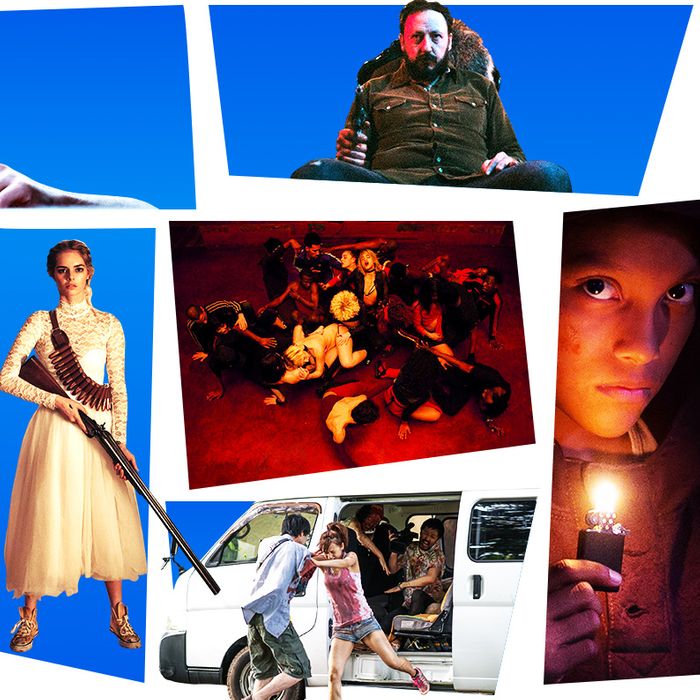 Clockwise from top left: Ewan McGregor in
Doctor Sleep
, Scott Poythress in
I Trapped the Devil
, a group shot from
Climax
, Samara Weaving in
Ready or Not,
and Logan Browning and Allison Williams in
The Perfection
.
Illustration: Vulture and Photos Courtesy of Studios
The horror genre has been experiencing a blockbuster streak these past few years, but the best titles of 2019 were mostly hidden treasures. Major market releases like It Chapter Two and Annabelle Comes Home made a lot of money, but the overall tale of the box office this year was not marked by some genre surprise wildly over-performing at every turn. Should we be worried about a horror recession on the horizon? Absolutely not. There are plenty of inspiring works lurking in the darker corners of cinema, revealing how much the highbrow horror movement has pushed the form at all budget levels, and how much more room for innovation there is. Here are Vulture's ten best of 2019:
10. Bliss
Director Joe Begos pared down the filmmaking operation for Bliss to its absolute minimum, but with lead actress Dora Madison and the nightscapes of Los Angeles on his side, he had all the resources he needed to turn in some hard-core modern vampire horror. Madison plays Dezzy, a broke artist who's lost her agent and has to turn one major piece around in time for a gallery show that will save her from ruin, but she's utterly blocked. Until, that is, a night of debauchery that ends with a threesome and maybe also her being fed on by a friend. Was she? Was it the drugs? Was it a dream? Why does she now harbor an insatiable carnal hunger that can't be satisfied with substances or sex? As Dezzy's painting builds into a masterpiece her life spins out further and faster, with writer and director Begos turning her descent into a dirty, suffocating, heavy-metal nightmare. Madison gives one of the performances of the year carrying every minute of the movie on her shoulders, as she drags us all to hell with her.
9. Daniel Isn't Real
Daniel Isn't Real works with potency on multiple levels. If you want a thoughtful, discomfiting critique of toxic masculinity, it delivers. If you want a stylish, aching look at the effects of unattended mental illness, Daniel has that. And if you just want a brain-warping psycho body-horror film, you can absolutely get your fix for it here. Based on the book In This Way I Was Saved by Brian DeLeeuw, writer and director Adam Egypt Mortimer adapted the script with the novel's author. It focuses on a college freshman named Luke (Miles Robbins) who, feeling stressed out by school and the need to care for his erratic mother, manifests the imaginary friend he hasn't seen since he was a little boy. Daniel (Patrick Schwarzenegger) is everything Luke is not: sexy, bold, and very dangerous, which is why Luke ended up locking Daniel away in his mind all those years ago. But now his alter ego is back, and what begins as a helpful companionship turns into a parasitic exchange. This time, though, Daniel won't be banished, and Mortimer makes the external rendering of the civil war in Luke's brain as arresting as it is frightening.
8. Knife+Heart
This French slasher is queer as hell and feels like it fell out of a wormhole attached to 1977. Vanessa Paradis stars as a gay porn director who has two big problems: She's going through a bitter breakup with her girlfriend, and her actors are being horrifically murdered by a leather-clad psycho stalking through Paris. Director Yann Gonzalez wrote the script with Cristiano Mangione, and he poured on the visual panache. Knife feels like an old De Palma film, and it blends eroticism and violence with the same frankness as Gonzalez's countryman Gaspar Noé. It's a new slasher by way of old slashers that somehow manages to feel entirely fresh, and the fearlessness of its sexual politics is an inspiring step forward for one of horror's most formulaic subgenres.
7. Doctor Sleep
Writer and director Mike Flanagan stays coming for your feelings. A year after sending viewers to therapy with his House on Haunted Hill series, the filmmaker has delivered his most ambitious film yet in The Shining sequel Doctor Sleep. The film opens by establishing its three primary characters: a deeply troubled adult Danny Torrance (Ewan McGregor), a powerful young shiner named Abra, and an insidious pseudo-demon named Rose the Hat, who leads a group of spirit-consuming semi-immortals called the True Knot. Doctor Sleep is the story of those three parties drawing closer and closer together until head-to-head confrontation becomes inevitable. Flanagan and his regular cinematographer Michael Fimognari create a storybook aesthetic that makes the brutal violence that much more disturbing. Present are all the usual Flanagan themes like inherited trauma, the formative power of grief, and the sometimes suffocating complexity of a family unit. Always clever when it comes to casting, Flanagan picked out a treasure with Kyliegh Curran — who brings a surprising, playful balance of dark and light to Abra — and hit an absolute home run with Rebecca Ferguson as Rose the Hat. Every word and gesture from Ferguson drips with sex and danger, and she glides through each scene with the sinister confidence of an all-powerful-being who hasn't feared death in centuries.
6. I Trapped the Devil
For the best Twilight Zone episode that was never actually a Twilight Zone episode, see I Trapped the Devil. This is pure, simple, contained horror, and it focuses on a man living an isolated life who is dead-set convinced he has the devil locked away in his basement. Things get more complicated for the man when his brother and sister-in-law drop by for a visit and he shares his unbelievable secret with them. But of course, this is a horror story, so as the tension in the house mounts — and the voice from behind the door beckons to be released — everyone's grasp of reality starts slipping as they face the prospect of Satan himself being held prisoner in a suburban house. Writer and director Josh Lobo made the most surprising Christmas horror essential of the year.
5. Ready or Not
Samara Weaving is always a safe bet for horror fans, so when you add her to an action horror movie imagined around the idea of collective class rage, you've got a touch of magic. Ready or Not finds Weaving as a brand-new bride named Grace who, on the night of her wedding, must play a game with her extravagantly wealthy in-laws to be properly welcomed into the family. Drawing from a deck of game options, Grace selects the worst possible one, Hide and Seek, which requires her to evade a bunch of rich people who are attempting to hunt her down before dawn. It's a simple premise executed damn near perfectly, with Weaving going big and bloody as the distressed bride. A great supporting ensemble — including Andie MacDowell, Melanie Scrofano, Adam Brody, and Nicky Guadagni — chews up scenes every chance it gets.
4. One Cut of the Dead
If you thought you'd seen it all in the zombie genre, then think again. One Cut of the Dead immediately established itself as an all-timer in the category by putting a movie within a movie and letting the action run wild. Inspired by the play Ghost in the Box by Ryoichi Wada, writer and director Shin'ichirô Ueda put together this inspired work about a middling director named Higurashi (Takayuki Hamatsu) who has been tapped to helm an extremely budget horror movie, but then things get crazy when actual undead overrun the set. One Cut has a few tricks up its sleeve, too, that help make this wild ride unpredictable at every turn, but one thing is for sure: It was the most fun we had watching a zombie movie all year — and maybe all decade — long.
3. The Perfection
One of the emerging trends of the past few years in horror is the neo-exploitation wave that has turned rape and revenge movies from a guilty sort of pleasure into stylish works that finally favor the female gaze (see: MFA, Cold Hell, or The Nightingale) — a long overdue shift for a set of films that revolve around the ultimate violation of women's bodies. The Perfection is sick and sexy, and pulls from director Richard Shephard's love of Korean vengeance films like The Handmaiden and the grind-house films he grew up on in Times Square cinemas in New York. (He wrote the script with Nicole Snyder and Eric C. Charmelo.) The story of The Perfection concerns two cello prodigies whose lives intersect when one of them (Allison Williams's Charlotte) emerges after a decade-long absence to seek out her old instructor, who is now mentoring Lizzy (Logan Browning). Their unique bond draws them into each other's arms quickly, but what Charlotte wants from Lizzy will push their relationship into wild territory. Thanks to Shephard and cinematographer Vanja Cernjul (Crazy Rich Asians), there are also multiple frames that could compete for best single shot of the year.
2. Climax
Gaspar Noé didn't mean to make a movie that pretty much everyone who saw it (and was into disorienting psycho-horror) would love, but much to his dismay, that's what happened! Climax gets going with a single-shot, six-minute dance number set to Cerrone's pulsing "Supernature," and it does not stop moving for the rest of the film. In a word, Climax is relentless. The only actor on camera is Sofia Boutella, with the rest of the cast being composed of actual professional dancers from across various disciplines. Noé shot the movie himself with a shoulder camera and the occasional crane mount, and the script consisted of about five pages giving a general outline of the action, with everything you see being executed through guided improvisation. Noé and his cast would rehearse for half a shooting day, then he'd film epic takes of dancing and panic and mental breakdowns for the other half. The result is an increasingly harrowing voyeuristic look at one single night when a dance troupe is having a party and someone doses the punch with LSD. Neither the camera nor the music ever stop in this singular horror experience, and the studio becomes hell on earth as everyone's inner animal emerges.
1. Tigers Are Not Afraid
Writer and director Issa López made something truly special with Tigers Are Not Afraid. It's a ghost story filmed like a war drama set in a Mexican town torn apart by cartel violence. Parents are murdered and abducted, leaving a generation of orphans behind to build community however they can, and in some cases, lean on their imaginations to cope with the world around them. Tigers follows the dual stories of a girl, Estrella, and a boy, Shine, who have run afoul of a local drug lord and are being either helped or haunted by a gnarled spirit stalking Estrella across town. Tigers is at the top of this list because it is the best horror movie of the year, and representative of the genre at its very best overall. It opens a window into another world, making hyperspecific circumstances universally empathetic, grounding its horror in tragically real circumstances but distinguishing itself by leaning into the fantastic. It is moving and terrifying, beautiful and bleak, and it marks a new pinnacle in the genre-blending, highbrow wave of filmmaking that defined the decade in horror. Look carefully into Tigers and you can see the future.
Honorable Mentions:
Jordan Peele's sophomore feature, Us, gave us the gift of Winston Duke's thighs and one of the year's best performances in any genre; Lupita Nyong'o put herself squarely in the Oscar race with a dual-role tour de force that was the film's greatest strength. Ari Aster deserves a shout-out for the meticulously constructed pain chamber that was Midsommar, which served as the biggest showcase yet for the mighty talent of Florence Pugh. The stranded-at-sea horror of Harpoon, the grounded creature feature Sweetheart, and the psychosexual tango of Piercing provoked huge emotional reactions at the smallest of scales thanks to engrossing performances and expertly tight direction. And for sheer commitment to absurdity, Vulture recognizes the creativity and hugely entertaining gore of Danishka Esterhazy's The Banana Splits Movie, about animatronic robots that go on a killing spree after their children's TV show is canceled.