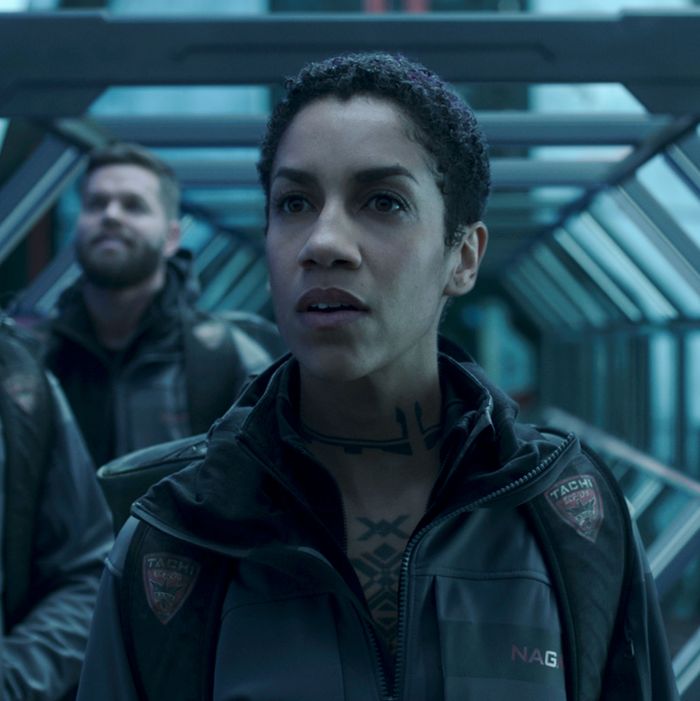 The former Syfy series has a new home on Amazon Prime Video for its fourth season, with a season five already confirmed.
Photo: Amazon Studios
It's easy to say something is "the next Game of Thrones." Throw a politically minded premise filled with deception and power grabs into a genre framework and someone somewhere is going to try to dub it the successor to the HBO epic's throne. But few of these series actually have the combination of plotting, casting, production value, devious machinations, twists, and world-building necessary to deliver on such a high promise (regardless of your thoughts on that final season). But having devoted much of my professional life to covering Thrones, I can say with confidence there is one show among the many claiming this title that actually lives up to it: The Expanse. The former Syfy series, recently moved to Amazon Prime Video, is extremely well-positioned to be your next epic obsession; so much so that I feel comfortable dubbing it the next Game of Thrones … in Space!
Set hundreds of years in the future, The Expanse establishes a world where humans have populated many parts of the solar system, leaving our planet a mere outpost, with Mars and the Asteroid Belt being the other primary locales for human life, work, and advancement. Instead of the great houses of Westeros and beyond, The Expanse offers three factions of the human race, which has evolved and adapted to their new homes dotting the solar system. With a tenuously threaded peacetime agreement between the United Nations–led Earth, the military base turned military nation Mars, and the Belters, a disregarded underclass living within the Asteroid Belt who mine lithium and other necessary minerals (but see none of the profit), any little thing could set off an intergalactic war among the human race. Who's right, who's wrong? It's not at all as simple as that — and that's before the threat of a mysterious extraterrestrial "protomolecule" shows up.
With humanity spread out among the stars and dependent on technology, a caste system, and the unknown elements of outer space, it's no surprise that things get messy fast — especially once a missing rich girl enters the picture. But the mystery at the series' center gets so much bigger than you could imagine, unless you've read the James S.A. Corey novels on which the series is based. To say much more would spoil something you don't want spoiled. (Thankfully, with eight books already in the can and more to come at a quicker–than–George R.R. Martin pace, The Expanse outpacing its source material doesn't seem like a concern here. Plus, the men behind the pen name, Daniel Abraham and Ty Franck, have been extensively involved in writing and producing the show.)
It's worth acknowledging here that early moments of the series, featuring glimpses of Thomas Jane floating around in a fedora and Flock of Seagulls hairdo, could make it seem like The Expanse is destined for an early demise, but stick with it. The slow burn of the mystery combined with the expansion of the political, human, and scientific elements helps elevate the series to the realm of must-watch epic, one where the human squabbles are merely a distraction from a larger, more existential threat (sound familiar?). What starts out as a little show about police detective Joe Miller (played by Jane) looking for a missing woman named Julie Mao (Florence Faivre) quickly spirals out in many directions, introducing us to a badass leader of the United Nations–run Earth in Chrisjen Avasarala (Shohreh Aghdashloo) and the team aboard the ice-hauler spaceship the Canterbury, helmed by Steven Strait's James Holden.
The Thrones comparisons carry over to The Expanse's cast, which is quite, ahem, expansive itself. With actors like Cas Anvar, Dominique Tipper, Wes Chatham, and later Frankie Adams spread out across the galaxy, and joined by impressive guest stars like Jared Harris, David Strathairn, Terry Chen, and more, there are no slouches here, and every character feels fully realized. And the series needs that in order to pull off what could otherwise seem confusing or borderline offensive, such as the patois-heavy Belter language, an amalgamation of many of planet Earth's dialects and accents, spoken by people of many different races. But that, like the hard science the series commits to with to fascinating effect, is deeply entrenched, considered, and overseen by experts, like linguist Nick Farmer and the series' showrunner/resident physics Ph.D, Naren Shankar.
This leads us to the series' biggest deviation point from Thrones, which also happens to be its greatest asset: In The Expanse, the women of color are the heroes — and almost all the women on this show are women of color. And the series doesn't just walk the walk in its diverse casting, it talks the talk in its downright feminist underpinnings. The creators made a conscious decision to move beyond our Earthly, gendered attitudes about women to pursue stories that exist outside of that paradigm, and that, in many ways, is a game-changer. A universe where women are simply allowed to exist and not be scoffed at for their tiny lady brains allows for storytelling of a different stripe; within a universe mired in sociopolitical scandal, interpersonal drama, intergalactic intrigue, and a very timely refugee crises, women are allowed to run things (like Earth!), or to fuck up and be selfish, or anything in between.
The Expanse being scooped up by Amazon after season three was arguably a best-case scenario for all involved: The show was a lot for a little network like Syfy to take on, making the challenge of building its audience that much harder. And as a show that heavily features space travel, new life-forms, and extremely cool spaceships, it lives and dies by the seamless believability of its CGI effects — just like Game of Thrones and its dragons — which The Expanse's production house, Alcon Television Group, has handled quite capably throughout its run (especially for being on a network like Syfy, which has been home to some series with decidedly less-than-cinematic effects). But the third-season finale set the stage for season four to be even more VFX-heavy than its previous iterations, and based on the episodes I've seen thus far, moving into the house that Jeff Bezos built has allowed The Expanse to elevate something that was already impressively done.
With those episodes on the horizon, and three seasons of the show just sitting there ready for new viewers' bingesumption, it feels like The Expanse is now primed for exactly the sort of delayed catch-on we've previously seen with series like Game of Thrones or even Breaking Bad — especially since Amazon has already ordered another season after this one, so you know you won't get your heart broken. Those first few seasons unfold a thrilling, science-filled journey into space with a huge, huge mystery that may be far more than humans, of Earth or otherwise, could've ever bargained for, and you'll be all but salivating for more by the time season four drops on December 13.