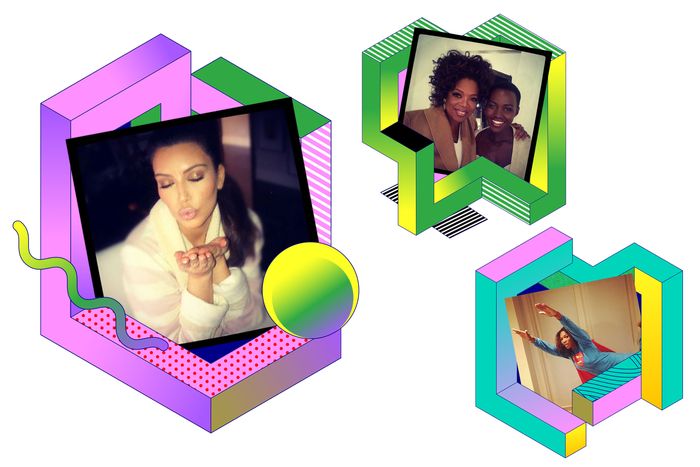 Photo-Illustration: Vulture, Kim Kardashian West/Instagram, Serena Williams/Instagram and Lupita Nyong'o/Instagram
When was the last time you went a day without checking Instagram? Don't be ashamed; we're all mad here. Instagram has come a long way since 2010, when its filters were a novelty and likes weren't an endangered species. Just as we civilians moseyed on over from MySpace, celebrities joined up too and together we assaulted feeds with X-Pro II and duck faces. Over the course of the decade, old posts either died in the archive or get buried deep down on a profile. We scrolled back – yes, manually scrolled all the way down – to 100 different stars's very first Instagram posts. Some, like Jennifer Aniston, are brand new to the grid. Others, like Kendall and Kylie Jenner started their accounts as teens, which explains why they're some of the earliest to start posting. And the rest are an embarrassing yet wholesome time capsule for the last decade. Happy scrolling.
Jennifer Aniston 2019
Jennifer Aniston's own break the internet moment.
Michael Douglas 2019
Truly no better reason to join Instagram than to flex all your success.
Matthew McConaughey 2019
The production value is certainly much better than it would've been in 2011.
Michelle Pfeiffer 2019
The purr-fect introduction.
Nicole Kidman 2018
Another Golden Globes-related first Instagram post! Take that, Emmys!
Jake Gyllenhaal 2018
Disney better not get any ideas.
Miley Cyrus 2018
Miley rebranded in 2018, depriving us all of old Hannah Montana set pics.
Julia Roberts 2018
What isn't she good at?
Natalie Portman 2018
A resolution for the next decade, too.
Nick Offerman 2017
Concise and to the point. No notes.
Daniel Day Lewis 2017
A slideshow of Paul Thomas Anderson and Daniel Day-Lewis through the years that you might wanna bookmark … for … reasons.
Frank Ocean 2017
The kings of New York.
Jennifer Garner 2017
And thus began an incredible Instagram career.
Taylor Swift 2017
The Reputation-era rebrand's first victim was Taylor Swift's Instagram. The singer deleted every post before the now-iconic snake videos, leaving us with only our memories of her curly hair and Southern accent.
Will Smith 2017
A social media star is born.
Jane Fonda 2017
Work, Jane!
James McAvoy 2016
A classic Eiffel Tower pic. James McAvoy is well on his way to becoming an Instagram baddie.
Tom Hiddleston 2016
Maybe his then-girlfriend Taylor Swift inspired Tom Hiddleston to join Instagram.
Sandra Oh 2016
So many comments about Cristina Yang. She is the sun!
Halle Berry 2016
Another Catwoman, this time prowling in the jungle.
Helen Mirren 2016
In the words of Lady Gaga, Helen Mirren's first Instagram post is, simply put, "talented, brilliant, incredible, amazing, show-stopping, spectacular, never the same, totally unique, completely not ever been done before, unafraid to reference or not reference, put it in a blender, shit on it, vomit on it, eat it, give birth to it."
Kristen Bell 2016
#relationshipgoals
Lady Gaga 2016
Gaga in the throes of Artpop.
Julianne Moore 2015
Now, that's what I call content!
Salma Hayek 2015
Photograph as caption is quite subversive, actually.
Janet Jackson 2015
Shout out to Janet's team!
Ryan Reynolds 2015
The Deadpool press campaign began in 2015?? Time is fake.
Bad Bunny 2015
Different hair, same deep captions.
Viola Davis 2015
Alright, time to cry.
Sterling K. Brown 2015
So many tears.
Adele 2015
And 30 is nowhere in sight. Come through, Adele!
Dolly Parton 2015
Okay! It's iconic! We'll admit it!
Diane Keaton 2015
Diane Keaton is an art heaux and we live for it.
Angela Bassett 2015
Shout out to the glam squad!
Robert Downey Jr. 2015
Hashtagging all of the Avengers but tagging the photographer? Would love to walk through RDJ's thought process on that one.
Regina King 2015
The copyright. The WhoSay watermark. This photo belongs in a museum. It's a historical document.
Cardi B 2015
We're taking hot dogs as emphasis right into 2020.
Antonio Banderas 2015
The Goyas get an Instagram premiere. Eat it, Academy Awards.
Anne Hathaway 2014
The Ice Bucket challenge generated $115 million for ALS research …
Adam Sandler 2014
… And got a couple of celebrities to join Instagram.
Laura Dern 2014
Wholesome as ever from Laura Dern.
Mark Ruffalo 2014
Do we underestimate Mark Ruffalo's shade-throwing arm? Something to ponder on.
Lucy Liu 2014
We're assuming this is a dog, but if someone told us that a polar bear was wandering around a fashion party Lucy Liu was at, we'd absolutely believe them.
Mark Hamil 2014
Wow, maybe this corporate synergy was meant to be!
Timothee Chalamet 2014
Archetypal soft boi post from a just-18 years old Timothée.
Leonardo Di Caprio 2014
And who would've known that just five years later Leonardo DiCaprio would set fire to the Amazon forest?
Zoë Kravitz
A Jack Nicholson photo and A Beyoncé lyric? Zoë Kravitz really said icons only.
Selena Gomez 2013
Seven years later, she's onto SG2.
Cher 2013
Honestly, I'm distracted by the four letter @ name. Only Cher.
Olivia Wilde 2013
Sweet Jesus, this was seven years ago.
The Rock 2013
Instagram did get rocked. The Rock is now the third most followed celebrity in the world.
Reese Witherspoon 2013
Wholesome, but any coins to be collected from this photo are hers and hers alone.
Meryl Streep 2013
#Me! Taylor Swift is quaking.
Martin Scorcese 2013
Who has @martinscorsese with no underscore? How dare you?
Sarah Jessica Parker 2013
A glimpse into Sarah Jessica Parker's life and into life before Instagram had a slideshow feature.
Lupita Nyong'o 2013
BRB, printing this out and taping it to my wall.
Ian McKellen 2013
Ian McKellen opted out of the filter/frame combo.
Justin Timberlake 2013
He's unfortunately correct.
Alec Baldwin 2013
The security guard in the background is so lucky no one was checking Alec Baldwin's Instagram for reaction memes in 2013.
Charlize Theron 2013
Using Instagram for good.
Naomi Campbell 2013
First posts include a tribute to one world leader …
Kelly Clarkson 2013
… and another.
Jennifer Lopez 2013
She had to let y'all know.
Pierce Brosnan 2013
Pierce Brosnan with the artsy shirtless selfie. Caught on to what Instagram's about real quickly.
Hugh Jackman 2013
If you didn't know Hugh Jackman has a coffee shop in New York City … now you know.
Gwyneth Paltrow 2013
Sweet photo brought to you by WhoSay.
Rihanna 2012
Rihanna calling her fans "assholes" is peak Rihanna. Wouldn't have it any other way.
Ali Wong 2012
Duct tape bows! 2012 was a better time.
Kim Kardashian West 2012
Te be honest, nothing has changed.
Beyonce 2012
2019 Beyoncé would not be caught dead in those glasses unless they were covered in Swarovski crystals.
Harry Styles 2012
Deerstagram.
Tracee Ellis Ross 2012
Will forgive the filter/frame because this dog is ridiculously cute.
Chrissy Teigen 2012
The rounded corners … let's not talk about it.
Rob Lowe 2012
Is that a monkey, Rob?
Oprah 2012
Is she hiding behind them … †or?
Paris Hilton
This will also be in the aforementioned museum.
Lena Dunham 2012
Wouldn't have expected anything different from Lena Dunham.
Daniel Dae Kim 2012
It's a comfort to know that behind the camera is Daniel Dae Kim, looking good as always.
Mindy Kaling 2012
As a society, we still hadn't fully mastered selfie angles in 2012.
Mariah Carey 2012
Mariah Carey invoking "All I Want For Christmas Is You" in July! Simply love to see it.
Madonna 2012
Look how hopeful people once were.
Shakira 2012
A view shot is a cornerstone of Instagram.
Channing Tatum 2012
So. Much. Going. On.
Hailee Steinfeld 2012
Tired: feet on the dashboard pic. Wired: feet on the console pic.
Steve Aoki 2012
Before we fully understood the science of selfie cameras and flipped images, Steve Aoki dared to experiment. Put it in the museum!
Zendaya 2012
Zendaya's arc from Disney darling to international star will also be displayed in a museum, but this one is solely dedicated to her cultural impact.
Ansel Elgort 2012
Very impressed by the first name only Instagram handle.
Pitbull 2012
A studio album and world tour called "Global Warming" just would not happen in 2019.
Gabrielle Union 2012