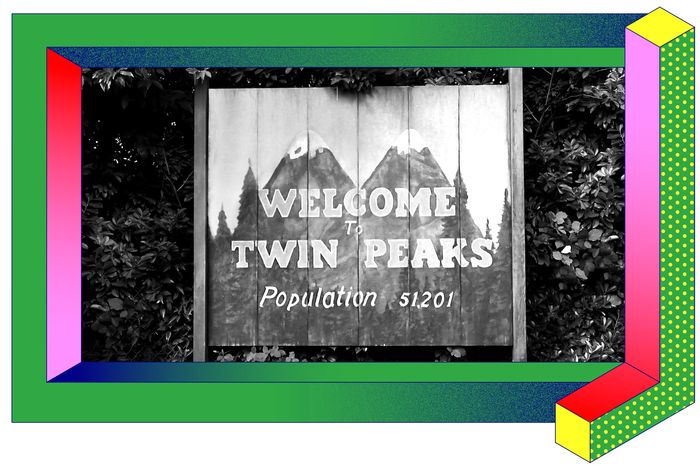 Photo-Illustration: Illustration by Ari Liloan; Photo by Showtime
The phrase "Peak TV" has defined this decade in television. Typically, that phrase implies the boom in programming, and the long-foretold moment when we would reach a peak in the number of shows produced each year.
At the end of this decade, though, it's also important to look back on another kind of TV peak: the literal ones. From mountains to cliffs to steep hills, peaks were all over TV in the past 10 years. They offered metaphors for self-growth, terrifying heights to push someone from, and remote locations for romantic and/or criminal actions.
Join us now on a tour of the peaks of television in the 2010s.
Twin Peaks, Twin Peaks: The Return
The mountain Nathan makes people climb to get a gas rebate, Nathan for You
The hiking trail for Tom's "agricultural walk" at Argestes, Succession
The To'hajiilee hills, Breaking Bad
The Arctic Circle mountains, Fortitude 
The mountain Lorelai uncharacteristically decides to hike, Gilmore Girls: A Year in the Life
The mountain range Rick can see from his private pooping spot, Rick and Morty 
The hill Nora climbs to rescue a goat, The Leftovers
The Catskills, The Marvelous Mrs. Maisel
The cliffside mountaintop where Will finally confronts Hannibal, Hannibal 
Fraser's Ridge, Outlander 
The mountain Tina climbs to get rid of her nickname, Bob's Burgers 
The Southern Alps of New Zealand, Top of the Lake
The mountain Joe climbs to find himself, Halt and Catch Fire 
The Appalachians, Justified 
The French Alps in Haute-Savoie, Les Revenants 
The mountain where Patrick proposes to David, Schitt's Creek 
Mountain Man, Adventure Time 
The mountains surrounding Lodge Lodge, Riverdale 
The beachside cliffs of Big Sur, Mad Men 
Gene Cousineau's cabin in the San Bernardino Mountains, Barry
The Matterhorn, The Night Manager 
The Mountain, Game of Thrones