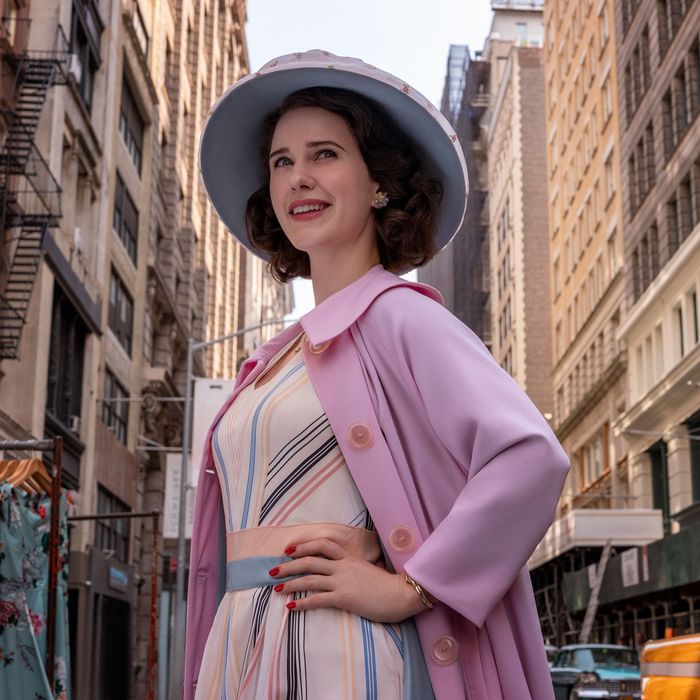 Photo: Philippe Antonello/Amazon Studio
With the first two seasons of The Marvelous Mrs. Maisel closing out on career highs, it was perhaps inevitable that season three would conclude with Midge being knocked down several pegs. Not only has she lost her gig with Shy Baldwin, but her greatest independent and financial achievement to date — purchasing her old classic-six apartment from Moishe Maisel — has been snatched away thanks to Susie's gambling problem. The downside of the creative decision to bring Midge back (or close to) to square one is that now I worry next season will be a rehash of seasons one and two: Midge pounding the pavement for comedy gigs, flashbacks to her sweetheart life before Joel cheated, maybe even a return to B. Altman? The show needs momentum, and while I can't disagree with writer-director Amy Sherman-Palladino's choice of plot twist for "A Jewish Girl Walks Into the Apollo," I also don't know if hitting the reset button is the right way to go, either.
(For the record, Maisel has not yet officially been renewed, but between Amazon's bottomless budget, the abundance of unresolved story lines, and the show's recent Critics' Choice and Golden Globe nominations, I'm going on the assumption that we're getting a fourth season.)
It's getting harder for me to move past "like" into "love" with this series, especially after season three proved weaker than Maisel's two previous outings. First off, once again, "A Jewish Girl Walks Into the Apollo" clocks in at an inflated hour and 15 minutes. Second, to echo Sophie Gilbert's observations in The Atlantic, too often the series hints at moving into more substantial territory only to back off at the last minute. It's time for Midge to drop the sheltered, naïve princess act because not only is it messing with her career, it's just not a good look, period. It wasn't that long ago when she was hustling for $35-a-week gigs, and now she's insisting her two kids go to tony private schools that neither she nor Joel can afford? (I get that this is 60 years ago, but that snobby wincing act over Ethan and Esther going to Queens public schools is plain obnoxious.)
I will admit that watching "A Jewish Girl Walks Into the Apollo" as a 2019 viewer made it a challenge to be, as Reggie would say, "objective." I doubt Midge would've been terribly clued in to gay culture given her background and the fact that this is pre-Stonewall New York. However, there is something called common sense, which is why she deserved to be kicked off the European leg of Baldwin's tour. If the Palladinos really want to make things interesting, they'll present Midge with a tinge of notoriety next season. I realize that may be tough because the last thing she's going to want to do is talk about Baldwin in public again, but as we move further into the '60s, I think the best thing Midge could do for her career is to get more edgy in her stand-up, not less.
So let's unpack what happens at the Apollo: With the Shy Baldwin tour back on and heading overseas, Midge gets a game-changing opportunity to open for the crooner at the famed Harlem institution. Unfortunately, helping Shy hide one abusive hookup from his band and manager did not turn Midge into an expert ally overnight. There are so many foreboding clues that her performance is going to be a catastrophe that we might as well have been smacked over the head by Mrs. Moskowitz and her Button Club baseball bat: Susie is missing; instead of wearing her usual black cocktail dress, Midge opts for a bright-pink-and-magenta number; and she gets a rather cold welcome from Moms Mabley's manager, who chastises this unknown white girl for bumping Moms (Wanda Sykes, killing it as the legendary comic) down to Midge's opener. "You got the prime spot, Shirley Temple," he says.
Midge sinks into a panic attack, feeling undeserving of her Apollo spot, and it falls to Reggie to pick her back up again. His advice is to riff less on brisket and more on Shy.
What happens next is not unlike Sophie Lennon's career-suicide Miss Julie performance (laughter, shmafter; the play closed the next day). Because it's a 1960 audience and gay innuendo isn't common knowledge yet, a clueless Midge wins over the Apollo crowd by doing a character assassination of Shy. She makes jokes about meeting him in the ladies' room and about his flamboyant nature (complete with mentions of his closet) and, oh yeah, MAKES A FRIGGIN' JUDY GARLAND REFERENCE. She manages to totally out Shy in her set (at least to 2019 viewers), and since everyone is laughing their asses off, she saunters out of the theater a triumphant woman, even paying a giddy visit to her old-but-new-again Upper West Side apartment.
But when she shows up on the airport tarmac the following evening, Reggie informs her and Susie that Mrs. Maisel has been fired from the tour. To his credit, Reggie takes some of the blame for encouraging Midge to talk about Shy in her set, because he didn't know that she knew Shy is gay. Even though he's been hardened by this business, he comes off as genuinely upset; there are tears in his eyes (though maybe this is just an aftereffect of Sterling K. Brown's four seasons on This Is Us; crying just may be second nature by now). It doesn't matter that no one in the Apollo audience got Midge's references — Shy got them. "They hit too close to home," Reggie says. I have no doubt that Midge meant no harm toward Shy, but that's what makes this such an important lesson: There are serious consequences to this kind of naïveté, which means Midge has become a liability.
Having missed Midge's Apollo set, Susie is desperately trying to get some answers from both her client and Reggie. When Reggie explains that Midge made a joke about "Judy Garland shoes," Susie looks like she's about to melt into a puddle like Garland's Wizard of Oz co-star. (Since Susie got the allusion immediately, does this mean the show is finally moving closer toward addressing her sexuality?) Earlier in the episode, Reggie cautioned Susie about the dangers of not remaining objective in her role as a manager, and said there's going to be some hard stuff ahead. This is exactly what he's talking about. Even if Midge hadn't outed her boss, showbiz is a cruel, volatile beast, populated with mercurial figures like Shy Baldwin. (There's also an annoying loophole here: Midge and Susie, for some reason, didn't sign their new contract, thus making it void and allowing Shy and Reggie to kick them off the tour without fear of legal recourse.)
In the midst of this devastating blow, Reggie leaves a crying Susie with a glimmer of hope: "Susie, you're gonna be right where I am someday. You'll see." It's a bleak thought, but I'm interpreting it to mean that even Reggie knows Midge and Susie will not only bounce back from this but will succeed to such a level that, one day, Susie will have to make this kind of harsh decision too.
For now, Susie knows the best thing to do is to comfort her client. Instead of yelling at a shattered Midge, she just hugs her and promises everything is going to be okay.
Yeah, I'm not so sure it will be. Because what Midge doesn't know is that Susie has gambled away all of the money she was going to use as a down payment on her old apartment (though I'm doubtful Midge could still take ownership now, considering that her collateral — her contract with Shy — is null and void). Per Susie's latest plan, the insurance money she collects by committing arson (she burns down her dead mother's house) will allow her to replenish Midge's earnings. But (a) there's no guarantee that will happen, and (b) it doesn't take away the from the fact that Susie betrayed Midge in the most unforgivable way. Midge is definitely going to find out about this next season — she's gonna wonder why the hell Joel, who is STILL TECHNICALLY HER HUSBAND — is managing her money all of a sudden.
If you thought Susie managing Sophie Lennon was the worst thing to happen to Smidge, then I think we're all in for a rude awakening in season four.
More Maisel Musings
• I am so glad the Palladinos read my recaps from last season. I wanted so badly to see Shy Baldwin, Moms Mabley, and Midge Maisel at the Apollo worked into this show.
• As much as I love Elvis Costello's "(What's So Funny 'Bout) Peace Love and Understanding," it was lazy song choice. Especially after Billions used it for its season finale too.