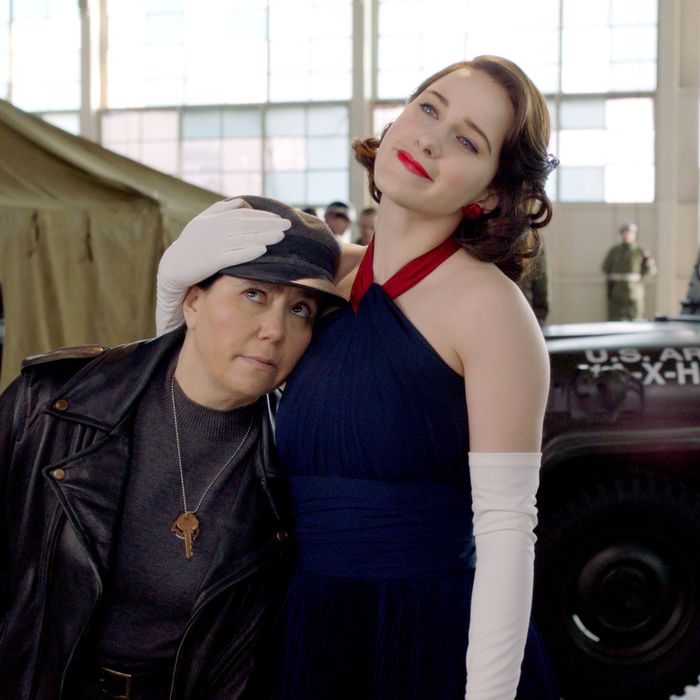 I've got good news and bad news: The good news is, the third season of Amazon Prime Video's The Marvelous Mrs. Maisel is still firing on all cylinders. Creator Amy Sherman-Palladino has ensured all of the best parts of her Emmy-winning series — the splashy production values, the snappy dialogue between her characters — are in top form. The bad news is, I have a lot of complaints about its first episode, "Strike Up the Band," which Sherman-Palladino wrote and directed. I didn't want to have them, but unfortunately, Maisel continues to suffer from the kind of season-premiere-itis it displayed in last year's "Simone." And this time around, the episode doesn't have the luxury of hiding behind the city of Paris to obscure its flaws.
Watching "Strike Up the Band" felt like ingesting a second Thanksgiving dinner. It was delicious and pleasing, but much of it was superfluous. I understand that the centerpiece needed to be the New York–based USO show that serves as Midge's (Rachel Brosnahan) warm-up for her new job opening for crooner Shy Baldwin (Leroy McClain). However, there was no reason for this episode to clock in at 58 minutes when so much of that time was usurped by a tap-dance number. (Now, I love a good tap-dance number, but this was a big yawn compared to last season's switchboard ballet.) Also, if Rose (Marin Hinkle) and Abe (Tony Shalhoub) not showing up until 33 minutes into the episode is going to be a regular thing, then I'm warning you now, Palladinos — we're going to have some serious problems here.
It's like I said in last year's recaps: Enjoying a show like The Marvelous Mrs. Maisel is a lot easier to accomplish when you embrace its froth and don't worry about things like the reality factor, or the plot. Season three feels far more episodic than the show has previously, which I think is a wise move for a series whose strengths lie in its rapid-fire repartee, not its narrative. So sink your teeth into lines like, "I'm sorry you're not fornicating with syphilitic poets!" and "I had to talk to a doorknob that was alive," and lose yourself in a classic exchange between Midge and Susie (Alex Borstein) about dick jokes. If you're dying to know what happened with Midge's almost-fiancé Benjamin, then you're watching the wrong show.
One thing that I very much appreciate is that this new season of Maisel is exhibiting a little more self-awareness, toward both the characters' extravagant lifestyles and its homogenous look. Now that Abe has quit his tenured professor position at Columbia University, he and Rose are facing a precarious future (the Ivy League school owns their luxurious Upper West Side apartment). But their seemingly bottomless bank account wasn't the product of residing in an Amy Sherman-Palladino fantasy world. It was because Rose has a trust fund. A trust fund that allowed for an entire room to be devoted to their daughter's skirts, and Abe the luxury of wearing exercise rompers — and two sweaters at a time. This financial wake-up call only fuels Abe's reawakened activist side from the end of last season. Now that he's been arrested for defending Lenny Bruce's (Luke Kirby) right to free speech, he's completely fired up. (Though I would hold off on comparing yourself to Gandhi there, Abe.)
As for its diversity problem, Maisel is making inroads with the Shy Baldwin character, his ten-person-deep entourage, and a new love interest for Joel (Michael Zegen) in the form of Mei (Stephanie Hsu). She's a Chinatown local whose family is totally running an illegal gambling den attached to the too-good-to-be-true club Joel just bought. I wish it wasn't so obvious that Mei is an attempt at inclusion in Maisel's predominantly white Jewish universe, but it's better than avoiding the issue, so let's see where this goes.
Now let's turn our attention to (finally!) the show's most lovable twosome: The Midge-Susie relationship continues to be both the strongest and the most entertaining element of The Marvelous Mrs. Maisel, which makes it the perfect time to throw a wrench in their well-oiled machine. (And give all the episode's best lines to Jane Lynch's muted but monstrous Sophie Lennon: "The last time I had to track someone down was to tell Desi Arnaz he gave me the clap. The clap was worth it.") Since "Strike Up the Band" is about introducing Midge's new life as a working comic (no more working at B.Altman for her!), I'm glad Sherman-Palladino is delving into the intricacies of management. Specifically, how Midge is so naïve to think that Susie can survive with Mrs. Maisel as her only client.
Despite spending all of season two sabotaging Midge's career, the famous and fabulously wealthy comic Sophie Lennon now wants, nay, demands, that Susie represent her as well. We know this could permanently destroy Midge and Susie's bond — both personally and professionally — but Sophie also represents Susie's version of the brass ring. It's all a matter of simple math that's conveniently laid out in Sherman-Palladino's dialogue: When Midge makes $4,000, only $400 of that goes to Susie. Meaning, Susie needs at least another nine Midges in her life. So Midge can pout all she wants when Susie drops the news that she's taken on Sophie as a client, but like Susie says, it's just business. A $400 take-home isn't going to cut it when Sophie has "forbidden" Susie to live in her Greenwich Village hovel.
Susie's bombshell is presented during a lighthearted, wildly choreographed post-USO-show canteen dance modeled after this scene from Grease, with Midge constantly being pulled and twirled and lifted off the dance floor by a variety of soldiers. But there is no mistaking the dark showbiz underbelly lurking around every corner. First, Midge and Susie get a harsh lesson in military "tradition": The Army equates the word "comedienne" with "escort" (Susie remains blessedly woke here by reminding the initially flattered Midge to "Stay mad!"). Then Midge receives an even harsher lesson: Sometimes, your most trusted confidante has to work for your sworn enemy.
What I loved about this scene is it shows how much Susie has grown as a manager: She's empathetic to Midge's feelings — Midge does have a right to be angry — but she's not backing down. She can't refuse this opportunity.
"You are still everything to me," says Susie, before Midge angrily congas away from her. Those few words solidify why every relationship on this show will always be secondary to the one between Midge and Susie — because she means it. This better not break these two up.
More Maisel Musings
• A special RIP to Brian Tarantina, who played Susie's Gaslight co-worker and comic foil, Jackie. The 60-year-old actor passed away in November. Sophie Lennon's fur coat never looked better on anyone.
• I refuse to believe Midge doesn't know "White Christmas." It's literally one of the most successful songs in popular music history, there was a major motion picture named after it, and it was written by fellow member of the tribe Irving Berlin.
• And while I'm on the subject of music, the Maisel custom of using anachronistic tracks for its closing credits continues to be on point. With Abe and Lenny now bailed out, Thin Lizzy's "Jailbreak" was an inspired choice.
• For the love of G-d, three seasons in and we're still making "Susie is mistaken for a guy" jokes? Enough.