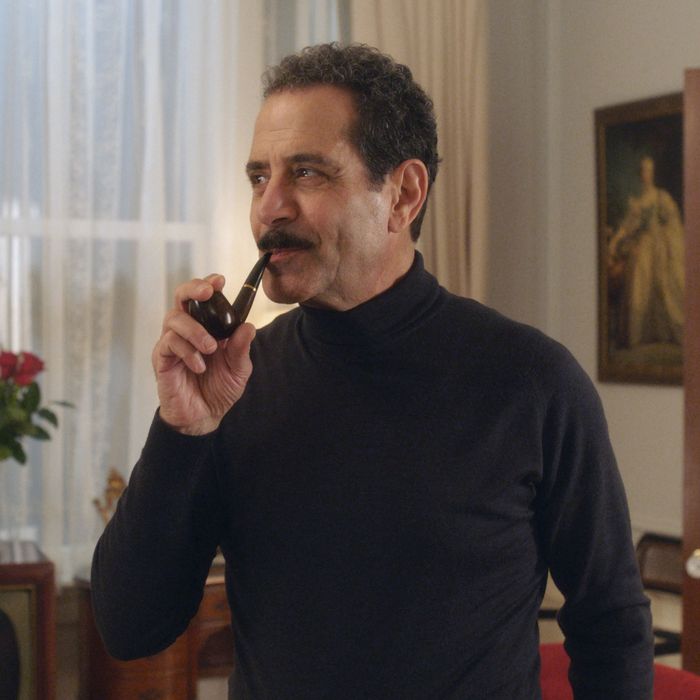 The Marvelous Mrs. Maisel sure is lucky that it's sustained by its character-driven narratives. Otherwise I'd be spending this recap grumbling about how this season is supposed to be about Midge going on the road, even though we're two episodes in and our girl has yet to board a plane. At least "It's the Sixties, Man," written by executive producer Daniel Palladino, is less bloated than "Strike Up the Band." Regardless, try as she might to tie up all loose ends before going out of town — finalizing her divorce, making up with Susie — Midge is leaving a boatload of chaos in her wake. That's because her journey toward self-discovery has been infectious, especially where Rose and Abe are concerned.
Although both Marin Hinkle and Tony Shalhoub thankfully bring the comic relief in spades for this episode, I have to give the edge to Hinkle's more dramedy-esque subplot. The pathos that runs through Rose's storyline was first explored last season, and I am pleased to see Maisel continuing that thread in "It's the Sixties, Man!" While Abe is embracing his revived activist side by befriending a rapidly multiplying group of beatniks, Rose has returned to her family home in an attempt to procure more money from her dwindling trust fund. These scenes explain a lot about why I've had such trouble figuring Rose out — one minute she's championing independence by running off to Paris, the next she's willing her daughter's second marriage into existence. Even though she has a self-reliant streak, she's also been conditioned to believe that women are too delicate to do anything other than spend their lives on fainting couches.
Rose is from a German-Jewish family that made their fortune in the oil fields of Oklahoma. From the moment she arrives at the sprawling Lehman estate, we can see why she left: The woman is smothered by the overprotective staff who cover her in warm blankets and offer to carry her upstairs. Rose can't even visit her brother, Oscar (Paul Adelstein), in the fields without the servants loudly heralding her departure. And it's not just the staff who harbor this chauvinistic attitude: Oscar thinks Rose should be "lying down" instead of walking around with him, scoffing at the idea that Midge is "strong."
It's not until Rose attends a trust board meeting that she realizes what an effect Midge's newfound independence has had on her. The male-only board is abysmally condescending, snickering at Rose offering to fill the seat left by her deceased "Grandmama" — who started the family business in the first place. If this wasn't insulting enough, Rose is barred from sitting at the table, while a bratty little boy who isn't even Bar Mitzvah age is welcomed as a full board member.
This level of second-class treatment is too much for even someone like Rose — who, up until this point, was content to let men make decisions for her — to bear. She returns to New York, a shell of her former self, having disowned her family (and the trust fund, to boot). For the moment, Rose blames Midge for turning her into a person who now has "passionate" and "independent" thoughts. Rose may not like the woman she's become, but we've known she's had it in her all along. It just took her enterprising daughter to draw it out of her. Now, I know this doesn't solve the Weissmans' precarious financial situation, but this is an Amy Sherman-Palladino production, remember? They're not gonna end up homeless.
As for Midge and Susie, I knew their fight wouldn't last. They have to be okay in order for the tour — and the rest of the series — to work. But good G-d was that a fun squabble! Their bickering and reconciliation scenes contained more chemistry than any of the romantic couplings on Maisel. Hell, even the judge presiding over the Maisel divorce could recognize the intensity of Smidge's bond: "The two of you, I would grant a divorce, no questions asked."
On that note, Midge and Joel finally get divorced in this episode. In the grand scheme of The Marvelous Mrs. Maisel, I don't think it means much (though I firmly believed Midge when she told the judge, "I just can't be a wife right now"). Between the puppy-dog eyes, Midge's unresolved feelings over their one-night stand, Joel's supportive presence at the hearing, and Benjamin's swift disposal, I'm assuming the Maisels are going to end up back together. Not today, not tomorrow, but someday. And I don't have a problem with that, if it happens. I like that they're being given time to mature and to find themselves: Midge is pursuing her career while Joel raises their children. The judge calls it "modern." I call it ideal. (Look, I know I've spent a lot of time in these recaps mom-shaming Midge. But the truth is, Joel has spent more time with their kids in the past two episodes than his ex-wife did in two whole seasons, so why not make him Ethan and Esther's primary caregiver? Sexist judges be damned.)
I also can't let the rest of this recap go by without mentioning Shy Baldwin's manager, Reggie, played by Sterling K. Brown — a.k.a. the only person capable of stealing a scene away from Alex Borstein. Yep, The Marvelous Mrs. Maisel is going hard on its diversification problem (the show is so white even Borstein couldn't help but say so on her Instagram), by hiring the African-American star of another adored-by-white-America TV series. Although racism still barely exists in the gauzy Maisel universe, the irascible Reggie begs to differ, especially when he explains to Susie that he has to use a white guy to handle Shy's high-profile deals. But make no mistake, Reggie runs things, and you do not want to get on his bad side.
"It's the Sixties, Man!" may be named after the broadsheet Abe and his proletariat pals are planning, but it's more about how the show is entering an era in which everyone is being forced out of their comfort zone. That makes it imperative that Midge and Susie move past their latest quarrel, because they're going to need to lean on each other more than ever once this tour gets going. (The use of "I Won't Last a Day Without You," drives this point home beautifully.) Fortunately, a casual conversation with Imogene (Bailey de Young) about exactly how much money Susie makes helps Midge to realize how selfish she's been. When even your ditzy bestie is surprised to hear that your manager can survive with just one client, then maybe you ought to reconsider your hostile attitude.
Which brings us to Midge and Susie's endearing make-up scene on Shy's stoop. Midge gives Susie her blessing to represent Sophie Lennon, while Susie makes a pretty strong argument in the "Who Loves Midge More?" competition, pledging that Mrs. Maisel will "always be [her] number one."
Take that, Joel. Doing a polka in the street to "Shall We Dance?" is so last decade.
More Maisel Musings
• Any takers on Mei's backstory? I'm leaning toward mob princess, but I'm simultaneously hoping I'm wrong. I like Mei too much for her to end up a TV trope.
• There's no need to fake an Oklahoma oil field when you've got Amazon funding your production costs: Rose's trip out west was indeed shot in the Sooner State.
• Psst! Palladinos! The yarmulkes were a bit much. Names like "Mordechai" and "Mendel" left little doubt as to the Lehmans' heritage, btw.