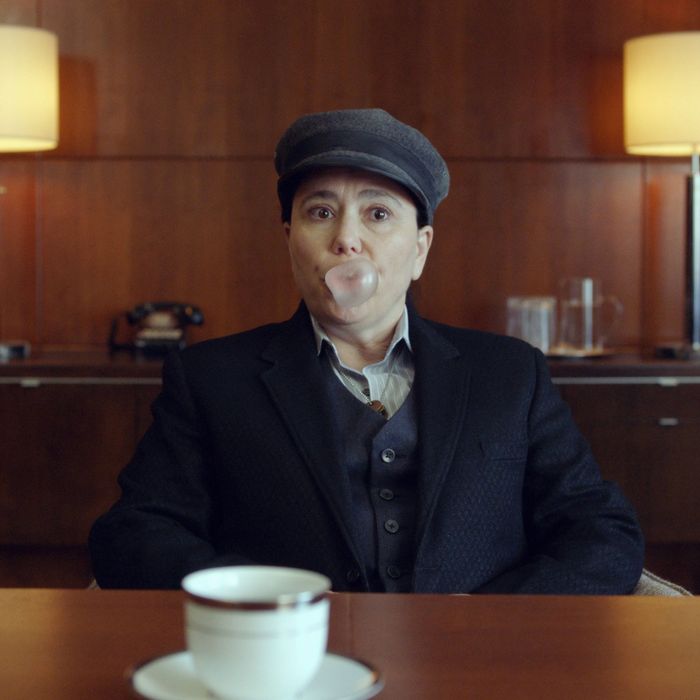 Miriam Maisel has officially left the East Coast, people!
But don't think The Marvelous Mrs. Maisel is now only going to be about brisket parties in hotel kitchens and yellow-teddy-bear weird asks. Before Midge even boards the plane to Las Vegas, "Panty Pose," written and directed by Daniel Palladino, cleverly sets up a number of complex messes that will keep everybody else occupied until the Shy Baldwin tour is over.
I'm most interested in seeing how the Susie-representing-Sophie Lennon subplot is going to play out. Susie may be streetwise enough to know that "head of food and beverage" is code for "mobster," but she's still got a lot to learn about management. Such as knowing you should lawyer up when a high-powered star like Sophie leaves a high-powered rep like Harry Drake (David Paymer). Or that there had to be a major catch to Sophie voluntarily switching to an unestablished manager. And there sure is a catch: In addition to juggling all the demands of Midge's first big tour, now Susie has to arrange a Broadway production of Miss Julie, by experimental Swedish playwright August Strindberg, with Sophie — who, naturally, learned about Strindberg from Eugene O'Neill at an orgy — in the title role. Harry's warning to Susie about what she's in for says it all: "Strindberg, my gift to you." The guy barely stops short of rubbing his hands in maniacal delight now that Sophie's pet project is no longer his problem.
Also, so long to that gorgeous Riverside Drive apartment building that housed Midge and her family for two seasons. With Rose and Abe out of options, they begrudgingly accept Moishe (Kevin Pollak) and Shirley (Caroline Aaron) Maisel's offer of bunking in their spacious red-brick house in Queens. I felt for the Weissmans when they looked out at the Hudson River from their now-empty apartment, because it's not a spoiler to say that living with the Maisels is going to be a nightmare. However, as someone who used to live right next to Forest Hills Gardens (where the Maisels' new home resides), and would regularly fantasize about owning this kind of real estate, these are first-world problems of the highest degree.
Moving on: Vegas, baby, Vegas! I am so happy Midge and Susie made up, because "Panty Pose" contains some of their sweetest moments to date, like Midge holding Susie's hand during her first-ever plane takeoff, and their unfettered excitement over Mrs. Maisel being added to the hotel marquee. Watching Midge and Susie joyfully running through the casino at 3 a.m. in their pajamas to witness this career milestone is my equivalent of a cute cat video — it cheered me up instantly. (I was just shocked Midge wasn't equally rejoicing at the prospect of a $1.99 top sirloin dinner.)
That initial late-night exhilaration quickly gives way to the reality of tour life: It's a grind, just like any other job. Shy's manager Reggie continues to dole out insults to everyone, though I'm still searching for instances where his surly demeanor is unjustified. He runs Shy's press conference with a steady stream of snark ("Show me your inner Eric Sevareid," he requests of one local reporter, who does not deliver), because all these inept white-male reporters want to ask about are Shy's views on the weather and pretty girls. The questions are plenty inane, and the media-seasoned Shy has no shortage of charming one-liners at the ready, but I'm wondering if Reggie's overprotective nature is because his client is hiding something that could, in those days, destroy his career. (Nothing about Shy's sexuality has been revealed, but let's not forget he and Midge first met in a women's bathroom.)
Midge's high from arriving in Las Vegas soon sinks into an all-time low when her first show is an unmitigated disaster: Her hair has a boner (not really, that's just how Susie describes a beehive), and her audience is more interested in the shrimp cocktail than her niche jokes. Fortunately, Midge has made a good impression on the aforementioned "head of food and beverage," Angie Calibresi (Lenny Venito), who coaches her through her second rookie mistake in Sin City (the first one was not grasping that Angie has mob ties): Save the Jewish Manhattanite slant for New York, and broaden her set to appeal to audiences from "all over."
I usually don't praise predictability in TV shows, but whenever Midge has a bad night, you know it's going to result in a sharp, off-the-cuff comedic monologue that will have women (both in the Maisel-verse and watching it on Amazon) nodding in agreement. And because she's got a great manager who knows her better than she knows herself, Midge is forced to snap out of her woe-is-me-I-should-quit-now funk by getting back onstage and "say[ing] something funny." The minute Susie pushes her client onto a much smaller stage right in the casino, Midge, of course, kills with an-all-too-true set about how "women are not allowed to fail."
I wish I could say Midge's "You gave it the old college try — but you shouldn't be in college" joke was the best part of this scene, but that honor must be given to the Moment When Sterling K. Brown Sings. After Midge graciously yields the stage to her boss, who is visibly impressed by her speedy rebound, Shy encourages Reggie to take the lead on the bluesy "Is You or Is You Ain't My Baby." Um, Nickelback who?
The next day, Midge has been crowned Miss Congeniality of the Shy Baldwin tour, winning over everyone in the singer's entourage by throwing a party in the hotel's kitchen with her signature brisket as the centerpiece. For now, Midge is one of the gang, embracing the communal atmosphere as Shy and his crew launch into an impromptu rendition of "Open the Door, Richard." As long as she stops bombing during Shy's shows, doesn't save her good stuff for the after-hours crowd, and makes sure to change up her set regularly, that is. Otherwise, Reggie is more than happy to demote her to "tour cook."
No pressure there, Midge.
More Maisel Musings
• Noah's (Will Brill) beard really is a fire hazard.
• I love the music on Maisel, and I get it's 1960, but did the series have to borrow so heavily from the Mad Men season 1 soundtrack?
• I am so excited for the burgeoning friendship between Midge and Liza Weil's character, Carole Keene (if that name isn't the Palladinos' friendly tribute to Carole King, I don't know what is). Carole is Shy's bass player, and like Midge, has kids back at home. Obviously, these two have a lot to bond over as working moms, but it also looks like Carole will be another important mentor to the wide-eyed Midge, especially when she offers to "explain the rules of the road."
• Still trying to figure Mei out. She's seen collecting cash from a restaurant where Joel is having dinner, which doesn't do much to change his (and my) suspicions that it's protection money. Mei smoothly dodges Joel's questions, while letting on that she's in medical school — when she's not "helping out family."