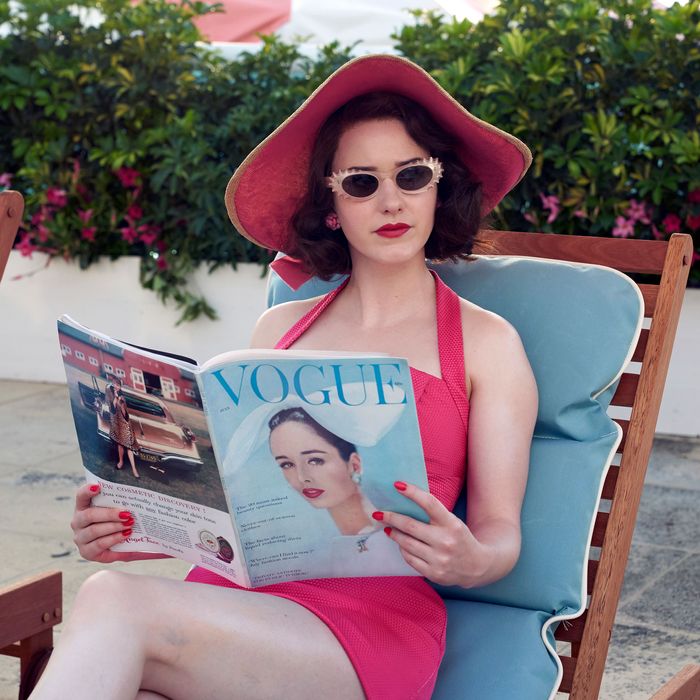 Now that was a blissfully satisfying episode of television.
Am I thrilled we had to wait until the back half of The Marvelous Mrs. Maisel's third season to get there? Not really, but it sure made the ride worth it. As with the season premiere, there's a lot going on in "It's Comedy or Cabbage," but here, you don't feel the bloat (unless you're thinking about Shirley Maisel's stuffed cabbage), mainly because of writer-director Amy Sherman-Palladino's creative decision to turn the final third into a languid piece of television art. It's also a rare feat when an episode can leave you with a warm feeling inside after you witness Midge and Lenny Bruce not sleeping together at the end of a steamy evening out.
As much as I'm adoring the refreshing oceanfront setting (yep, Miami Beach appears as itself), I can't luxuriate in a Borscht Belt Barbie swimming lesson at the Fontainebleau until I give updates on the series' New York contingent first.
It's possible Susie will be stuck in Manhattan holding Sophie's hand indefinitely at this point, judging from her new client's egomaniacal meltdown during Miss Julie rehearsals. Whether it's summoning Susie back north because the director is — gasp! — "bossy," or having Sophie's butler, Dawes (Steven Hauck), at the ready with lemon slices on a silver tray, Jane Lynch masterfully lampoons every hubristic performer who has ever walked this earth. I mean, what kind of a taskmaster would have the audacity to tell an actor to memorize her lines?! And how dare Sophie be expected to read the script so she'd know there's a third character in the play? Buckle up, Susie, because there aren't enough compliments in the world to save this production from being a colossal train wreck.
Rose and Abe, meanwhile, may be going on the road with their daughter for a spell, having escaped to Miami after breaking out of their stuffed-cabbage-and-onion-scented prison. Abe would do well to take a hiatus from his activism anyway, considering the first issue of the broadsheet he and his beatnik buddies created is the size of a Café Tropical menu. Not to mention that when Abe notices the errors riddling the paper ("They spelled New York with a C"), all it earns him is the 1960 version of "Okay, boomer."
Then there's Rose. The always calm, measured Rose, who has secretly taken to spiking her tea just to get through a day with Shirley Maisel — until even liquor can't numb her to Shirley's grating voice bellowing through the neighborhood. I don't know if it will ever be possible for a supporting actress on this show to top Alex Borstein's performance, but Marin Hinkle comes pretty damn close in Rose's "psychotic break" scene. By the time Rose unleashes on the oblivious Shirley for turning them into the "insane house on the street," bolting for Florida is really her only option.
So let's talk about that Smidge swimming lesson. Aside from the fact that it was both sweet and funny as hell, with Midge patiently teaching a frightened and abrasive ("I will kill your children!") Susie how to dog-paddle, it was a lovely acknowledgement of anyone who has written Midge-Susie fan fiction over the past two years. The scene itself wasn't sexual in nature, but there is no mistaking the innuendo in that relaxed post-swim shot of the two of them smoking and sipping Budweisers — and a beatific Susie remarking, "Well, that was fun."
Their afterglow is short-lived, unfortunately, as Susie leaves for New York again to be a lawn-mower parent to Sophie. Perfect opportunity for Midge to strike up a friendship with Liza Weil's seasoned touring musician, Carole. Over a room-service feast, Carole, as promised, fills Midge in on all the tips and tricks of being a single woman on the road. The best part about this scene is that despite getting real with Midge about the dangers of one-night stands — the idea of Midge obtaining a gun is broached — Carole has no regrets about her life choices. Unlike Midge, she doesn't feel guilty about leaving her children to be raised by her mother, because she grew up with a traveling salesman for a father. "Nobody thought twice about that," she says, pointedly. When Carole senses Midge's fear that she's going to spend the next 15 years with a set of keys at the ready, she's empathetic but doesn't relent with the straight talk: "You get lonely sometimes," but "you see the world and you answer to no one."
Now that Midge has received her latest lecture about the solitary existence of touring, who better to stroll back into her life than Mr. "All Alone" himself, Lenny Bruce? Their first interaction of season three makes up for some critical lost time; their all-night haunting of Miami's after-hours spots is 20 minutes of sumptuous period-piece beauty. The first stop on the itinerary is a "work thing" for Lenny — a local TV show called Miami After Dark. The pipe-smoking host is fictional, but the show itself is an unmistakable homage to the Hugh Hefner–hosted Playboy's Penthouse, on which Bruce appeared in 1959. Miami After Dark is a swinging party with the "coolest cats" around, where the only beautiful people missing are Don Draper and Joan Holloway. When Zsa Zsa Gabor and Bella Abzug prove too boring for Lenny, he goes off-script and pulls Midge on-camera. Without missing a beat, Midge riffs along with her comedy pal, who introduces her as his "wife — or possibly my sister."
Their verbal foreplay leads to intimate drinks, dancing, and a very sensual staring contest at a sultry Cuban club. There's an early-morning walk along the waterfront, and a few beats when it looks as though Midge is ruminating over turning that relentless rumor about her and Lenny into a fact. But she ultimately decides he's best kept in the friend zone, even after he gives her a rave review of her stand-up act. While I support Midge's decision, there's a part of me that wanted to see her sleep with Lenny, because they have such great chemistry. Their parting is poignant because there's no hiding Lenny's broken heart; Midge's promise to sleep with him "someday, before [he's] dead" provides only the slightest consolation. (The song choice of the Mamas and the Papas' ethereal cover of "Dedicated to the One I Love" doesn't hurt either.)
Midge knows deep down that getting entangled in a sexual relationship with Lenny is the equivalent of career suicide. So even though the episode ends on an outwardly melancholy note, the satisfaction I mentioned earlier is due in large part to watching Midge exert control over her personal and professional destinies.
More Maisel Musings
• Nice little nod to The Princess Bride when Sophie mentions that Gavin Hawk, Cary Elwes's character, is doing a "pirate" movie.
• Mei wasn't kidding about being a medical student. Joel's club-in-progress is now her study nook, where she can overhear details like his difficulty in acquiring a liquor license.
• One of the Miami After Dark guests is breakfast-cereal heiress Marjorie Merriweather Post, the original owner of Mar-a-Lago. The host points out that the Palm Beach resort "is as elegant as [Merriweather Post] is." Sigh …
• "I have never had anyone look at me that coldly since I had my mother deported." Jane Lynch, you're the queen of my jaded heart.