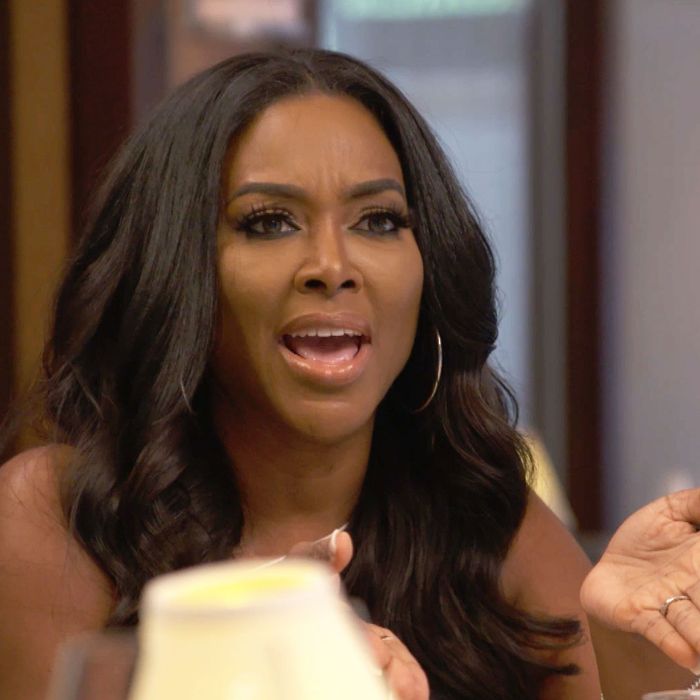 If you'll allow me to be hyperbolic for once in my short, pitiful life, I would love to send down a statement from my hermit's cave where I watch Real Housewives and shop online: This is the platonic ideal of a Real Housewives episode.
I was happy and thrilled EVERY SINGLE SECOND of this episode. From the faux silent film telling the story of Cynthia's proposal to Kenya and Marc reenacting "The Dinner Party" episode of The Office, every damn moment was a real delight. This episode had everything: Kenya ruining a proposal, Kenya saying her wedding day was less important than her winning Miss USA, Kenya giving a weird toast. This was a very interesting episode for Kenya overall, highlighting all her worst and most baffling qualities. She's completely incapable of being around someone else's happiness, and she says and does some WILD things.
But this episode's real accomplishment is that it made my icy, exhausted heart feel something. I wept real and powerful tears watching Mike Hill propose to Cynthia. My tears were so strong that my boyfriend was worried something was horribly wrong. I managed to squeak out, "They made a puzzle piece! It said family!" That's some Etsy-Pinterest nonsense, but my God, it got me good. Full. On. Tears. Let's get to it.
So how does this whole Chill Proposal go down? The episode opens with "There once was a couple deeply in love, all the woman wanted was to get married again without being called Thirsty and the man was okay with that." That's the best they could do? That was the best any writer could come up with to describe Cynthia and Mike's relationship? Listen, I'm not saying it's inaccurate; I'm saying it's phoned in. Mike starts the week by taking all the women in Cynthia's family to lunch and asking them for their blessing. I don't really believe in anyone asking for anyone's permission to marry, but this was very sweet and low-key. (If necessary, my boyfriend will have to go in front of a tribunal of my therapist, my best friend, the woman who fits my bras at the very fancy bra store I go to, and Samantha Irby if she's available.)
Then Mike takes his daughters and Noelle to go pick up the ring. Mike requires all three of the girls to carry him into the jeweler's because his legs won't work because he's so nervous. He shows them all the ring and they all give him their blessings. Noelle says she can see the spark between them and Noelle wants a love like theirs. "There's nothing you can do to mess this up," Noelle tells him. For a second there, I thought this was some evil foreshadowing but no, Andy Cohen was merciful this time.
Meanwhile, Porsha is getting a cake ready for Dennis's birthday. Ooooh. Let my fiancé who cheated on me during my pregnancy and blamed my weight gain and my postpartum emotional state for his infidelity come over on his birthday and eat a slice of cake! When Dennis said Porsha was getting her body back, I almost crushed an ashtray and put the glass in his slice of cake. In an interview, the producer asks Porsha if she's opened up that cookie jar for Dennis again and she said that there's a lot of work to do and a marriage means trust. Even though Porsha is giving Dennis some kind of baked good, I'm glad she's being so steadfast.
Oh, did I mention that the episode is counting down to the proposal? Because it is. Perfection.
Cynthia takes Marlo to lunch to ask her about "Snakegate." Cynthia loves to issue a nickname that very few other people are willing to adopt. All the usual topics of conversation come up —  Kenya, NeNe, Bailey Wine Cellar — before Cynthia gets down to the tough questions: Did you or did you not record me? Marlo says no and starts crying at the accusation and Cynthia just believes her? Oh, Cynthia. Even if Marlo didn't record you, she knows something. PRESS HER FOR MORE DETAILS!
Kandi and Todd head over to the site of Olé-G, the Mexican restaurant Todd wants to open. And by "open," he means "let the property sit for anywhere from six to eight months with no progress." Kandi is a little frustrated because Todd has several of these "businesses" in "development." Instead of taking the note, Todd accuses Kandi of not being interested in success. What a stupid-ass thing to say about Kandi Burruss, a woman who has never met a business opportunity or pyramid scheme she didn't like. He literally calls her a hater because he's 15. Kandi is worried about a recession, and again, Todd just flails around that she doesn't believe in achievements or something. Kandi pivots to asking for a date night because all they've been focused on is Todd's lackluster businesses.
It's FRIDAY. The day of the proposal and the Bailey Wine Cellar opening. You will have to forgive me because I truly thought the Bailey Wine Cellar was open! Everyone is getting ready for the opening and trying on their outfits. Kandi and Todd show up first and Mike whispers to Kandi to not leave early. This is a delight. Marlo shows up with party trays of Costco cheese and a card from NeNe that makes Cynthia burst into tears. Everyone's emotional state is completely ready for this proposal. Cynthia takes it as a sign that NeNe is willing to work on their friendship, but it's not an apology card? Everyone else arrives and suddenly members of Mike and Cynthia's family are filing in. Kandi texts Kenya to hurry up and arrive because Mike might propose.
So what does Kenya do upon arriving? Makes fun of NeNe's card by doing an incredibly bad impression of NeNe, and tells Cynthia that she thinks Mike might propose tonight.
KENYA.
KENYAAAAAAAA.
She doesn't just offhandedly say that she thinks Mike might propose, she talks about how she has a big announcement and that's her announcement. She talks about how she's got butterflies in her stomach for Cynthia and how all of Mike's family is there. Kandi, rightfully, FLIPS OUT on Kenya and is so fucking pissed. It's kind of refreshing to see someone pissed at Kenya for something that Kenya did that fits into a normal plane of reality. Normally people are mad at Kenya for bringing her recovering alcoholic astrologist to a will reading, but this feels like something a human from our world would do. A shitty human but a human, nonetheless. Also, this is a pretty sweet moment because it shows just how much Kandi cares about Cynthia's proposal but Kenya is coyly biting on her finger. Kenya, now is not the time to do the whole "Who? Meeee?" routine.
When it's time for the proposal, Mike asks for a few people to make a toast and he chimes in that he'd like to PROPOSE …
… A TOAST!!!! Suddenly, Noelle and his daughters barge in and tell him he should pop something else! They hand him a bottle of Champagne with a question mark on it and he takes the ring out. The box has a tiny light in it. It's too much. Cynthia says yes! She can't even get the words out and starts hugging her whole family! This is adorable! Everyone starts chanting "Congratulations Chill!"
The next day, Kenya invites Kandi and Todd and Cynthia and Mike out to lunch for a triple date. Kenya and Marc argue in the car about how fast she drives … even though she's not driving. Can we just — Marc is a bad husband, right? He's not a nice man. He's awful at being … a husband? He spends more time talking about how nice NeNe was to him because she introduced her husband to him at a function than he does speaking to Kenya in a reasonable tone. Kenya goads him into telling their proposal story, WHICH SUCKS. His proposal to Kenya was, "Look who's official now." What the fuck does that even mean? I wish for any and all straight women to find a man who isn't wholly and completely trash, because this man is trash.
Like the moment when he rails against prenups and accuses Kenya of lying about them having a conversation about it. Plus, he says that Kenya can have everything because he'll do it again. I hate to tell you Marc — no you won't. No, none of us will. Kandi is right, that recession is coming and it's coming for all of us. Kenya says in an interview that Marc is a dirty player who will pick dirt off the ground and throw it in your face (during an argument). What a great way to describe YOUR HUSBAND. How does Marc describe Kenya? "The flash is not real." I'm full-on weeping again. Kenya suggests Marc have another drink and he refuses. Oh, so they're not having sex not having sex. Word.
Well, hopefully Toronto will be more fun than this lunch triple date.