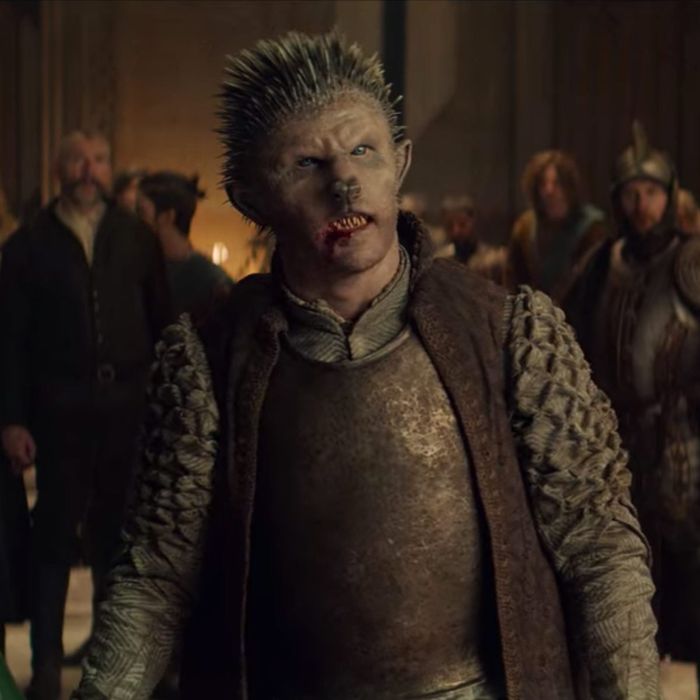 This guy understands the Law of Surprise. Do you?
Photo: Netflix
Forget monsters and curses, the most confusing thing in Netflix's The Witcher is the Law of Surprise. It's a tricky concept that's introduced early on, but the show doesn't do much to explain it in season one. Hardcore fans of The Witcher books or video games will immediately understand what it means, but for everyone else, we're here to help.
The fourth episode of The Witcher, titled "Of Banquets, Bastards and Burials," tells a largely self-contained story about Princess Pavetta (Gaia Mondadori), the daughter of Queen Calanthe (Jodhi May). The timeline of The Witcher can be tricky to follow, so it's worth noting that Pavetta's daughter Princess Ciri (Freya Allan) isn't alive at this point and Geralt of Rivia (Henry Cavill) is a smidge less embittered by a world that considers him a mutant and doesn't even pay him even when he gets the job done. Anyway, Calanthe has big plans for her daughter's hand in marriage, until a knight named Duny (Bart Edwards) — a charming gentleman with the head of a hedgehog — arrives to claim Pavetta as his bride, and he invokes something called the Law of Surprise to do so.
But what the heck is the Law of Surprise? It's an ancient concept within the world of The Witcher, loosely tied to actual mythology of Slavic and Polish origin — two folk histories to which Andrzej Sapkowski's novels and the show return to regularly. The law is relatively simple: As payment for a great deed like saving someone's life, one can lay claim to something which the indebted does not yet possess. It turns out that Duny, the hedgehog gentleman, saved King Roegner's life years earlier. "By tradition, I chose the Law of Surprise as payment," he explains in the episode. "Whatever windfall he came home to find would be mine." The "windfall" in this case is Roegner's daughter, Pavetta.
As one might imagine, Pavetta's mother Calanthe doesn't care about ancient laws, and orders the men at the banquet to slay Duny. However, the Law of Surprise eventually wins out  — with an assist from Geralt and a few others, who jump into the battle to defend Duny — which effectively rewrites the destiny of everyone involved. Fear of messing with that destiny is ultimately the law's power, which is why it's such a respected practice. As a character named Eist puts it, "It's an honest gamble. As likely to be rewarded with a bumper crop as a newborn pup. Or a child of surprise. He could not know. Destiny has determined the surprise be Pavetta."
Of course, the whole idea also seems pretty gross: claiming daughters as payment for heroic deeds? Really? The Witcher's writers handle this problem carefully by revealing that Duny and Pavetta fell in love and developed a relationship months earlier, before knowing she was his "payment." They're merely using the Law of Surprise to make their union official. When Calanthe finally agrees to the marriage, Duny is freed from his hedgehog curse and he becomes a normal man again.
And that's where Geralt reenters the picture. Later in the episode, he almost jokingly suggests that he should be repaid for saving Duny's life with the Law of Surprise — but little does anyone know at that moment that Pavetta is already pregnant with Duny's unborn child. Because Geralt evoked the law, it means their baby, Ciri, is now owed to him as a "child of surprise." While Geralt refuses to claim Ciri as his payment, the law ultimately ties their fates together. They eventually meet in The Witcher's season finale, ensuring that destiny has big plans for the duo in season two.