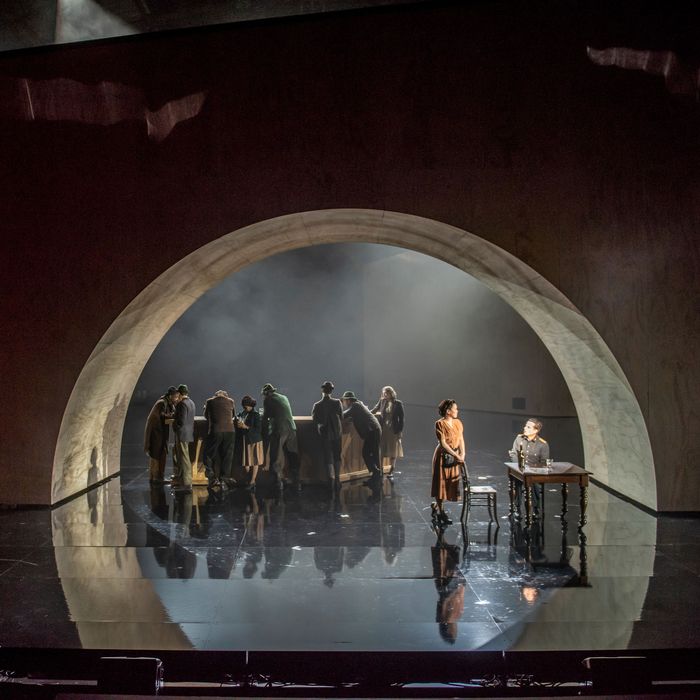 From
Judgment Day,
at the Park Avenue Armory.
Photo: Stephanie Berger
On the bright side (or maybe the dark and primeval side), Judgment Day at the Park Avenue Armory is a visual feast. The Armory's Drill Hall, vaulted like an old railway station and nearly the size of a city block, contains a set by the opera designer Paul Steinberg that's been built on a titanic scale. Black, towering pines cluster along the sides and disappear into a constantly rolling fog in the far distance, where sometimes you glimpse a girl in white, slipping through the forest as the moonlight tries to catch her. The floor is patent-leather glossy, a lake of black ice. And placed at extreme angles to each other are two building-size plywood constructions, each 25 feet high — an asymmetric box and a stylized aqueduct arch — like a giant's building blocks.
When the show begins with a bright burst of white, the box is only feet from the front row; its rising bulk positioned as the sheer wall of a train platform. The arch swims into position for a later scene because, unbelievably, these mammoths move. Sometimes they line up in Mimi Jordan Sherin's slanting light to be a de Chirico street, or one will hide shyly behind the other to pretend at being an inn. Pushed on hydraulic carts, they glide through the Armory like whales. Whenever they're sliding along, Daniel Kluger's horn-filled score — half triumphant, half chilling — fills the air. Imagine if some night you went out to Storm King and the Serra sculptures started waltzing. It's entrancing.
Judgment Day is a bit of an experiment for the Park Avenue Armory — it's not a show that started elsewhere and toured to the gigantic venue. Rather, it's been created by the Armory itself. To transition from programmer to producer, the Armory has decided to go with a known quantity, the spectacle-savvy British director Richard Jones, fresh off an Armory success with 2017's The Hairy Ape. That design-forward production did well, so why not another? Jones is a star and so are the playwrights: Obie winner Christopher Shinn adapted Ödön von Horváth's 1937 play, reviving a Hungarian playwright whose work we see too infrequently to New York. And … yet … the big names and the big set don't quite come together to make a big production. The dancing architecture works, but the human components seem unchoreographed; any time there's more than four people onstage, the mise-en-scène looks sloppy and astray. More importantly, the expressionist environment asks for stylization from the actors, but Jones seems to have left them confused about what that should look and sound like.
Shinn, perhaps with his mind on Brecht, deliberately leaves the stilted tenor of translated text in place: Speakers can sound as though they're shouting subtitles at each other. Horváth's story has a beat-the-drum quality to begin with, as a Station Master Hudetz (Luke Kirby) avoids entanglement with the girl Anna (Susannah Perkins) willing to lie to get him out of trouble. Distracted by Anna's teasing, on edge because of his angry wife (Alyssa Bresnahan), Hudetz has missed a crucial train signal, and people have died. The town's poison, as personified by gossipy Frau Liemgruber (Harriet Harris), keeps oozing into the legal proceedings — one minute they revile Hudetz, the next his wife, then his brother-in-law, then Anna. Ignorance never stops the mob from judging what they don't know, and Hudetz begins to go mad seeking out true judgment, even if it means his death.
It's gratifying to see American actors running around the visual lushness that we associate with visiting European shows (and their budgets). We — apart from, say, Robert Wilson — rarely make this sort of thing. And Harris is proof-of-concept: She's as exaggerated as a George Grosz painting, yet somehow also completely believable. But everyone else, even strikingly fine actors, seems stranded. A little bit of lostness is appropriate, as Horváth's story takes alarming turns, and it's masterful how he makes a set of predictable reactions (the knee-jerk pronouncements of the townsfolk) into an unpredictable sequence of events. But Jones seems to be moving his cast from image to image rather than moment to moment. He hasn't given Bresnahan much character guidance (is she a shrew or a nut or what?), and Kirby, poor man, is doing work so subtle that it's lost long before it crosses the massive stage between us. What, at the end of the day, does it mean that this town drives a man insane? Is it just an occasion for another stage picture? The actors need a hand. But the show seems to have been made from the perspective of the huge, beautiful monoliths: It's vast and slow and cold, and not, ultimately, all that concerned with the people on the ground.
Down in Brooklyn in an area roughly the size of the Park Avenue Armory's ladies' toilet, another theater is flexing its wings. The Off–Off theater JACK has moved from one tiny Clinton Hill storefront to another, and when I was at a show there last week, I kept spacing out, happily staring around me. The old JACK was the sort of weirdo room that only a found venue can be. There was a lean-to bathroom in one corner that we all just agreed to ignore, and the walls were completely covered with crumpled foil left over from one of the first productions. Funky it most certainly was, and as warm as a cat in a sunbeam, but shows at JACK had a hard time being gorgeous — though at least we were well protected from mind-control rays.
The new JACK, though, is ideal. It's tiny and spare, with elegant wooden floors and an exposed-brick wall. The playing area itself is snug but not cramped; there's some golden proportion of stage to seating that they've got exactly right. The finely performed play currently playing — T. Adamson's The Straights — has only tossed around a bit of tumbleweed set dressing and hung a single screen. But the space makes it look rich: Set off to its perfect advantage, The Straights glows like a ring in a velvet box.
It helps that the screen is showing Tyler Isaacson's video scenery, handsome cinematic shots of endless American highways unspooling behind Phoebe (Jennifer Paredes) and Nina (Mary Glen Fredrick) as they drive west. This is the "long earth," the dear friends tell each other, as they laugh and chat and worry about each other. They're so intertwined it takes a while to realize they're not actually in sync; when they pick up the shy hitchhiker Ari (Neo Cihi) at a gas station, the lines of affection and exploitation and unspoken need start to cross. Playwright Adamson has developed a densely written rat-a-tat rhythm — millennial screwball — while also transmitting a sense of deep unease. Like, why does the molly-dropping, twenty-something trio keep encountering older people who demand their time and misgender Ari? It might mean nothing … or everything.
The director Will Detlefson does strong work with his cast, which has several stand-outs. Paredes is the perfect center for this often wandering shaggy-dog story, unaffected and magnetic. And Fredrick, in the showier role, is a syringe of adrenaline. At one point, Nina dictates an amazing, warp-six email into her phone, complete with heart emojis, in which she supportively, cheerfully threatens an underling's job. It's weird, Phoebe notes, that Nina keeps adding so many exclamation points! And words of affection! The play has many themes, but this is its dramaturgical question. If this is what anger sounds like now, what language do we reserve for love?
Judgment Day is at the Park Avenue Armory through January 10.
The Straights is at JACK through December 21.