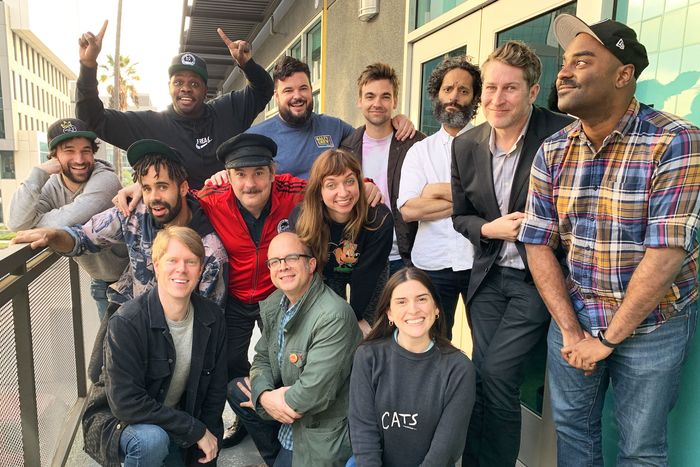 Happy holidays from
Comedy Bang! Bang!
Photo: Earwolf
The comedy-podcast universe is ever expanding, not unlike the universe universe. We're here to make it a bit smaller, a bit more manageable. There are a lot of great shows, and each one has a lot of great episodes, so we want to highlight the exceptional, the noteworthy. Each week, our crack team of podcast enthusiasts and specialists and especially enthusiastic people will pick their favorites. We hope to have your ears permanently plugged with the best in aural comedy.
Comedy Bang! Bang! — Holiday Spectacular 2019 With Electric Guest, Jason Mantzoukas, Jon Gabrus, Lauren Lapkus, Shaun Diston, Paul F. Tompkins, Tim Baltz, Lily Sullivan, Zeke Nicholson, Will Hines, Zach Reino, Carl Tart, Drew Tarver
Do you hear what I hear? That faint rumble of laughter heard several inches off-mic means the ninth Comedy Bang! Bang! Holiday Spectacular is upon us. As is tradition with these CBB holiday and anniversary specials, each guest steamrolls the next for two hours until the whole show is just glorious callbacks. This year's highlights include Sprague the Whisperer's (Shaun Diston) poorly thought-out Christmas pitches like "A Backflip Story" and "All I Want for Christmas Is Nunchucks." Aukerman makes a pun on sex with meat that should have ended CBB as we know it. Santa (PFT) lets the world know we're all getting the exact same women's cardigan for Christmas this year. Dash Grabum (Zach Reino) tries to cancel Santa for not having any female reindeer. Finally, fan favorites Brantley Aldean (Drew Tarver) and Harland Haywood (Carl Tart) make their highly anticipated return to the show as country-music giant Memphis Kansas Breeze to perform three brand-new Christmas hits. The holiday celebration is a perfect send-off to a consistently chaotic and hilarious decade of Comedy Bang! Bang!. —Mark Kramer
Listen: Spotify | Apple | Website
Mother, May I Sleep With Podcast? — I Almost Married a Serial Killer [Part 1] (Featuring 2 Girls on a Bench)
We see your Hallmark movies, and we raise you Lifetime movies. While both are unintentionally funny, Lifetime is somehow a little more true to life. After all, the network was built on the backs of unhinged characters willing to do whatever necessary to ruin their own lives, which seems more realistic than, say, Santa. So venture outside the snow globe with us and into a dark and terrifying world where a serial killer could become a husband. Led by host Molly McAleer, Mother, May I Sleep With Podcast? hilariously breaks down one Lifetime Original Movie per week. While the show's title is a nod to the vintage Mother, May I Sleep With Danger? from 1996, episodes that tackle newer titles are a real treat because they avoid exhausted material. Enter this year's I Almost Married a Serial Killer, ripe for riffing. While dissecting this "full-blown irresponsible single mom story," McAleer and her guests gamely dive into every plot hole. Each one reveals more things to make fun of than the last, ranging from the protagonist owning a house beyond her means to that same woman doing the most to fuck up her witness-protection aid and expose herself to her ex, an actual serial killer. Fun and a little flippant, just like the movies themselves, Mother, May I Sleep With Podcast? is a consummate companion that honors Lifetime's roots. —Becca James
Listen: Spotify | Apple | Website
Unemployed With Anna Roisman — A Spiritual Journey Through Jobs (& Club Monaco) With Mike Kelton
Best known as the angelic inaugural host of the app-based trivia community HQ Words, Anna Roisman has revived her former Facebook Live talk show for the podcast market. Now free to show her true hosting prowess in this free-form update, Roisman anchors frequent Unemployed Show collaborator Mike Kelton in a touching ode to the recharging and frantic energy that young people in America face when hustling for their next paycheck. Kelton leads the way describing his highest high — making $7 an hour under the table at an ice-cream parlor, and the near intervention he had with his mother over the money he was spending underage at "Club" Monaco — and meeting a stranger at Grand Central Station for an assignment to dance in a costume at the park for half a month's rent, the lowest low. It's quietly funny in the way that the most relatable chat-show comedians can accomplish: finally, a spinoff of the jobs-based podcast niche that celebrates the sad, ugly, millennial search for joy in spite of stability, manifesting opportunities because they have to. —Noah Jacobs
Listen: Spotify | Apple | Website
Knowing: Robin Williams — The Tiger in Winter
Although this podcast is about one of the world's brightest comic personalities, Knowing: Robin Williams takes progressively darker turns as it reveals the man inside the comedian. The eight-episode limited series, hosted by Kristy Westgard and featuring journalist Dave Itzkoff, builds a portrait of Williams from Itzkoff's biography, Robin, combined with new interviews and research into the causes of the comedian's untimely and tragic end. The final chapter dropped this week and, while there are some hilariously bittersweet sound bites of Williams onstage (mostly working out material for his last 2009 HBO special, Weapons of Self-Destruction), Itzkoff uses them to speculate on the failing health of the beloved comedian and actor. The author interviewed a number of people who knew and worked with Williams to gain insight into what led him to become more reclusive as he faced financial difficulties and then health issues. We also learn more about diffuse Lewy body dementia, the rare and elusive disease that doctors believe drove him to take his own life. While I realize this isn't the usual review fare for our column, for fans of Robin Williams who miss him and want to learn more about his life, his comedy, and his sad ending, this podcast offers a lot of informed perspective. —Marc Hershon
Listen: Spotify | Apple | Website
Dave Hill: History Fluffer — Wilson Phillips
The stories Dave Hill tells on History Fluffer are reminiscent of an era before the internet, when your braggadocio uncle could make outrageous claims: You knew they were false, but without the ability to fact-check in real time, your rebuttal fell flat, and maybe, just maybe there was a part of you that wanted to believe the bullshit. Take this week's tall tale, for example, which sees Hill as a founding member of Wilson Phillips. Like any good lie, this one is based on truth. The story involves all the key players you would expect it to, such as Carnie Wilson, Wendy Wilson, and Chynna Phillips, but then it veers into an alternate reality where the women of Wilson Phillips and Hill head to Orange Julius to discuss the band name. All agree that Wilson Phillips was the ticket. Tiny details like the capital H for Hill sell the story even when we know it's baseless. Egged on by Jim Biederman and Jodi Lennon, Hill's lies are allowed to grow into whoppers that will have you whooping with laughter. Come for the preposterous stories, and stick around for the add-ons like audio from the real-life Marky Ramone gelato commercial. Both are equally entertaining. —Becca James
Listen: Spotify | Apple | Website
Other Podcasts We're Listening To:
Hills I'd Die On — Disco Is the Best Music Genre: Andrew Law
Listen: Spotify | Apple | Website
Air Buds — Official JD & the Straight Shot Podcast With Alex Hanna
Listen: Spotify | Apple | Website
Conan O'Brien Needs a Friend — John Mulaney
Listen: Spotify | Apple | Website
The Ron Burgundy Podcast — Special Bonus Episode: Sade
Listen: Spotify | Apple | Website
Got a comedy podcast recommendation? Drop us a line at comedypodcasts@vulture.com.