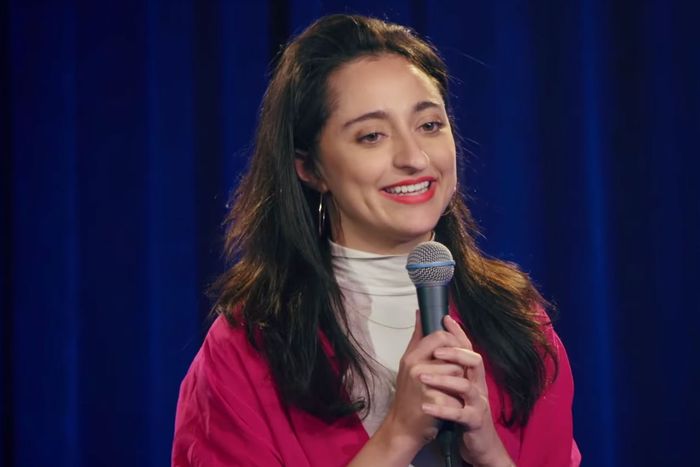 The title of Jouhari's new podcast is decidedly NSFW.
Photo: Comedy Central/YouTube
The comedy-podcast universe is ever expanding, not unlike the universe universe. We're here to make it a bit smaller, a bit more manageable. There are a lot of great shows, and each one has a lot of great episodes, so we want to highlight the exceptional, the noteworthy. Each week, our crack team of podcast enthusiasts and specialists and especially enthusiastic people will pick their favorites. We hope to have your ears permanently plugged with the best in aural comedy.
Fuck Hut Music School for Teens - MONDAY
Comedian and TV writer extraordinaire Mitra Jouhari (Three Busy Debras, Big Mouth, High Maintenance) has blessed listeners with not one, but two podcasts in as many months. In addition to the last-resort advice show Urgent Care alongside co-host Joel Kim Booster, Jouhari recently dropped the first episode of the hilarious scripted "drama" series, Fuck Hut Music School for Teens. The Fuck Hut Music School for Teens is as exactly as advertised: a "cursed after-school music program for fuckable teens" where nothing will stop jock Timoshe (Whitmer Thomas) "from achieving his dream of playing drum, which started yesterday, when he found out what drum was." The 20-minute episode is crammed with jokes and lovable weirdos, including triplets Big Kate, Little Kate, and Rude Kate ("Kate" is spelled three different ways), and Kendall (pronounced "kindle"), who's always holding an Amazon Kindle — what a coincidence. A catchy 1990s-adjacent score by Henry Koperski helps take the music school premise all the way to its promise. Matt Rogers, Patti Harrison, Sunita Mani, and Catherine Cohen are just a fraction of the all-star teen voice talent assembled by Forever Dog. If a bad teen like Timoshe ground up Riverdale, Glee, and American Vandal into a fine powder and snorted it, you'd have the highly concentrated party drug that is Fuck Hut Music School for Teens. —Mark Kramer
Listen: Spotify | Apple | Website
How Did This Get Played? - Custer's Revenge (w/ Joey Clift) 
If you follow the comedy-podcast scene, chances are you've heard mention of Joey Clift's recent appearance on How Did This Get Played? If not, well, then, we're here to tell you to give it a listen ASAP! For context, HDTGP, a podcast dedicated to reviewing the worst video games, invited Clift to appear on their Thanksgiving episode to discuss the highly problematic Custer's Revenge. Clift, a comedy writer and member of the Cowlitz Indian Tribe, took the opportunity to discuss with hosts Nick Wiger, Heather Anne Campbell, and producer Matt Apodaca why this invitation was hurtful and tokenized him. Throughout their frank conversation, Clift talks about his immediate frustrations about being asked to review the game and details his fears about potential retaliation from the entertainment industry if he were to go on the show to call them out for their mistakes. By the end, it feels like a lot of good came from Clift's appearance on the show. For a fuller sense of the scale of their conversation, listen to the episode and read Joey Clift's op-ed about his experience on HDTGP. Oh, and for God's sake, please book him on a podcast to talk about '90s wrestling! —Tom Rainey
Listen: Spotify | Apple | Website
Ask Ronna - Firing Your Dog Walker (w/ Adam Pally)
Do you or someone you know suffer from the loss of Ronna and Beverly in your podcast rotation? Now, with Ask Ronna, there's a cure. Well, half a cure, really. (For the other half, head over to Beverly in LA on Stitcher Premium). Recording straight out of Marblehead, MA, Ronna Glickman (Jessica Chaffin) is back on the air doling out inestimable advice and guidance, this time teaming up with Throwing Shade's Bryan Safi. After a quick post-Thanksgiving recap, where they confirm what French Canadian tastes like, confirm that Paul McCartney does in fact love the Rockettes, and fill listeners in on Ronna's crusade against salted caramel and how it's destroyed the market for butterscotch, the duo is joined by Adam Pally at the carriage house. Together, the three help one listener figure out the most tactful way to fire their dog walker, and another work through life with a boyfriend who can be a slob. In both cases, they provide genuinely thoughtful and helpful advice. With Ask Ronna, you can come for the familiar comforts of Ronna's pearls of wisdom you already know, and stay for the delightful banter between Ronna and Bryan you'll come to love. —Leigh Cesiro 
Listen: Spotify | Apple | Website
Who Killed Jenny Schecter? 
With The L Word: Generation Q revival upon us comes what podcast creators Erin Sullivan and Grace Perry are calling "the crossover event that absolutely no one asked for: Who Killed Jenny Schecter?" A smart production from top to bottom, the six-part mini-series has a binge-ready runtime of 60 minutes but still packs a punch, expertly employing a level of absurdity that outdoes The L Word, which is no small achievement. Narrated by K.C. Casey, a West Hollywood lesbian that Bette Porter and her posse ignored on the daily, we're reminded that one of Jenny's closest friends executed her. We don't hear from them, however, because they're still stonewalling K.C. Typical. Instead, a cast of new and hilarious characters — such as Tina Kennard's past in-house poncho-weaver, Nannette St. Yves, and the former 12-year-old skater boy upon whom Shane McCutcheon based her entire aesthetic and personality, Tyler Shrimp — offers a pitch-perfect parody. So while it's safe to say no one specifically asked for a true-crime podcast intent on revealing Jenny's murderer a decade after her death, one that's this ingeniously amusing and that's also created by an all-queer cast and production team is one we absolutely appreciate. —Becca James
Conan O'Brien Needs a Friend - Hillary and Chelsea Clinton
One of the ways to avoid the issue of running for president is to bury yourself in a good book. In this case it's writing one, and the person not running is Hillary Clinton. Which is why she and her co-author, daughter Chelsea Clinton, had time to consider being Conan O'Brien's friends and chatting about their collaboration, The Book of Gutsy Women. Regardless of your politics, this hour makes for an interesting listen — both because politics really don't enter into the discussion much, and because we get a good glimpse into what life inside a historic landmark was like for a mother and her teenage daughter. There are also quite a bit of laughs in this installment as the Clintons prove to be pretty gutsy women themselves — O'Brien's quick wit doesn't pull punches while trading good-natured barbs with the former First Lady and First Daughter. Chelsea says she was pretty much a bookworm in school and that her mother had to practically force her out of the White House to go to the occasional friend's party. "I never worried about her very much," says mom Clinton. "After all, she always had the Secret Service with her!" The conversation goes from the real, like odd Halloween costumes (Chelsea's mom dressed her up like Joan of Arc one year), to the surreal, like when the Clinton daughter came out to the ground of the White House during an Irish-American celebration that O'Brien was attending to complain that the noise was keeping her from working on her homework. —Marc Hershon
Listen: Spotify | Apple | Website
Other Podcasts We're Listening To:
Mean Book Club - If I Did It by O.J. Simpson with UCB's Michael Hartney
Listen: Spotify | Apple | Website
Feeling Asian - Depression and Toad Venom (Feat. Nancy Whang, LCD Soundsystem)
Listen: Spotify | Apple | Website
You Up with Nikki Glaser - Thanksgiving w The Glasers
Listen: Spotify | Apple | Website
Why Won't You Date Me? - What's it Like to Finally Date a Good Guy (w/ Michaela Watkins)
Listen: Spotify | Apple | Website
Inside of You - Joe Lo Truglio
Listen: Spotify | Apple | Website
Why Do You Know That? - Benjamin Siemon
Listen: Apple | Website
Got a comedy podcast recommendation? Drop us a line at comedypodcasts@vulture.com.