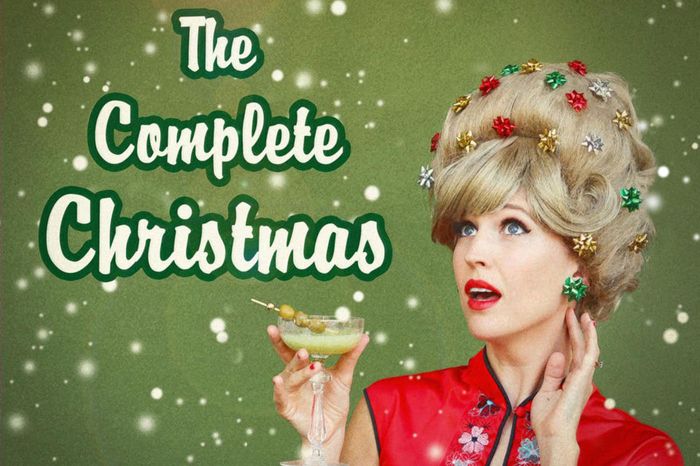 Happy Holidays!
Photo: Earios
The comedy-podcast universe is ever expanding, not unlike the universe universe. We're here to make it a bit smaller, a bit more manageable. There are a lot of great shows, and each one has a lot of great episodes, so we want to highlight the exceptional, the noteworthy. Each week, our crack team of podcast enthusiasts and specialists and especially enthusiastic people will pick their favorites. We hope to have your ears permanently plugged with the best in aural comedy.
The Complete Christmas - Christmas Alternate Future
Amanda Lund is back and committing to the bit harder than ever. As the "best-smelling author and 1960s self-help guru, Marabel May," Lund remains devoted to helping you become the complete woman, whether that means directing you to the best version of yourself or planning your perfect wedding. With the holidays here, she has her sights set on creating the complete Christmas. Her high standards, which are equal parts eerily accurate and outrageously funny, drive her mad, though. The result is a take on A Christmas Carol complete with a talking can opener named Carl. In keeping with tradition, The Complete Christmas (part four of a six-part series within The Complete Woman) takes the stereotypes of housewives to their darkest and most comedic depths with Matt Gourley, Paul F. Tompkins, Mark McConville, Maria Blasucci, and Kate Berlant rounding out the cast. This week, they experience a home from the future. You know, like the ones we all live in now, with automated everything and our flying cars parked outside. Oh, wait. Who's going to tell Marabel May that never happens? How true Lund stays to the era, of course, is where a wealth of the humor comes from, because even when we know better, she insists we do not. Turning witty commentary into winning comedy, this is a show worth turning your dial to. —Becca James
Listen: Spotify | Apple | Website
Scam Goddess - The Long Island Long Con w/ Jon Gabrus 
When teaching Greek mythology, professors traditionally bypass practicality for name-brand recognition. Instead of teaching about gods and goddess that are relatable to 2019, educators choose to focus on titans of old like Zeus, Apollo, and Arnold Schwarzenegger. As the world becomes more complex, a more dynamic god should be added to the curriculum — one that can serve as a siren against the shakedowns, hoaxes, and hoodwinks of our era. Lucky for us, such a hero has risen from the ashes of pyramid schemes and bravely fought their way into the pantheon of podcasters. Our Scam Goddess, also known as comedian Laci Mosley, is here to protect us against the racketeers of today. This week, Mosley has asked comedian Jon Gabrus to join her mighty quest and talk about the birthplace of scamming: Long Island, New York. Before diving into a harrowing story about the Great Long Island Con of 2017, our titans discuss an insane user-submitted scam involving a fraudulent peanut allergy, faked death, and a drunken weekend in Las Vegas. If you like true crime but can't stand all the actual death, Scam Goddess may be the perfect show for you! —Tom Rainey
Listen: Spotify | Apple | Website
Mean Book Club - The Alchemist by Paulo Coelho with SNL's Sudi Green
UCB's Clara Morris, Johnna Scrabis, Sarah Burton, and Sabrina Jordan have spent six seasons shredding NYT best sellers for the meanest book club around. SNL writer Sudi Green has read the SparkNotes and is ready to take on Paulo Coelho's thinly veiled self-help novel, The Alchemist. Only Scrabis actually enjoyed "the boy's" tedious search for treasure, while the rest are quick to point out why it sucks. Namely, because "maybe some people's dreams are bad and shouldn't happen." They don't call it Mean Book Club for nothing. The women go on to explain how the book's lesson for the boy is to "follow your dream," and the book's lesson for women is to "follow your dream unless that dream is another man you may depend on." Madonna and Oprah actually recommend The Alchemist, and so does Mean Book Club — if you can put aside the sexism, racism, Western privilege, and "Diet Coke religion" vibes. This season has been a real page-turner so far, with two hilarious episodes on O.J.'s If I Did It with Michael Hartney and Marianne Williamson's A Woman's Worth with Joanna Hausmann. —Mark Kramer
Listen: Spotify | Apple | Website
Andrea Savage: A Grown-Up Woman #buttholes - June Squibb
It's still early for next year's "The Year in Comedy Podcasts" roundup, but this episode of Andrea Savage's podcast with Academy Award–nominated actress June Squibb is the early front-runner for Most Lascivious Episode. That might come as a surprise to those who know the amiable 90-year-old actress for her grandmotherly roles, but as she showed by earning an Oscar nom 50-plus years into her career, she's full of surprises. Squibb talks at length to Savage about her time as a single divorcée in 1950s NYC, which she jokingly calls her "bimbo" years. She didn't pose for romance novels, as has been erroneously reported, but she did model for many true-crime books as a struggling dyed-blonde actress. She even got propositioned, along with Ethel Merman, to join an orgy, but doesn't regret turning that offer down. Squibb also speaks about dating in her 70s and gives a caller some advice on how to deal with her husband's saggy balls. If the execs at Jeffrey Katzenberg and Meg Whitman's upcoming streaming platform want to start a nonagenarian sex-advice show, I have one portmanteau for you: Squibbi. —Pablo Goldstein
Listen: Spotify | Apple | Website 
Lovett or Leave It - Darin' to Say "Barron"
Former Obama speechwriter Jon Lovett hosts this live-in-front-an-audience weekly roundup of mostly political stuff going on in Washington and around the country. He's smart, irreverent, funny, and gets some great guests to join him. It's a little bit like The Daily Show or Last Week Tonight or The Jim Jeffries Show, but for podcasts. Before he gets to guests Brett Gelman (Stranger Things, Fleabag) and Rheeqrheeq Chainey (American Princess, GLOW), Lovett has a lot to run down as the impeachment investigation continues. If you're getting numb by the repetitive droning of the regular news on this issue, Lovett can keep you current with a style that respects the facts but has nothing but wry disregard for most of the buffoons and political toadies surrounding them. There are even audio sketch pieces, just like on TV, such as the "In Memoriam" for all of the Democratic presidential candidates who have dropped out of the race so far. And he gives Kellyanne Conway a thrashing for her demonization of Pamela Karlan (the Stanford professor who dared to use the name of Trump's youngest son, Barron, to make a point). Gelman and Chainey are right there throughout, up on the issues and scoring some direct humor hits. There's a game-show-like round of guessing which tweets digging into Fox News commentator Jesse Watters are from his own mother or made up by Lovett and his staff. And the show closes with some spins on the "Rant Wheel," where Chainey gets her shots in on Martin Scorsese's The Irishman (she hated it), Lovett goes off on a possible LGBTQ character in the upcoming Star Wars (it'll never really happen), and Gelman goes meta with a rant about rants (just stop doing them!). —Marc Hershon 
Listen: Spotify | Apple | Website
Other Podcasts We're Listening To:
Why Won't You Date Me? - Living with Nicole Byer (w/ John Milhiser)
Listen: Spotify | Apple | Website
What a Day - Look Julian's Talking
Listen: Spotify | Apple | Website
I Burn Everything: Food & Relationships - Bone Water with Greg and Holly from Mega
Listen: Spotify | Apple | Website
Got a comedy podcast recommendation? Drop us a line at comedypodcasts@vulture.com.