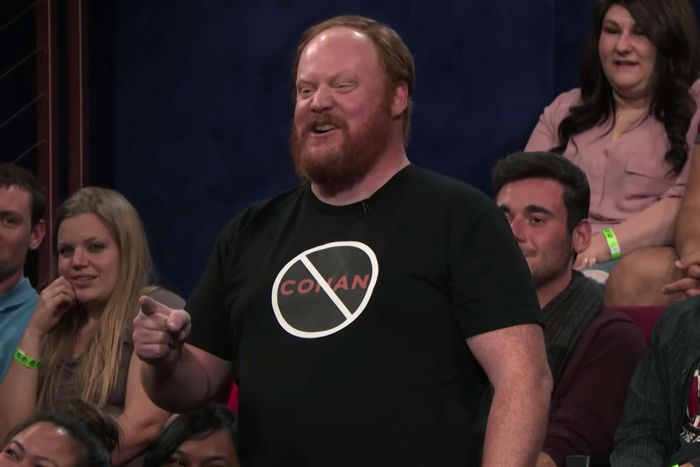 Here's what you're not going to see in this week's top-five late-night moments: impeachment talk. Late night is spinning its wheels politically, since we don't really know what's going on. Will the Senate GOP stonewall this like they did Merrick Garland? Probs. Will it affect 2020? Probs, but no one knows how. The liberal elite aren't coping well with Trump's reality-breaking tactics. We're dealing with a tantrum-throwing, object-permanence-lacking, weird-standing baby. And it's not even novel anymore. So weirdly, the best (and most politically relevant) comedy this week wasn't the political commentary. It was the dumb bits full of yelling, sight gags, and denying the basic premise that we share a common reality.
5. "I Rented This Sweater!"
On a "Two Truths and a Lie" game (an eerily on-message game to play during the impeachment hearing), Tom Lennon got pied in the face. Already a fun thing to see, but then he protested the unfairness of getting pied in the face by shouting "I rented this sweater!" How dare the audience member get his rented sweater dirty?! Sure, he was the one lying in the game, and thus deserving the pie, but think of the poor sweater-rental company. Thomas Lennon yelling will never not be funny, and we're all looking forward to the Quibi revival of Reno 911!
4. Jimmy Kimmel's Simulacrum
Jimmy Kimmel got his own wax figure and used it to terrify his cousin Micki. Who among us? This was a startled supercut in the style of cats reacting to cucumbers, and I for one am not above it.
3. Harry Styles's Pants!
James Corden passed his show on to guest hosts this week, a practice that has mostly fallen out of favor in today's late-night landscape. Back in the day, Carson utilized guest hosts any time he had a particularly gnarly back nine, or got divorced again. That's how we got Letterman and Leno. Today, hosts pretape, or just put out reruns. Thankfully, Corden keeps a lot of the old shiny-floor TV tropes alive. Harry Styles was the most surreal of Corden's guest hosts, doing an interview with himself and bringing a sight gag to the "Carpool Karaoke" format. A true delight.
2. Seth Meyers Hate Pennies
This one started weird and just got weirder. Potato doll children! Lincoln alive and well! Fish watches! For timing reasons, Seth's expletive-laden tirade against pennies gets played with the sound off. Watching the semi-lip-synced antics is one of the most surreal, dumbest, and craziest things on TV this week.
1. Conan Loves It When a Plan Comes Together
And here's the dumbest, craziest, most surreal segment of the week. Everyone did bits about the pigeons in cowboy hats in Las Vegas. How could you not? Never mind the fact that the hats are cruelly glued on (and to be honest, a little too small to be funny on a pigeon), people loved this story. And according to this Conan segment, the hat gluer intentionally baited late-night hosts with this story. How does getting Conan to talk about the pigeon hats hurt him? Unclear, but immaterial. Revenge was his goal, and revenge he somehow achieved. Fans of Conan's use of puppets will love the inevitable double-cross, in this tale of long-festering spite in the style of Oldboy.