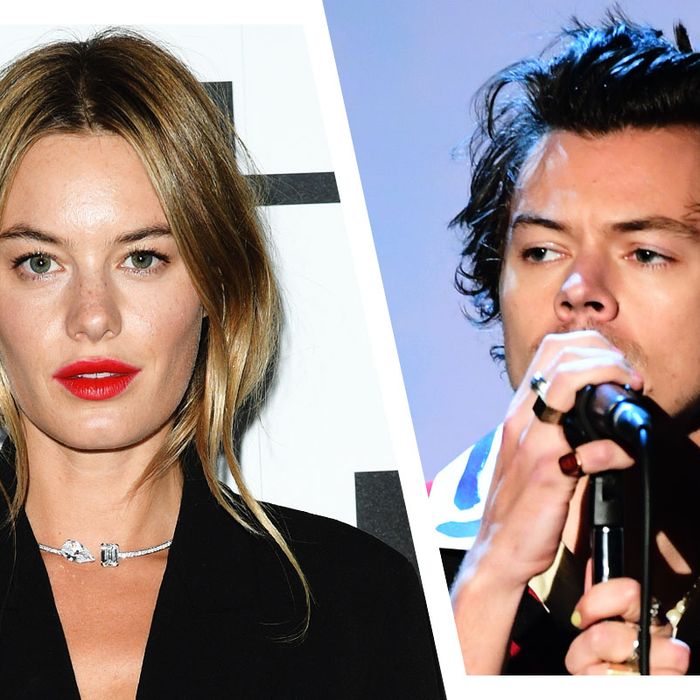 Cherry.
Photo-Illustration: Vulture and Getty Images
Harry Styles Taylor Swift–ed his debut album and straight-up named a girl he had only met once in the song "Carolina." This time around, he's not going that far, but Fine Line is full of references to his most recent ex-girlfriend, Victoria's Secret model Camille Rowe. For most of his career, Styles has been as private as possible about his relationships. Of course, when you date Taylor Swift and Kendall Jenner, the paparazzi are going to be in a frenzy. But post–One Direction, Camille Rowe seems to be his longest and quietest relationship. Quiet until Fine Line. Harry processes their breakup on three songs specifically: "Cherry," "Falling," and "To Be So Lonely," although the whole album has hints of Camille. Here's what Harry has to say about the end of his relationship with Camille Rowe.
"Cherry" and Camille Rowe's Voicemail, Translated
Cherry, cherry, cherry. "Cherry" has nothing to do with cherries. The title of the song is actually Harry and Camille's ship name, a prettier version of "Charry." Fine Line is full of fruit references, making the name fit perfectly with "Watermelon Sugar." But (and this is a long shot) it may be a subtle reference to Larry shippers, fans who wanted him and 1D member Louis Tomlinson to date. They spent years forcing Larry onto him. Now, he's gonna tell them a little bit about Cherry, an actual relationship he was actually in.
The song begins and ends with Camille's voice. She says "Coucou," a French
"Hello," right before the guitar starts strumming.
Harry sings, "Don't you call him 'baby' / We're not talking lately / Don't you call him what you used to call me," a jealous and, admittedly selfish, request. But he's still hurting from the breakup. "I think the moment that I wrote it, I wanted it to be true to the moment that I wrote it, and how I was feeling then [which was] not great," Harry told Zane Lowe on Apple Music Beats 1 Radio. Mission accomplished!
"I noticed that there's a piece of you in how I dress / Take it as a compliment," he sings. Based on her Instagram, Camille tends to opt for a loose button down, a Styles classic, but sometimes wears fun suits and flared pants, apparently inspiring Harry. Fashion inspo aside, he's still down in the dumps. Harry is actually a little petty on this song. "I just miss your accent and your friends / Did you know I still talk to them?" he asks.
The bridge of the song is short. It's literally one question that Harry just needs to ask Camille, point-blank: "Does he take you walking 'round his parents' gallery?" After ending things with Harry, Camille started dating Theodorakis "Theo" Niarchos, a gallerist whose father inherited what's rumored to be one of the largest private art collections in the world.
"Coucou! Tu dors? Oh, j'suis désolée … Bah non … Nan, c'est pas important … Bon allez … On a été à la plage, et maintenant on — Parfait! Harry."
At the end of the song, the melody changes to a haunting (or, as many stans on Twitter called it: "creepy") guitar strum with Camille's voice piercing through. In French, Camille says, "Hello! Are you asleep? Oh, I'm sorry … Well, no … No, it's not important. Well … We went to the beach and now we … Perfect! Harry." The words don't really mean anything strung together — the original voice note was probably chopped up to remove anything too personal. "I was playing guitar and she took a phone call—and she was actually speaking in the key of the song," Harry explained the origin of the note to Rolling Stone. But, honestly, it's not the content of the voice note that matters. It's the fact that Harry is opening up about their relationship. And about the fact that he can apparently understand a little French? I know this isn't the time to be like, "That's hot," but … hot.
Harry briefly explained the decision to include her voice to Zane Lowe. "I think it was because it got added in later on, and it felt so part of the song," he said. "It just felt like it needed it. We're friends and stuff, so I asked her if it was okay. And she was okay with it. I think she liked it."
"Falling"
Sometimes a breakup song is about how much pain the other person caused you. And sometimes it's about dealing with the pain you caused others. In "Falling," Harry isn't falling in love. He's falling apart.
"I'm in my bed / And you're not here / And there's no one to blame but the drink in my wandering hands / Forget what I said / It's not what I meant / And I can't take it back, I can't unpack the baggage you left"
In the first verse, Harry admits that he ruined the relationship, potentially by cheating on Camille. But he's bargaining, trying to make it right again. The problem is … Camille is gone. She left him and left him to deal with the pain on his own.
"What am I now? What am I now? / What if I'm someone I don't want around? / I'm falling again, I'm falling again, I'm fallin'" 



Without her and knowing the deep pain he caused, Harry questions everything about himself. "I kind of started to feel threads of where I could see myself becoming someone that I didn't want to be, and that was really hard," Harry said of "Falling" to Zane Lowe. "But I think the thing that's nice with that, is you get to write a song about it and be like, okay, next."
(A fun note: "What am I now?" calls back to "Lights Up," where Harry sings "Do you know who you are?" The duality perfectly exemplifies how Harry describes Fine Line: "It's all about having sex and feeling sad.")
Even though they decided to stay friends, Harry can't help but notice that things are different. He sings, "And I'm well aware I write too many songs about you / And the coffee's out at the Beachwood Cafe," a reference to one of their favorite spots and a cafe he frequented while recording at Shangri-La Studios.
"To Be So Lonely"
"To Be So Lonely" is one of the harshest and most desperate songs on Fine Line, but it comes with a beat that makes all the chaos seem in rhythm. Almost like a drunk phone call or stream of consciousness, Harry lets out all the gunk inside his heart. Instead of feeling sad, Harry is raging. He sings, "I'm just an arrogant son of a bitch / Who can't admit when he's sorry" with a tinge of sarcasm and a tinge of truth. He echoes "Cherry" with "Don't call me 'baby' again," but this time it's because he can't take the pain of not being her actual baby. "It's hard for me to go home / Be so lonely," he admits.
From this point in the album, though, Harry takes an upward swing. Where else is there to go after you've hit rock bottom? Camille is still present in the album — he echoes her "Coucou" on "Sunflower Vol. 6" and "Fine Line" — but from then on, he's opting to treat people (and himself) with kindness.
This post has been updated throughout.