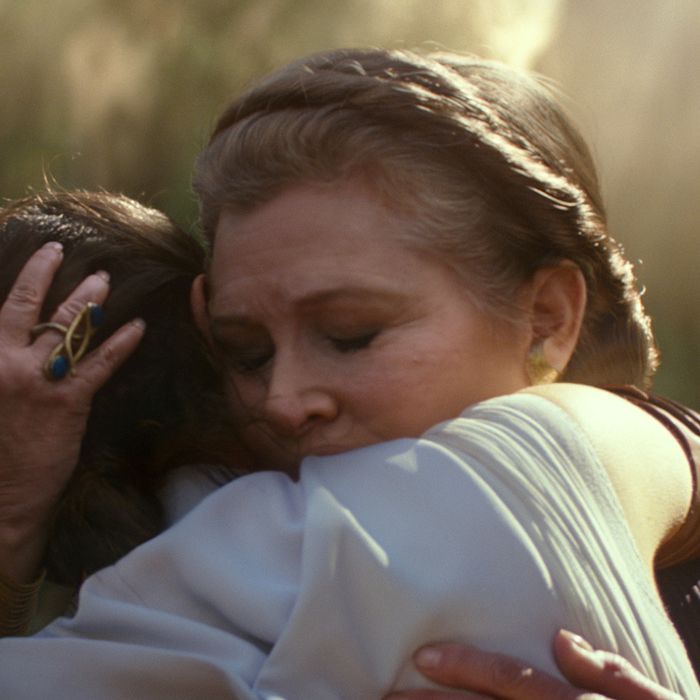 This was supposed to be Princess Leia's movie. The fact that it couldn't be is heartbreaking.
Photo: Lucasfilm Ltd.
Since seeing Star Wars: The Rise of Skywalker, the final chapter in a trilogy that passed the lightsabers from the original Star Wars heroes to a new generation, I've been haunted by one question: How much better would this movie have been if Carrie Fisher were still alive?
If you're like me and felt that The Rise of Skywalker had a piecemeal quality that made it less like an organic story and more like a product designed to hit certain nostalgic pleasure centers, you also may have been asking this question. Even if you genuinely liked The Rise of Skywalker — it has an 86 percent positive audience rating on Rotten Tomatoes, if that's a meaningful judge of how moviegoers responded — you still may have found yourself pondering this. There is no doubt that having Leia be a larger, deeper part of this film would have given it an emotional resonance that, in my view, was sorely missing.
Episode IX was supposed to be Princess Leia's movie, as noted in a Vanity Fair story published in 2017, prior to the release of The Last Jedi. "The minute she finished [production on Episode VIII] she grabbed me and said, 'I'd better be at the forefront of IX!'" Lucasfilm president Kathleen Kennedy told the magazine. "Because Harrison [Ford] was front and center on VII, and Mark [Hamill] is front and center on VIII. She thought IX would be her movie. And it would have been."
Unfortunately, on a flight from London to L.A. on this date, December 23, in 2016, Fisher had a heart attack shortly before landing. After four days in the ICU, Fisher never regained consciousness and died on December 27. It became clear amid the grief over her death that Episode IX could no longer be Leia's movie because Leia was no longer here. The idea of recasting the part, or trying to pull off some CGI trickery to keep her character central, didn't feel appropriate.
If you've followed the stories about the complicated evolution of The Rise of Skywalker and/or seen the movie, you know how this issue was resolved. Director J.J. Abrams took about eight minutes of unused footage of Fisher and incorporated it into this new film, tailoring it to a story about Rey (Daisy Ridley) undergoing Jedi training and eventually confronting Kylo Ren (Adam Driver), the son of Leia and Han Solo. That approach results in Leia scenes that seem reverse-engineered, stilted solely to enable General Organa to share words of encouragement with Rey and act as a key figure to the film's resolution. Given the options at his disposal, it's understandable that Abrams went this route. The fact that it doesn't quite work is a reminder that what the message of the film conveys — that those who came before us are always with us — is only part of the real story.
The rest of the truth is that when people die, they leave a hole, and those of us who are still alive have to figure out how to contend with that. We can try to fill the hole, as Rise of Skywalker does, with retro imagery of the woman we lost, supported by stand-in actors providing coverage from other angles. But it will still feel like a significant someone is missing. It will still feel unfair.
The loss of Carrie Fisher was incredibly unfair. It was, first and foremost, unfair to her family, friends, and everyone who loved her. It was unfair because Fisher was such a talent as an actor and writer. At 60, she certainly had a lot more to give from an artistic standpoint, beyond what she would have contributed to Rise of Skywalker. Within the Star Wars universe, it was supremely unfair to everyone who ever loved these movies, but especially girls and women, that Princess Leia never got her much-deserved movie.
I was a kid when the original Star Wars trilogy came out, and I'll be honest: What interested me most about those original films were (a) all the toys and merchandise they generated, and (b) Princess Leia. When I watched Star Wars, The Empire Strikes Back, and Return of the Jedi, I didn't care about all the ships and showdowns. Sometimes I wasn't even entirely sure I understood all the plot details. But when Leia appeared onscreen, I instantly engaged. I liked everything about her: her cinnamon-bun hairstyle, her confidence, and, most of all, her wise-ass attitude. I didn't know much about the real Carrie Fisher as a kid, but I knew a smart-mouth when I saw one, and there were few things I loved more than a girl or a woman with a smart-mouth. If they had made a Star Wars that was just about Princess Leia, 9-year-old me would have been thrilled.
But they didn't. Leia, as significant as she was to those initial movies, never got the same opportunities to demonstrate authority as Luke or Han did. She was the love interest, the lady in the gold bikini, the princess who knew how to handle a blaster and land a zinger. But much of her power came from the fact that Fisher was playing her and was incapable of making her seem weak, even when she was stuck being half naked and in chains in Jabba's palace.
In the most recent trilogy, with Leia in the role of general, she finally got to be the authority figure and wielder of power she hadn't been in the original trilogy. While Luke went into exile and Han ran off to incur more debt, Leia stayed and lead the Resistance. In The Last Jedi, we even got to see how deftly she could use the Force. The Rise of Skywalker should have finally been her moment, the Princess Leia movie that 9-year-old me always wanted.
Instead, The Rise of Skywalker is a "could have been, should have been" experience. I watched as Rey did her meditating and Jedi training exercises, and I imagined what they would have been like if Fisher had been there to show her how it's done. I envisioned Leia standing before her crew of rebels and giving an impassioned speech, instead of the mere snippets of positive dialogue she's limited to in Fisher's absence. I created in my head a version of this movie in which — and this is a big spoiler — Kylo Ren would have reclaimed his Ben Solo-ness after a conversation with his mother, a conversation that might have occurred after Leia spoke one last time to the spirit of Han. Wouldn't you have loved to see Han Solo and Leia together, just once more? I would. I would have loved to see that. (I know.)
Most significantly — and again, big spoiler ahead — I wish that The Rise of Skywalker could have concluded without Leia dying, but with Leia remaining alive and infusing Rey and Ben with the power to defeat Palpatine — without having to leave her body to do it. And I wish that Rey didn't just get to pick up a lightsaber that used to belong to Leia. I wish we had the chance to see Leia, whom the movie tells us was trained by her brother, Luke, actually wield it herself, with the same swagger that has mostly been reserved for the men (and, sometimes, Yoda) in the Star Wars films.
We didn't get that. That's not the only reason I found The Rise of Skywalker not as satisfying as I had hoped, but it's certainly the one that made me the most sad. In some weird way, it's also fitting. My generation, especially, has clung to Star Wars for decades as a way to rekindle our childhoods and ensure that our children's childhoods are peppered with attachments to the same characters, moments and, yes, merchandise. Star Wars as a franchise will continue, of course, but The Rise of Skywalker marked the end of the aspects of Star Wars that have dominated the color of our nostalgia for it. The fact that it couldn't be everything some of us wanted because of Fisher's untimely demise is a reminder that things don't always turn out the way they should, not even in Star Wars, pop culture's great saga about the persistence of hope.
Sometimes life insists that we let go, and there's no use of the Force or Jedi mind tricks that can bring back what we lost. No one will ever forget Carrie Fisher or Princess Leia. But the dream of what she could have been within the context of these films, very sadly, has passed away.