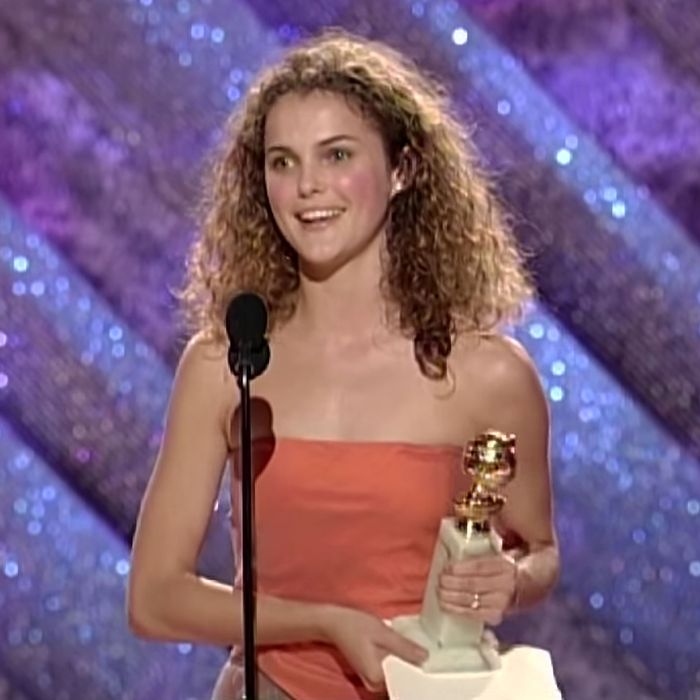 We make fun of the Golden Globes. We do. We can admit it. We make fun of the Globes for good reasons and for petty ones. For having blinders on when it comes to smaller projects. For letting the big film studios wine and dine them. For nominating big, glitzy stars for the ratings potential. For not nominating any women directors this year (though it's been better about that than the Oscars!). For continuing to pick Ricky Gervais to host. Some of these jabs are fairer than others.
But one particular habit of the Hollywood Foreign Press Association has come to define the organization's last 15 or so years: its tendency for nominating completely bananas television. The HFPA often shamelessly swerves toward the newest shows on the block — sometimes without strict regard for quality. Mozart in the Jungle as TV's best comedy? Billy Bob Thornton in Goliath for Best Actor? Last year's haul for The Kominsky Method? That these shows and performances would triumph would raise eyebrows in any era. But in the time of Peak TV, when there are too many actually great shows to award, the Globes' continuously inexplicable TV nods feel almost perverse.
Believe it or not, this all began from a place of pure optimism. Up through most of the '90s, the Golden Globes TV picks were a reasonably reliable rubber stamp for the major TV networks and their awards-friendliest shows. Sure, every few years it'd toss a statue at Dabney Coleman for The Slap Maxwell Story (despite the many intriguing possibilities of the title, it was just a sitcom about a sportswriter), but for the most part, its winners looked like M.A.S.H and Cheers and NYPD Blue and ER, just like the Emmys. And then came the 1998 Globes, where, for the first time, the fledgling, three-year-old "netlet" the WB got a pair of surprise nominations: Best Drama Series for Felicity, its freshman series about a young girl who follows her unrequited high-school crush across the country to college, and its star, Keri Russell, for Best Actress.
Felicity was a very important show for the WB. It'd already gotten a decent amount of critical acclaim for Buffy the Vampire Slayer, but the deep genre nature of that show meant that its supporters kept having to convince people that, yes, a series with that title based on that movie could actually be great. Felicity had its hurdles on the road to mainstream respectability, but coming on the heels of shows like My So-Called Life (Claire Danes was a Globe winner just a few years prior, though she had the advantage of representing "real" network ABC) meant that the hallowed ground of awards-worthy television was ever-so-thawed for coming-of-age shows about young women.
Still, nobody thought for a second that Felicity could actually win. Russell was stacked up against some heavy hitters, including The X-Files' Gillian Anderson, who'd won two years prior; Emmy winners Julianna Margulies for ER and Kim Delaney for NYPD Blue; and Emmy nominee Roma Downey for Touched by an Angel.
The look on presenter Michael J. Fox's face said it all when he read Keri Russell's name as the winner (co-presenter Calista Flockhart's face stayed fixed in its traditional formation). It was that rarest and most beautiful moment: a true awards-show shocker. Russell herself, all of 22 years old and only four years removed from her stint on The Mickey Mouse Club, seemed the most stunned of all. "This is so … encouraging is the word that comes to mind, more than thanks," she said, composing herself rather quickly, all things considered. After thanking Felicity creators J.J. Abrams and Matt Reeves and her then-boyfriend Tony Lucca, it was over.
The implications for Felicity's win were huge. The WB had its first major statue winner, and while it would continue to struggle for industry respect well beyond its transition into the CW, the Golden Globes could be counted on every now and then to award one of its breakthrough stars, like Gina Rodriguez in 2014 and Rachel Bloom in 2015. Felicity might have run with the Globes a bit longer if its second season hadn't begun with the ridiculous "controversy" over Russell cutting her hair and the subsequent ratings drop (which notably happened around the time the show moved to a different night).
Russell's career only went up from here. After Abrams cast her in Mission: Impossible III, she starred in the well-received indie Waitress, and after a short while, she was fatefully cast opposite Matthew Rhys in The Americans, whereupon critical acclaim came flowing, though ironically no awards. The Emmys caught on to The Americans late in its run, though only Rhys took the top acting honors for its final season. The 1998 Golden Globe for Best Actress in a Drama remains the only major acting award Keri Russell has ever won.
For the Golden Globes, though, Russell's win sparked a trend toward off-network and first-season TV shows that continues to this day. A couple of years after Russell, the Globes nominated both Sarah Michelle Gellar for Buffy and Jessica Alba for Dark Angel. Then Jennifer Garner won for the just-begun Alias, making J.J. Abrams the unofficial godfather of the Best Actress in a Drama category for that short time. Some of the Globes' early adoptions would get picked up and co-signed by the Emmys (Tony Shalhoub for Monk), while others, like Geena Davis for Commander in Chief, Anna Paquin for True Blood, or Matt LeBlanc for Episodes, remained HFPA specials. Nowadays, unless you're the bright new crayon in the box, it's hard for the Globes to even take notice. Which is good news this year for shows like Netflix's The Politician and potentially bad news for old-hat shows like [checks notes] Fleabag?!
That particular contest remains to be decided. But Keri Russell's Golden Globe for Felicity is forever. A victory for youth, for great hair, and for the hope of a happy surprise on awards night.