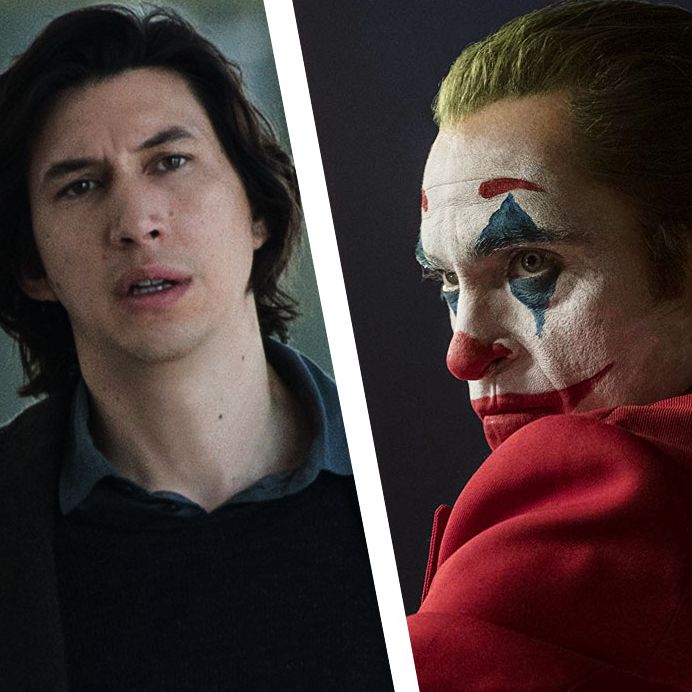 "God, I would love to see Chris [Evans] belt out a Sondheim," says Rian Johnson. And who can argue with that?
Photo: Vulture, Netflix, Warner Bros. and Lionsgate
In a scene toward the end of Marriage Story, Adam Driver's soon-to-be divorced Charlie does what many a theater kid has done before him: He takes a microphone, with no invitation, and starts singing "Being Alive" from Stephen Sondheim's Company. What's surprising about the performance is less his decision to do so in a piano bar filled with his subordinates and more that he's not the first onscreen character of 2019 to chaotically break into Sondheim song. He's not even the first person in Noah Baumbach's Marriage Story to do it.
Characters in Rian Johnson's Knives Out, Todd Phillips's Joker, and Jennifer Aniston and Reese Witherspoon's The Morning Show experienced various levels of emotional breakdown to the music of the decorated composer and lyricist Sondheim in one form or another this year. There's Daniel Craig as private detective Benoit Blanc, who, stuck on a case and stuck in a parked car, puts in his earbuds and loudly warbles the words to "Losing My Mind" from Follies to pass the time. There's Joaquin Phoenix, cake makeup on, getting accosted by a group of finance bros singing the words to "Send in the Clowns" from A Little Night Music. There's Aniston pointedly crooning "Not While I'm Around" from Sweeney Todd, shading her thin-skinned male co-worker with every lyric.
So is there a reason Sondheim karaoke is in all our movies (and one Apple TV+ series) now? As writer Rachel Syme suggested, probably not! But we asked Johnson, Baumbach, and Phillips to explain themselves anyway.
"It's one of those things where you think you're the only person doing it," Baumbach told Vulture. Like Johnson and Phillips, he wrote the needle drop into his script long before the film started shooting in 2018. The decision to have Driver not only sing but do all the speaking parts of "Being Alive" came very early in the process. "We got together and started to play around with him singing it and rehearsing," Baumbach said. "It was actually a couple of months before we started to do it, and [we thought] he would know it so well that he could remember all the lines."
Baumbach cited a lot of reasons for choosing Sondheim and "Being Alive," specifically, for his movie about divorce, Driver's bigness, and the superiority of a certain coast over the other: The composer represents a version of New York that felt familiar to Baumbach, so it felt right tonally to include it. "It's the New York that I grew up knowing," he said. Plot-wise the song selection works, too. The piano-bar scene echoes an earlier monologue from Scarlett Johansson about lacking "aliveness" in her marriage and comes just after she, Julie Hagerty, and Merritt Wever sing "You Could Drive a Person Crazy" at a party. (Yes, it's another Sondheim song.)
But he couldn't venture a guess as to why his fellow Hollywood screenwriters are following suit: "There's something in the water?"
How about Knives Out director Johnson? Does he have any idea why he's not the only person to spike his movie with a little Sondheim? "I don't know what the reason is," he said. "Maybe there are so many people who feel that there's a secret language with Sondheim fans and … yeah, I don't know."
He has also been a fan of Sondheim "for a long, long time," he explained to Vulture. "When I get into one of his musicals, I listen to nothing but that musical for like a year." Turns out that when he was writing Knives Out, he was listening "nonstop" to Follies (which had originally been conceived, with book writer James Goldman, as a murder mystery). "Losing My Mind," Johnson thought, was perfect for the self-assured, southern Benoit, who has "sort of a slightly inflated sense of self. The idea of him identifying with and taking on this incredible kind of swan song … seemed perfect."
"Even just on a very dumb, basic level," Johnson added, "there's a mystery, and he can't quite figure it out and he is losing his mind over it. He wants the culprit, so it's like he's … losing his mind."
We would have asked Joker director Phillips the same questions, but he was unavailable, so we went to the next best person: his music supervisor, Jason Rudder. He said the "Send in the Clowns" moment was something Phillips had devised early on in the script. "I think we all have that allergic reaction to lyrics being right on the nose, but in this case … the tone of the song felt right." Arthur is, after all, a clown. Case closed.
The Sondheim doesn't stop with Joker, but it's clear at this point that no one knows exactly why this was the year movies and TV decided to honor the eight-time Tony winner in a stream of onscreen homages. Did we learn anything from this investigation? Perhaps not. But Johnson did leave us with an image worth our trouble: "God, I would love to see Chris [Evans] belt out a Sondheim. He almost has a John Wilkes Booth vibe. He's got that confidence, that moral clarity to him. That's a direction we absolutely could have taken."
Oh, what could have been.