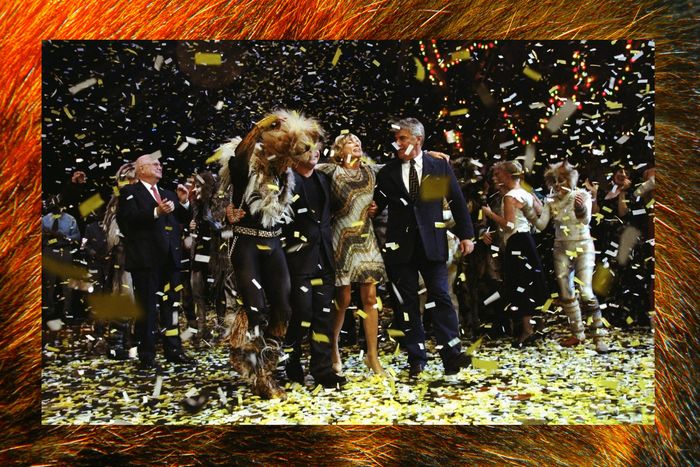 A storm of confetti covers the stage as
Cats
, Broadway's longest-running show, completes its 7,485th and final performance at the Winter Garden Theater, bringing its 18-year run to a close.
Photo: Richard Corkery/NY Daily News Archive via Getty Images
To commemorate the forthcoming release of Cats, we are republishing the appropriately bemused article New York Magazine ran in the June 23–30, 1997, issue after the musical broke the record for longest-running show in Broadway history. Ahead of the 6,138th performance, we turned to the only expert we felt could explain what was happening on the Great White Way: a numerologist.
On Thursday, June 19, Cats will have its 6,138th performance, thereby outdistancing A Chorus Line as the longest-running show in Broadway history and making the tagline "Now and Forever" seem an ever-more-viable threat. Is there some supernatural significance to this figure — the numerologically disguised shoe size of Andrew Lloyd Webber, perhaps? Or T.S. Eliot's favorite Bible chapter and verse? We asked Cheryl Lee Terry, a syndicated expert in these matters for Elle magazine and the New York Post, to weigh in.
At first, she hesitated.
"Um," she said, examining the title of the show and its Broadway birth date, October 7, 1982. "This play doesn't have terribly creative numbers, no offense. I should start by telling you that." She reviewed the numbers a second time. "But I tell you, if this were a person's chart, I'd say that this person is very successful in business." Cats, the numerologist explained, has the same destiny number — that's the rough equivalent of an astrological sign — as two men who set out to rule the world: Napoleon and Rupert Murdoch. The show has pretty much done the same thing, so far spawning 42 productions worldwide and grossing $2.5 billion — that's not a misprint — at the box office.
"And it has an eight as a pinnacle number," Terry added. Pinnacle numbers are different from destiny numbers. Pinnacle numbers are indicators of success. "More millionaires are eights than any other number. John Paul Getty was an eight."
She considered the number 6,138, which, numerologically speaking, is somehow a nine. She couldn't say whether this is conclusive proof that cats have nine lives. "But there are nine years in a numerology cycle," Terry said. "So this performance is like the end of one cycle and the beginning of another."
Which could mean, one supposes, that there's plenty of life in the old show yet. Terry confirmed as much after running another set of calculations: four more years.
Too bad the same could not be said of the playwright. "Is there any connection between this performance and T.S. Eliot?" she said, repeating our question. "No. T.S. Eliot is dead."
And what of the composer? Terry crunched a few more figures and announces that Lord Lloyd Webber was born under a "master number," a distinction held by the most creative people on the planet. For his next trick, she predicted, he'll aim for something a little higher than dancing felines named Tumblebrutus and Bombalurina.
"When he did this, he knew that Cats was going to be a commercial vehicle for him," she said. (The Phantom of the Opera hasn't done half badly, either.) "But the next thing he does will not be such a commercial venture."
Then she paused for a moment. "I almost want to say the next thing he does will be a work of art."
The musical has grossed over $3.5 billion since.
The Broadway show came to a close in 2000, after running for 18 years and 7,485 performances. It remains the fourth longest-running show of all time.
The next thing Lloyd Webber did on Broadway was 2000's Song & Dance, which prompted New York Magazine writer-at-large Frank Rich to write: "While much of Mr. Lloyd Webber's impersonal and bombastically orchestrated music sounds like the stuff that's piped into a 747 just before takeoff, Miss [Bernadette] Peters does get to sing a few sprightly tunes."