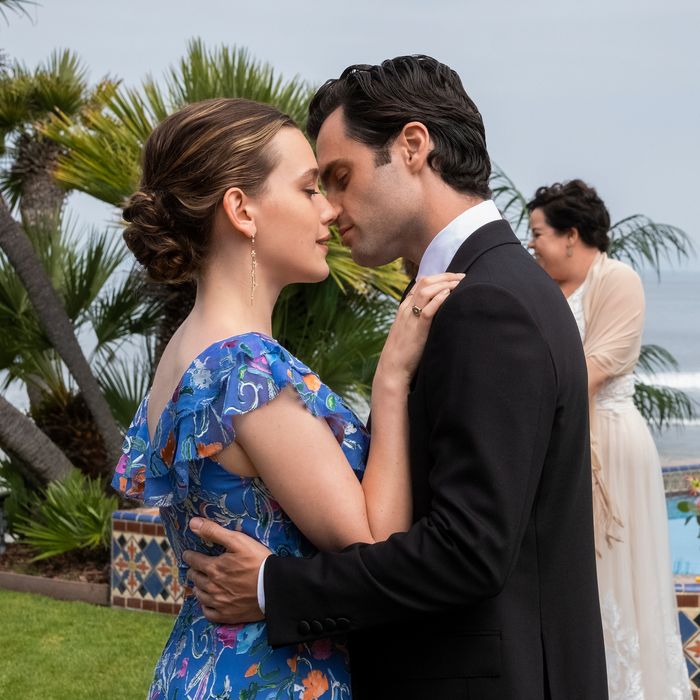 Some of you may recall, 10,000 forevers ago (at the beginning of season one), I hoped that maybe Joe's perspective would get kicked out from under him, and it would turn out it was Beck who'd baited Joe, with her extra-basic social-media presence and her curtainless windows, into her lair of insanity, rather than the other way around. Season one ended in a disappointing and too-typical way, though, with Beck as the prey and Joe as the predator, like the song we've all heard a million times before.
It would appear the You writers were just storing up their crazy for when their fair series ditched Lifetime and moved to its new streaming home. Because Love is no Beck. Love, upon hearing that Joe is responsible for a string of murders, happily reports that she, TOO, has done murder, and it's all totally fine because now they can be together 4ever!!! Just like they both always dreamed! Isn't is so fun when you and your partner have so many common interests, like clearing the path between you, which is strewn with pesky ALIVE people, by just up and killing anyone who seems to present an obstacle to your love story?
So yes, it wasn't Forty who killed the au pair. It was LOVE. In what would become her signature move, Love slashed her au pair's throat. It's not entirely clear why she thought the best move there was to stage it so Forty would think he was responsible for a murder he'd done in a blackout rage, which in turn his parents would frame as a suicide — instead of just, you know, staging it as a suicide from the jump — but she was so young! Teenagers don't have fully developed frontal-lobe function, which is what makes them such bad murder-plotters.
Love's been dreaming of a new family all her life. But James died (from being sick, OR SO SHE SAYS — I am not convinced), and she lost hope. Until: Joe.
I am feeling so gratified by this turn of events. She DID have her P.I. look into him, just like I hoped she would! Now, what she DID with that information is another story entirely, but this is a classic journalism conundrum: We can't tell a reader what to do with the facts we provide — we can only pray they will use them wisely. Or you could do what Love did. "I devoured your dead ex's book front to back," she says, and realized that Beck was "unspecial and mediocre." This is rude considering the context, but also: Show me the lie.
When Love discovered Joe's cage, she just nested in there reading Beck's book and being amazed by Joe's craftsmanship!? During the lost night of the acid trip, Love tailed Joe to the storage unit and, instead of freeing Delilah, burst into the cage and slit her throat. (Just in case you missed the parallels there, let Love spell it out for you: "I dealt with Delilah the same way I dealt with the au pair." Given the opportunity to show not tell, You is always going to show AND tell. Who says you can't have it all?)
Love knows she and Joe are soul mates. Joe, upon seeing his worst and truest self reflected in another, thinks: What the actual fuuuuuuuck. He raises the Ellie issue, and Love, sounding completely bananas, explains her plan: "First, we make Ellie a suspect in Henderson's murder." I love that, when Joe balks at this, she says she's open to other ideas, but of course she's not, because she's already set her plan in motion. Whenever someone says they're "open to other ideas," what they mean is: You better like my idea, because that's the one we're going with. Love imagines Ellie will get lawyered up, Quinn-style, and emerge from that battle unscathed.
Joe, whose delivery is just perfect, replies, "I'm letting you finish."
Okay, so then Delilah's body will be found with a suicide note. Sidebar: Who would commit suicide by slashing their own throat? Except for Harlan Thrombey in Knives Out which, spoiler alert, was SUPPOSED to look like a murder. Anyway, Love goes on, Delilah will become "a posthumous feminist icon" for taking down Henderson. Never mind that her reporting is already out there, and plenty of people still believe Henderson and probably always will. Because the Quinn family owns the LAPD, "Ellie is going to emerge stronger, smarter, and better off." Whoooo boy.
Joe, a hypocrite but not an incorrect one, tells Love that "forcing a teenager into the system" is not exactly a kindness, and that he can't think clearly in "the river of crazy you're spewing." Love accuses Joe of being hysterical, because it's very important we all pick up on the gender-flipped dynamics of their scenario here; Penn Badgley's voice could never be shrill, but otherwise I'm sure she'd throw that one at him, too. Love believes that Joe could've seen the real her all this time if he wasn't so caught up in a fantasy. Then, she leaves him there with a rotting corpse, so she can bake her friends' wedding cake, LOL.
Ellie gets picked up by Fincher, who, thanks to Love's anonymous tip, knows Ellie was at Henderson's house the night he died. She calls Forty for help, and he sends a lawyer and rock-solid advice: "Say nothing, act dumb, and don't drink anything because they'll steal your DNA." I never thought I'd say this about Forty, but he actually seems great in a crisis. Eventually, the lawyer gets Ellie out, but Fincher says that if Delilah doesn't show soon, he'll call CPS on this unattended minor. He also decides to follow Ellie around and see where she leads him.
Why can't Forty be there in person? He's on the East Coast visiting Dr. Nicky in prison. Hello, John Stamos! How surreal to see Uncle Jesse in jail and think that soon, it could very well be Aunt Becky behind bars for her, ah, aggressive parenting style amid the college-admissions bribery scandal. Forty believes in Nicky's innocence, but all Nicky believes in now is Christ, so he's not super-interested in his own exoneration or anybody else's guilt. It pains me to say this, but, John Stamos is useless here.
Meanwhile, Love has Candace in her trunk. Not even hidden well. And she's getting prints all over the body! Why isn't anyone wearing gloves? She goes back to the storage unit with muffins for her prisoner. He convinces her to open the door just to get Delilah's body out, even though clearly what he plans to do is use the handcuffs to slash her throat (how Love-inspired of him). But she spots the handcuffs reflected in the glass and blurts out the magic words to save her life: "I'm pregnant!"
She murdered Delilah right after she found out about the baby, because how could she let Delilah ruin this (truly, definitely doomed) kid's life? Joe could kill her with his bare hands, like he did with Beck, but he opts not to do that. He gets down on one knee and I think, He is NOT going to propose right now. He can't, he won't. And he doesn't, thank God. But he does say he wants to earn back her trust, because he thinks it's what she wants to hear. So they just … go to Lucy and Sunrise's wedding together. Tense!
Forty can't get into the wedding, even as he is frantically texting his sister warnings that she's not seeing because no one is allowed to look at their phones until the ceremony is over. Gabe is in an absolutely perfect suit. I look at Joe's wedding aesthetic and realize: Dan Humphrey has become Chuck Bass. Joe catches the wedding feelings, decides he can't be a good dad if he isn't present, and tells Love, "I love you." Then, they check their phones again to see all the texts from Forty, who did not summon the police for his face-off, because no one calls the cops on this show when they should.
While Love goes in to see her brother, Will spots Ellie outside. Ellie knows he's a monster. The jig is up. He tells her Delilah isn't coming back and that the only way to protect Ellie is to get her away from the Quinns, who "get away with evil things." Then he gives her a bunch of cash, tells her to head east and start her life over. Ellie is losing it, a completely appropriate reaction here. She hates Joe. As she should! "I killed Henderson," he says. "And I don't feel guilty about it. What I am is all that stands between you and people who are worse." So she sprints away to begin her life completely and totally alone, probably unable to trust anyone ever again, living a lie for the rest of her days, maybe somewhere in South Florida. Bye, forever, balcony sprite! At least you made it out alive!
Inside Anavrin, Forty is trying to reason with Love. "I will do breathwork with you later. I have to save you from a literal fucking serial killer first." A-plus priorities, Forty! Love is gaslighting him, and I do not think he is going to make it out of this room alive. It shows you what this series has done to my fragile brain that when Joe shows up and Forty pulls out a gun, the first thing I wrote was, FINALLY someone on this show brings a gun to a confrontation with a known killer.
Love tells Forty that she's pregnant with Joe's baby. She keeps referring to it as a girl, even though there's no way she knows that, and I think it would be kind of hilarious if they wound up with a boy. Anyway, Forty is still horrified, and also he knows that Love is as broken as he is. "You're just a much better liar." He knows she killed the au pair! Also, can I just say that his reaction to this pregnancy news is so perfect? I love that he doesn't even pretend that it's good or worthy of congratulations. To Love, he just says, "You are crazy if you think that you would be a good mother," which is AMAZING, and then he tells Joe, "You think that knocking up my sister makes you a new person?" This is the kind of shit you know you wish you could say to jerks in real life who have babies, but you can't, and all we have is the catharsis of Forty saying it here.
Joe closes his eyes, but because there's no show without him, you know he's not going to die. Instead, Officer Fincher busts in and kills Forty before Forty can summarily execute Joe in the Moon Juice aisle.
Flash forward maybe six months. Ellie sends Joe postcards asking for more money, which he promised to send her, and presumably will forever, because that will make him feel like a decent person even though he isn't one. He and Love are moving into some Revolutionary Road–type house in a bright-green neighborhood, I guess still in L.A., because Dottie is there. Joe is working his way through Crime and Punishment, which I think he was reading at the start of this season, but to be fair, he hasn't had a ton of time for leisure reading. Already, of course, he feels trapped with his pregnant wife who has killed two people (that he knows about). But it was all worth it so Joe could meet … the new You you, a next-door neighbor reading Kafka, Aldous Huxley, and Jane Austen. Wonder how she'll fare with two deranged killers living just on the other side of the fence.