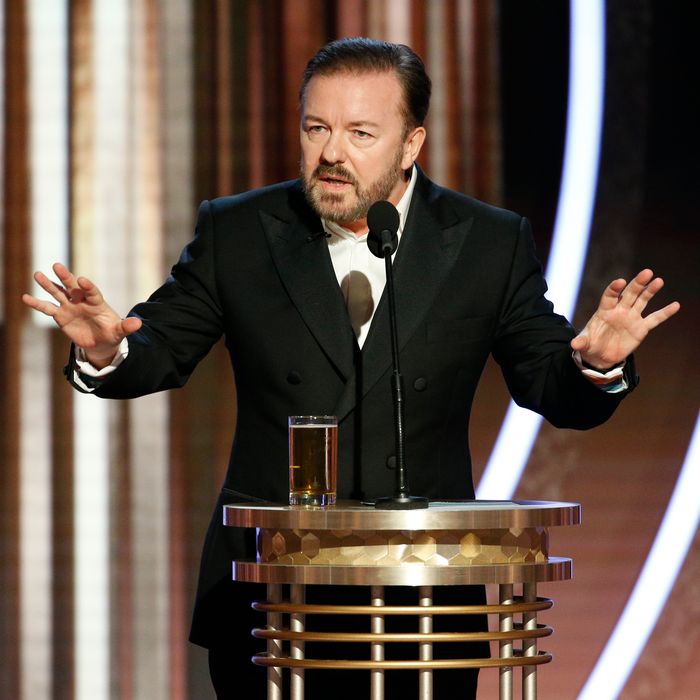 Photo: Handout/2020 NBCUniversal Media, LLC via
This year's Golden Globe Awards began like a commute on the morning after Labor Day. You know it's going to be awful, but you do it anyway. And while it's happening, you go, "Yep, this is as awful as I expected."
This was how Ricky Gervais's opening monologue felt: Like a predestined ride on a jam-packed subway car, where your nose has nowhere to park but inside a fellow commuter's stanky armpit. Or, if you drive to work, it was an unavoidable ride in which traffic is at a standstill, none of your podcasts will load, and all you can do is stare at the Jeep Grand Cherokee in front of you with the bumper sticker that says "Lock Her Up." There's no way out but through, you knew it would be exactly like this, and yet you put yourself in this situation anyway.
Gervais came out for his fifth Golden Globes hosting gig — his last, he swears, a promise that carries as much weight as Kiss saying it's on a farewell tour for real this time — and announced that (1) he didn't really care about doing a good job anymore, (2) he never really cared about it in the first place, and (3) was about to insult many people in the auditorium at the Beverly Hilton, but who cares because we're all about to die soon.
Listen, I don't dislike Ricky Gervais. I've enjoyed many of the TV shows and films he has made and his performances in them. But I am tired of him as Golden Globes host, the role he was born to stop playing. And apparently, so is he.
In fairness, he did get in a good zinger or two. After a joke mocking the claim that Jeffrey Epstein committed suicide, he responded to the gasps in the room with a "I know he's your friend, but I don't care." But most of the time, his stand-up seemed lazy. He said he spotted Baby Yoda at The Irishman table, then quipped that it was really Joe Pesci. (Pesci wasn't actually at the Globes last night.) He noted that The Irishman is too long and that Martin Scorsese is too short. He made a mean joke about James Corden — "The world got to see James Corden as a fat pussy. He was also in Cats" — which seemed extra off-note considering the comments Corden made last fall about the cruelty of fat jokes. Then he made an even weirder Cats-related joke about Dame Judi Dench licking her private parts that was largely bleeped from NBC's audio of the broadcast.
Despite the preshow line about Gervais being a "controversial," unpredictable host — hyped unpredictability is the most predictable thing about the Golden Globes — what he did was totally expected. The least daring thing about it was the way Gervais couched everything he said in the idea that he was just going through the motions, a theme that asserted itself every time he announced the next presenter while reading off a set of note cards. If the bits Gervais scripted didn't land, and a number of them did not, he could act like it didn't bother him because it's not like he was making an effort in the first place. The least risky thing in the world is announced apathy.
Fortunately, there were other moments in the evening that genuinely were surprising and made hanging in for the duration of the three-hour broadcast less of a slog than it was in the beginning. Ramy Youssef took home the first Golden Globe of the night, winning for his starring role in the excellent Ramy, the eponymous Hulu comedy he created. Stellan Skarsgård of Chernobyl triumphed over Fleabag's Hot Priest (Andrew Scott) and Succession's Roman Roy (Kieran Culkin) in the Best Supporting Actor category, then devoted a fair amount of his acceptance speech to a discussion of his lack of eyebrows.
A normally funny person (Kate McKinnon) got farklempt while presenting one of the night's two honorary awards to Ellen DeGeneres. Later, another normally funny person (Tom Hanks) started outright crying while accepting the second honorary Globe, the Cecil B. DeMille award. Hanks's career highlight reel was also a roller-coaster ride, which is to say that it managed to squeeze in moments from his guest spot on The Love Boat, his SNL David S. Pumpkins sketch, and not one but two scenes from The Money Pit. (His work as Uncle Ned on Family Ties, however, went totally unrepresented. I think we can all agree it was one of the night's major oversights.)
Jennifer Lopez didn't win a Golden Globe for Hustlers, but the huge bow on her dress very clearly proclaimed: I'm, at the very least, an Honorable Mention.
Awkwafina did win for her emotional work in The Farewell, and looked pretty stunned when it happened. She took home the Globe for Lead Actress in a Musical or Comedy, even though the most notable thing about her work in that film is that it enabled her to stretch beyond her comedic foundations. The Golden Globes are weird.
Taron Egerton, who played Elton John in Rocketman, seemed even more caught off guard when he received the prize for Outstanding Actor in a Musical or Comedy, even though he was one of the few people in his category who actually starred in a film that was, unequivocally, a musical or a comedy.
Most awards-season pundits thought The Irishman was a lock for Best Motion Picture Drama, but it was 1917 that won, and Sam Mendes who won for Best Director instead of Martin Scorsese, who, by the way, I don't know if you've heard this joke before, but he's short! Hahaha.
Everyone thought Once Upon a Time in Hollywood would win for Best Motion Picture Musical or Comedy, and it did. It also won for its screenplay, which enabled Quentin Tarantino to make a speech in which he said, "This time, more than usually most, I had a fantastic cast." I don't know them, but if I did, I absolutely would have furiously texted Uma Thurman and Samuel L. Jackson to ask, "Hey, are you watching this shit rn?"
Brad Pitt also was honored for his work in Once Upon a Time in Hollywood, and made a joke about why he didn't bring his mom to the ceremony — "Any woman I stand next to, they say I'm dating" — at the precise moment the camera caught a reaction shot of Jennifer Aniston. (She was smiling, by the way. For the 800th time: Jennifer Aniston is fine now! She's been fine about Pitt since the late 2000s, even though you still tear up every time you see this old People magazine cover.)
The big awards on the television side were even less surprising than OUATIH's wins. Succession won for Outstanding Drama, and the biggest surprise was that they gave the award out so early in the damn broadcast that all the members of the Roy family were still sober. Chernobyl won for Best Limited Series (also no shock) and Fleabag received the Globe for Outstanding Comedy, following Phoebe Waller-Bridge's win for her lead role on the show. Olivia Colman won, too — not for Fleabag, but for taking over as Queen Elizabeth on Netflix's The Crown.
Netflix and its shunning was a big surprise of the night. With its presence on the television and film side — it earned 34 nominations, including nods for three of the five Best Motion Picture Drama nominees — Netflix came away from the evening with just two trophies in its proverbial queue: the one for Colman and another for Laura Dern's turn in Marriage Story.
Unbelievable: Got nothing.
The Two Popes: Got nothing, unless you count the bad Gervais joke about it being a pedophile movie, and I do not.
The Irishman: Nothing!
This is: (1) reflective of a continued industry aversion to the streaming giant, (2) indicative of the HFPA members' fear of annoying Hollywood by rewarding the streaming giant, or (3) just a thing that happened. Take your pick.
Was it shocking that the acceptance speeches got political? Not really, even though Gervais stated in his monologue that no one in the room "was in a position to lecture the real world" and that everyone should just "thank your agent and your God and fuck off." But it was a little surprising that it took more than 90 minutes to finally hear a truly political speech, courtesy of the reliably political Patricia Arquette, who won for her portrayal of Dee Dee Blanchard in The Act and took the opportunity to remind everyone that January 5, 2020 would not be remembered for the Golden Globes but as a time when the U.S. was on the brink of war and the continent of Australia was on fire. (For the record, several presenters and a passed-on message from Russell Crowe, who won a surprise Golden Globe for playing Roger Ailes in Showtime's The Loudest Voice, mentioned the fires in Australia.)
Joaquin Phoenix, who received a Globe for his performance in Joker, delivered a rambling but blunt speech in which he acknowledged that awards are b.s., and added, "Contrary to popular belief, I don't want to rock the boat, but the boat is fucking rocked." As soon as he urged his Hollywood colleagues to make more positive changes on a personal level, like not taking "private jets to Palm Springs," the music played him off.
But the most articulate political speech of the night came from Michelle Williams, who was honored for her portrayal of Gwen Verdon in FX's Fosse/Verdon and spoke eloquently about how her right to choose has been instrumental in her life and career. "Women, 18 to 118, when it is time to vote, please do so in your self-interest," she said. "It's what men have been doing for years, which is why the world looks so much like them."
What will we remember about these Golden Globes? Gervais is right, and so is Arquette: Probably not much, including who won. (I've already nearly forgotten that Missing Link won Best Animated Film.) But we may remember, vaguely, who stuck their necks out when many of the eyes of their industry were on them. When we do, we may recall what Williams said on the eve of Harvey Weinstein's trial, long before we remember any of the jokes Gervais lobbed into the air like hand grenades that turned out to be duds.